Technical Talk - Test Automation with UiPath Framework | Event Date: Wednesday, 9th, March 2022
UiPath Student Developers Club & Department of Information Technology organised aTechnical Talk on "Test Automation with UiPath Framework" by Mr. Arvind Manoharan, RPA Developer, Freshworks on 9 March 2022 at Stephen Hawkings Hall, HITS. Mr. Sam Praveen, Club Lead welcomed the gathering. Dr. Ceronmani Sharmila, Head, Department of Information Technology gave a brief introduction to RPA and its usage in the campus; and exclaimed the real time application of RPA in other domains. As it was the first offline event of the Club, Core members of the Club were introduced followed by Club Badges being distributed to all team members by the Guest Speaker. A Quiz activity was conducted by Ms. Sadhana, 3rd Year, IT; and Mr. Chris Mario, 2nd Year, IT with some intermediate questions on RPA. N. Rahim (3 Year B. Tech. IT),Vibish(2 YearB. Tech. IT), and Simeon (2 YearB. Tech. IT)bagged the first 3 places. Ms. Juvanna, AP, IT felicitated the winners with gifts.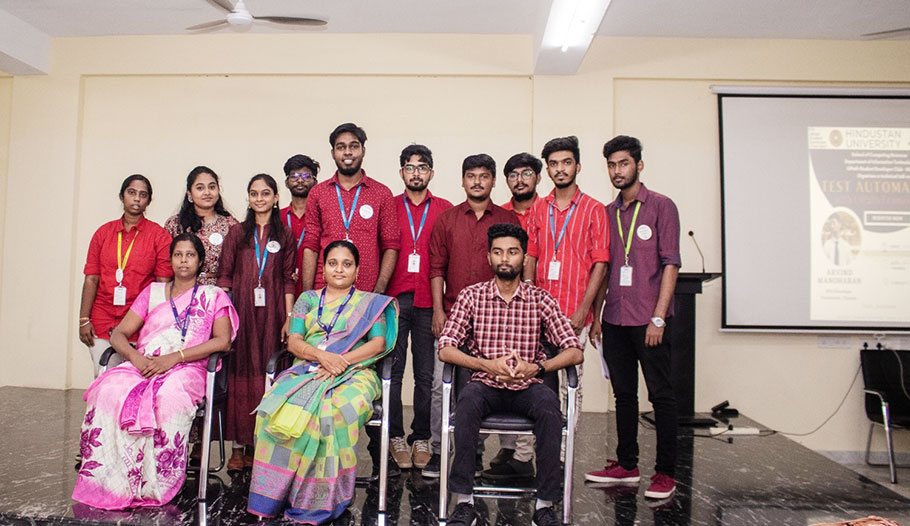 Mr. Arvind addressed about the importance of Test Automation in recent days; and exclaimed that RPA is the future solutions to all the problems. In his opinion, "Bots can replace many workers in the future; so, it's mandatory to learn RPA and wear the suits of a bot in order to control them and not to work under them". Mr. Arvind also gave some valuable information on the platforms to learn test automation.Over 125+ participants were benefitted from talk. Mr. Sadhana, Media Lead of the Club, proposed the vote of thanks.