JHATAYU - ASIA'S FIRST FLYING TWO-WHEELER BIKE | Event Date: Friday, 25th, January 2019
JHATAYU is a crowd funded, student start-up company registered in MSME through HTBI & HEIC, HITS. JHATAYU Flying Bike as a design concept was awarded by SAE INDIA at the International Two Wheeler Conference at Bangalore on 5 August 2017 by Mr. Javaji Munirathinam, SAE INDIA Aerospace Board Chairman and Mr. C. Prakash, Training & Development Specialist, Product Development Division Ashok Leyland, India. The Institute of Aeronautics Astronautics and Aviation had the privilege of Dr. Micheale Barratt, Astronaut, NASA, USA award the "Best Innovation" title to JHATAYU and the "Best International Mentor" to its mentor cum supervisor Mr. C. S. Karunakaran at IIT Guwahati on 1 September 2018. JHATAYU Flying Bike was formed by a team of 33 under graduate students under the mentorship of Mr. C. S. Karunakaran, Assistant Professor, School of Aeronautical Sciences, HITS. This ingenious start-up is now touted as Asia's first flying two- wheeler bike prototype.
The start-up had built an unmanned version of its flying vehicle prototype and successfully flight tested on 27 th October 2018 at HITS. The start-up has applied for its patent and is planning to raise funds for its manned version through industry partnership. The India Book of Records recognized this achievement and conferred "India's First Two Wheeler Bike" title on JHATAYU. The start-up is planning to apply for Asian certifications to stake their claim for being the Asia's First Flying Two Wheeler Bike.
TEAM JHATAYU
CORE TEAM (3 Years)
YASWANTH
CH. GOWTHAM CHOWDARY
SRIKANTH. P
SAI. G
SRI HARSHA.R
K. VENKATA GOWTHAM
SUNEDHI MASSEY
RISHAB KUMAR AGARWAL
DEEPAK KUMAR
THOTA SAI PAVAN VINAY MANIKANTA BHASKAR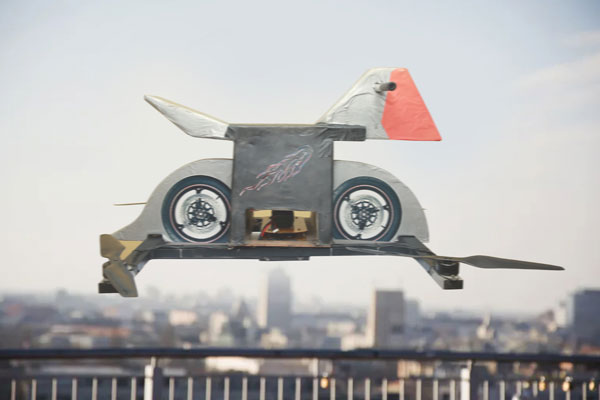 EXECUTIVE TEAM (2 Years)
NARESH CHANDRA
AMARNATH.P
SHAIHU ABDUL RAHAMAN
K. SANMIK
LOKESHWAR.M
ASHWINI.M
LAKSHMI SRIVALLI
PRANEETHA.M
GIRI PRASAD.T
SAI CHANDANA
BHARADWAJ.S
GOKULA KRISHNAN.S
GOKULA KRISHNAN.S
DONETRA.L
SUDHI.G
SRIDHAR
KOWSHIK
NIVIN.S
ROGITH.S
KUMARAN.M
BJ TARUN
VAISHNAVI.M
NITYA KUMAAR. K.S
SANDEEP