CHANGE MANAGEMENT ONLINE CERTIFICATION PROGRAMME | Event Date: Saturday, 20th, June 2020
A 5-day Online Certification programme for Hospitality professionals on "Change Management" organized by School of Management, HITS in association with STAPL commenced on 22 June 2020. The training programme was structured to help the participants gain insight into Principles of Change Management, and how it can be used in their respective areas of work or expertise and benefit themselves and the organizations they represent. The Core Team comprised Prof. Hemalatha and Dr. M. K. Badrinarayanan of HITS; Mr. Manoj Kumar, CEO & Director, STAPL; Mr. Johnson and Ms. Kavitha, Directors, STAPL. A total of 45 participants, with majority of them being mid-level managers in the Hospitality and Service Sector and few Students and Alumni partook.

Industry Experts
Mr. Shabin Sharvotham, Sr.Gen Manager, Radison Blu Hotel, GRT, Chennai.
Mr. Venky Balakrishnan, Founder, Eden Restaurant.
Mr. Sudip Sengupta, Vice President, Green Park Hotels.
Mr. Rupam Dutta, GM, Feathers Hotel.
Mr. Thoman Xavier, Former L&D Manager, Shell India.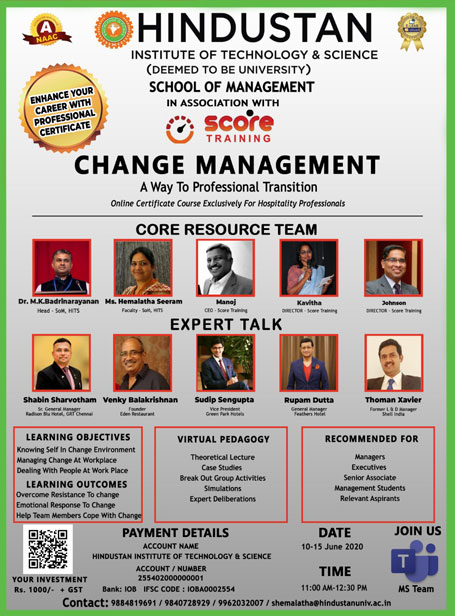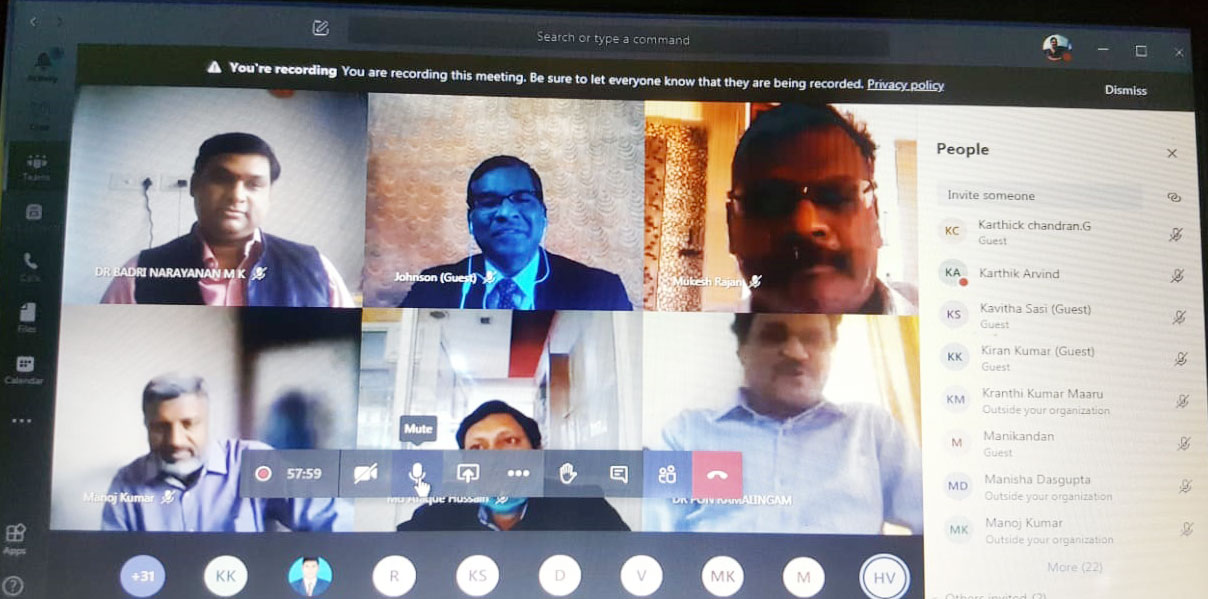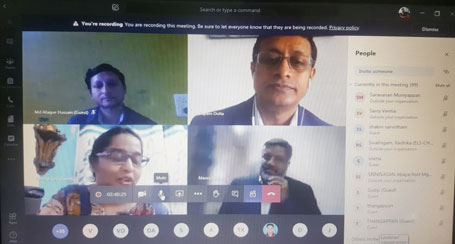 Topics Covered:
Change Fatigue
My Experience with Change
Making Change Personal
What Acceptance did to me
Managing Change - Emotional and Behavioural Impact
Power of I
Personal Experiences with Change
Adapting to change
Highlights:
Emphasis on Myth breaking and Attitudinal Tuning for Change
Conceptual Learning
Continuous 2-hour Online Sessions including Activity & Games
Q&A Session with External Experts
Real Life Experiences - Sharing
Case Studies & Activity - Peer Discussions Facilitated through Whatsapp Groups
An Advanced Training Course on Change Management is proposed to be organized in due course.