Programme
AIESEC EVENT AT HITS | Event Date: Tuesday, 25th, October 2016
AIESEC Event at Hindustan University
AIESEC (Association Internationale des Étudiants en Sciences Économiques et Commerciale) is a non-profit organization that was initiated in 1946 and which has now spread its wings, gathering 70,000 active members, 2400 university representatives and 127 countries. The organization strives in activating youth leadership. The seeds of AIESEC were sow right after the Second World War when a group of young people were determined to showcase that cross-cultural understanding was essential to prevent similar disputes. A talk about GCF, that is 'Global Citizen Fair' was held at Hindustan University on 25th October at Good Shepherd hall which turned out to have a huge impact among the fresher's of HITS. The motto of GCF is 'To bring the world together".GCF is AIESEC in Chennai's debut event aimed at instilling a positive change in the society by impacting the youth of the city. And this certainly did captivate the students of Hindustan as about 50+ participants enthusiastically enrolled their names and assured to be a part of the AIESEC family. The session that was held were directly related to leadership, management and world issues. The three hour session was mainly to empower the youth and make them aware of different global opportunities that AIESEC has to offer.
Dr. N.Vasudevan, Dean Academics, Dr. N. Rajasekharan Nair, Dean Students Affairs, Dr. David Easow, Deputy Director International Affairs, Hindustan University graced the event.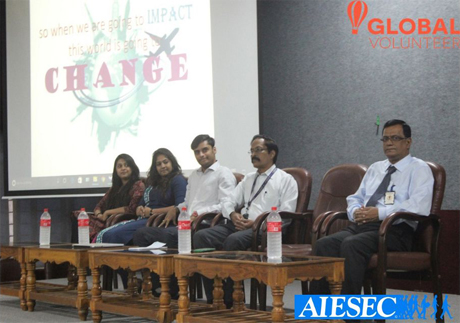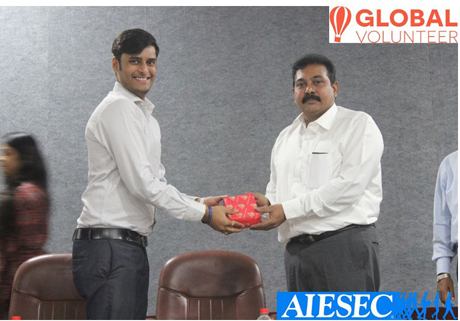 The session began with a talk by Ananya Parekh, a third year Aerospace Engineering student of SRM and Vice President (sales and marketing) of AIESEC. She enthralled the audience by describing her journey within AIESEC. Though she started off as an inexperienced young student with a lot of insecurities, she now aspires to be a successful entrepreneur and is already on her road to success. As she spoke she owed the credit for her drastic change and brimming confidence to AIESEC. The next speaker of yesterday's event was Tushar Khatod, Current president of AIESEC Chennai and an alumnus of Loyola College. His journey in AIESEC began in 2012 and since then it has rubbed off on his personality and has certainly taken him places. He described his journey to Russia and many other countries which helped him connect and interact with individuals across the globe and helped him redefine himself as a 'Global Citizen'. The final speaker of the day who shared her experiences as a fellow AIESEC member was Sheethal Balaji, Vice President Finance and Legalities at AIESEC in Chennai and who at present studies at MOP Vaishnav. Sheethal mainly detailed about the vitality of time management. She spoke about the 80/20 Rule which is one of the most helpful concepts of time and life management. It is also called the Pareto Principle named after its founder, the Italian economist Vilfredo Pareto.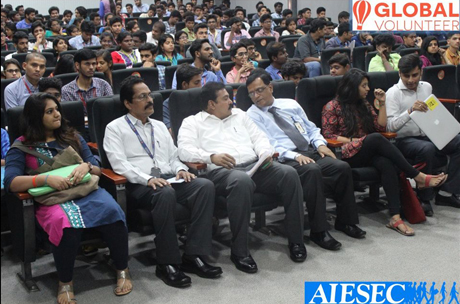 AIESEC has a strong backbone in Hindustan which is run by a student body of four, namely; Salil Bajaj, ProbalChoudary, Ronak Sharma and Akshay Jyoti. 24 students from HITS are almost set for a student's exchange programme which will take place in winter or during the month of June. The students are to visit various NGO'S and other organizations pertaining to social work in places like Egypt, Russia, Poland and China. Therefore reverberations of AIESEC has impacted students of HITS as they strongly echo its motto which is, "We strive to achieve peace and fulfillment of mankind's Potential." Ms. Gem Anna Jaims, Assistant Professor, Dept. of Languages attended the event and compiled the report.