Webinar on Career in UX Design | Event Date: Saturday, 12th, June 2021
The School of Planning and Architecture and Design Excellence conducted a Webinaron "Career in UX Design" for aspirants and school students on 12 June 2021.The M.Sc. User Experience course was launched by the Chief Guest Ms.CharuChoudha, UX Designer, Google. The programmeproved to be an effective platform for the sharing of knowledge and experiences of the guest with various people aspiring to join design courses and more of User Experience Design.More than 130student participants, parents, degree holders, graduates of various discipline like Art, Visual communication, IT, CSE, BBA, B.Com. from various states of Tamil Nadu, Andhra Pradesh, Karnataka, Kerala, Delhi, Dubai, UAE etc.attended.
The program commenced with the welcome address ofDr. SheebaChander, Dean SPADE. Dr.R.W. AlexanderJesudasan,Pro Vice chancellordelivered the presidential address and gave a brief description about the importance of User experience in day-to-day life; and in today's context, how it has shifted to the digital world where experiences are to be made more interactive between user and the service provider. Ar.Sudhakar,HoD Design gave an introduction of the Design course background in SPADE and the introduction of new course B.Des. Communication Design from the academic year 2020.The M.Sc. UX design course and its relevance to modern society was underlined and set the context of the event.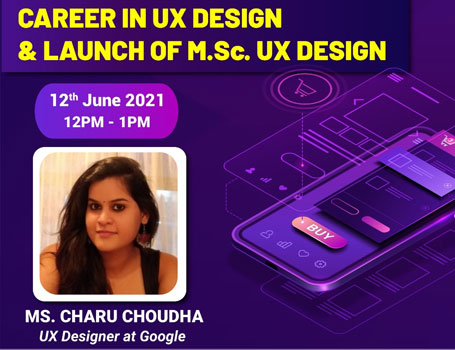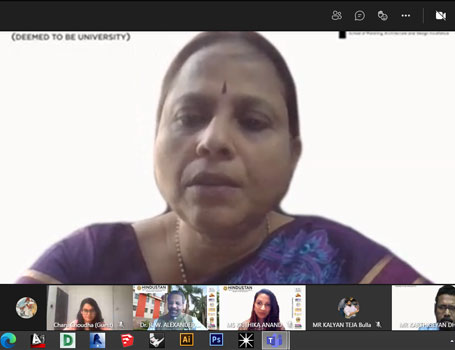 Launch of M.Sc. User Experience Design
Ms. CharuChoudhadeclared the launch of the new course MSc. User Experience Design and delivered a talk on Career in UX design.She illuminated the myths surrounding the understanding of User experience courses and the qualifications needed to become a UX designer. She gave an insight into the reality of being a user experience designer and explained the design process involved in her work at Zomato. Also, she described on how a UX designer needs to be a researcher, product designer, developer, data scientist to be a successful UX design experience provider. She explained the various methodologies adopted by UX designers in startup companies, medium companies and Bigtech companies and make a successful career out of it.Ms.CharuChoudhalater interacted with the participants students and parents and answered their queries about how different courses add up to the preparation of becoming an UX designer and clarified that design is an ever-evolving field and the need for designers will keep evolving and growing with different needs of the society. She clarified about the infrastructure needs for conducting such courses and informed the audience that the development as a person comes from experiences in various platforms and understanding of methodologies needed to meet the needs of the customer. She explained about her role in Google as designer and gave an insight into the life, work and project approaches in Bigtech firms that operate internationally.
A digital portrait was presented to the guest Ms.CharuChoudha as a token of gratitude from SPADE. Winners of "My Happy Place" competition organized by SPADE for school students were given awards and certificates during the event.