WALK FOR WATER 2019 | Event Date: Tuesday, 1st, October 2019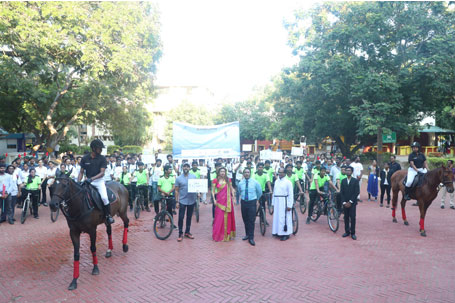 "WALK FOR WATER" an event proposed by Par Anand Charitable Trust, Friends for Good Health (USA), and Healing Lives (UAE) was conducted at Hindustan Institute of Technology and Science on 1 October 2019, Tuesday. As a collective platform, "WALK FOR WATER" is formed in interest to protect environment and ecology and with an objective of creating public awareness and environmental consciousness in relation to the dimensions of the problems that arise and are likely to arise from scarcity of water. The event held under the aegis of Dr Sanjana Jon, a New York based Philanthropist and Designer celebrity primarily observed Thiru S.R.L. Idhayavarman, Member, Legislative Assembly, Thiruporur Constituency; and Mr. Vijay Yesudas, Playback Singer & Actor as special guests.
Pointing to the recent UN meet emphasizing the most alarming crisis the world is heading to, Dr. Sanjana made a reference to the scenario prevalent all over the world, and more specifically, in Chennai—the need to preserver water. She aptly pointed to "One Student One Tree programme" which is rightly set for the H2O Movement. "Water is life—the essential element to keep the world rotating," said Thiru S.R.L. Idhayavarman on highlighting the effective ways to be practised during monsoon season and how water could be saved when it reaches mankind in form of rain. He also insisted on adapting rainwater harvesting as a prime mode of preserving water. Mr. Vijay Yesudas drew reminiscences of one of his fondest beaches that is now dumped with non-biodegradable substances and called upon young minds to have social conscience. He deliberated on the cruelty of humans towards nature and insisted on "change that should start from smaller community; as of one's street and areas." Owing to audiences' request, Vijay Yesudas sang a popular score from the movie Kadal highlighting the bounteous beauty of nature.
Mr. Ashok Verghese, Director, Hindustan Institute of Technology and Science reiterated the vitality of water and how as individuals we should have responsibility to protect and preserve water. He added that the H2O Movement-Walk for Water has been conceived as a people's movement and is poised to chart a new course in history of the modern world. The movement is determined to improve lives by means of increasing awareness, minimizing wastage, promoting rainwater harvesting and the purification of recycled and contaminated water.
Prizes for several events such as Elocution, Debate, Creative Writing, Sketching, and Poster Presentation highlighting the commemoration of H2O Movement "WALK FOR WATER" were also distributed on the occasion. Mr. Lauxley G R Pandiyan, B. Tech. Computer Science and Engineering gave away his winning elocution talk titled "Seven" highlighting 7km as an average time for most of us to walk for water and with determined mind and concern for the others, the distance can be narrowed as best as possible. The event promisingly concluded planting of saplings denoting cultivation of green environment, with a vowing of pledge; and 'WALK FOR WATER' rally marched by over 1000 students of Hindustan Institute of Technology and Science emphasizing the need for water and creating social alert to the public so as to preserve this most required liquid and handover safely to our posterity.