UNIVERSITY-DAY-CELEBRATIONS | Event Date: Friday, 5th, April 2019
Hindustan Institute of Technology and Science (HITS) celebrated its University Day on 5 April 2019. Prof. Dr. K.K. Aggarwal, Chairman, National Board of Accreditation, New Delhi and Mr. Robert G. Burgess, US Consul General, Chennai graced the occasion as the Chief Guest and the Guest of Honour respectively. The event was attended by Dr. Mrs. Elizabeth Verghese, Chancellor, HITS; Dr. Anand Jacob Verghese, Pro Chancellor, HITS; Dr. K.P. Isaac, Vice Chancellor, HITS; Dr. Aby Sam, Director, HITS; Mr. Ashok Verghese, Director, HITS; Dr. Pon Ramalingam, Registrar, HITS; Dr. N. Vasudevan, Dean-Academics, HITS; Deans, HoDs, staff and students of HITS.
Mr. Ashok Verghese in his welcome address mentioned that University Day is a day where we reminiscence our past glories and milestones, and advance towards future with determined goals. Dr. K.P. Isaac, Vice Chancellor, HITS pointed the major achievements and milestones set by the Institution in his Annual Report presentation. For instance, Jaihind 1S being the World's Lightest Satellite made using 3D Printed PLA Nylon, and Jhatayu touted as Asia's First "Flying Bike"—both being recorded for their innovation in India Book of Records.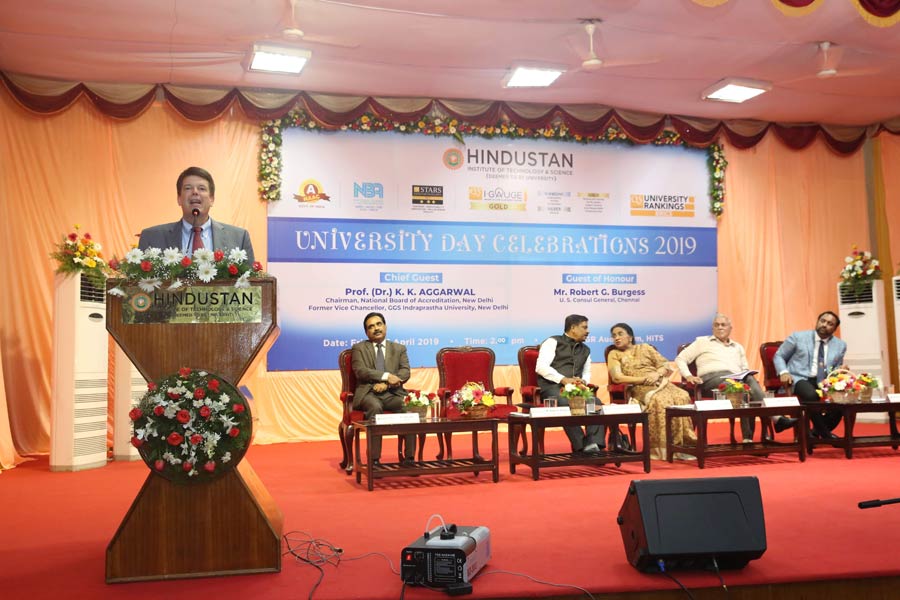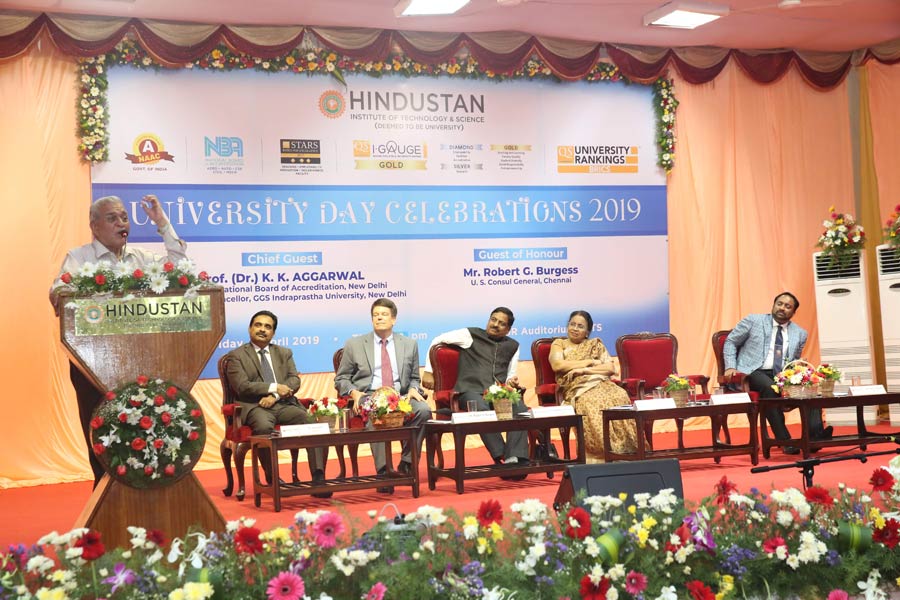 "The recent attainment of Overall Gold Rating from QS I-Gauge Indian University Rating is a mark of standard HITS maintains in all its functionality", said Dr. Elizabeth Verghese, Chairperson, Hindustan Group of Institutions in her presidential address. On referring to quality and excellence that are mark of an institution, Dr. Elizabeth pointed HITS' recent NBA accreditation for five disciplines namely Aeronautical Engineering, Automobile Engineering, Civil Engineering, Computer Science and Engineering, and Mechanical Engineering. She further persuaded the students to keep themselves fortified with necessary learnings and trainings that are necessary mandatory one's career.
Mr. Robert G. Burgess, US Consul General, Chennai acknowledged the long association between HITS and the USA Consulate in Chennai. The Consulate General also lauded HITS stupendous achievements in the academic year 2018-19. He evoked the great examples of the founding fathers of the USA such as Benjamin Franklin and Thomas Jefferson who were not just great achievers but equally greatly driven by their enthusiasm in the field of technology and experiments. "For achieving a great height in the technological fields, the key impetus should be culture of enterprise and risk taking", said Mr. Robert G. Burgess. Further, he reminded a great knowledge bond shared between India and the USA through evoking the great Nehru Fulbright scholarship.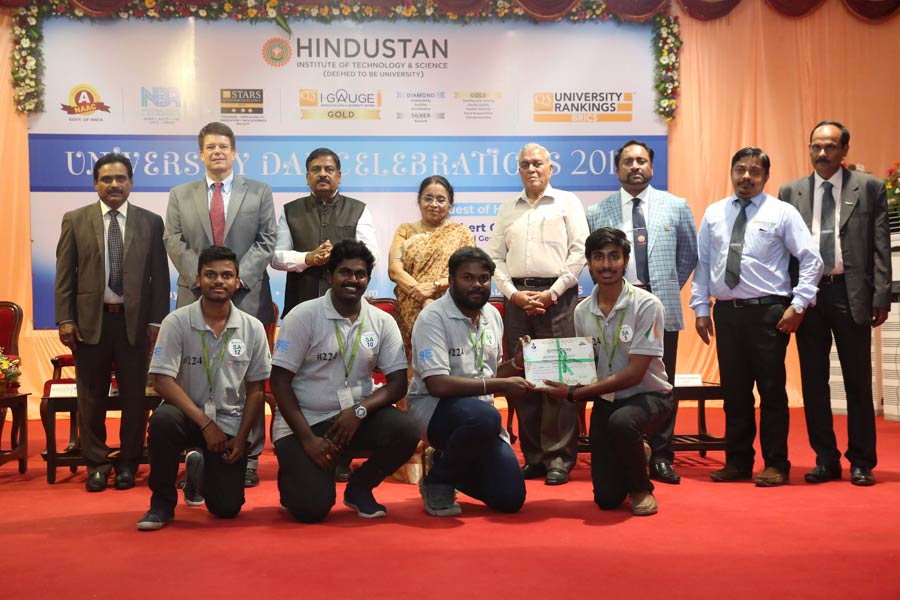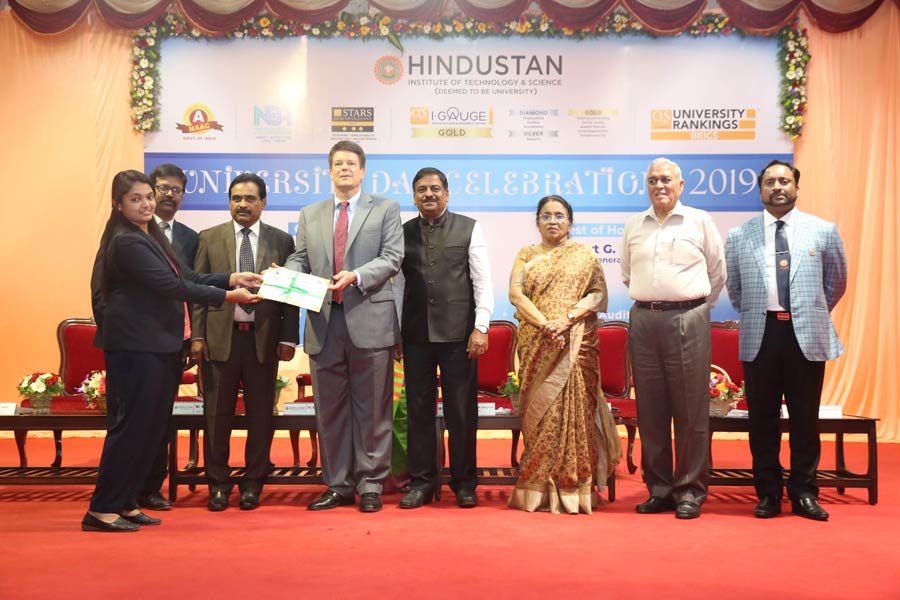 Prof. Dr. K.K. Aggarwal, Chairman, NBA was appalled by the amount of conferences and seminars conducted by HITS in the academic year 2018-19. "Learning experiences sought by reaching beyond the boundary of one's core subject certainly enables in acquiring enhanced learning experiences. The need to have an interdisciplinary approach is key to become great problem solvers", urged Prof. Dr. K.K. Aggarwal. Speaking on education, he further added that our Indian education systems has been greatly watertight which hampers the students' overall ability to become a smart learner and problem solvers. Mr. Aggarwal also said that teachers should instil in students a faith to seek solution to a problem through various means and not necessarily a single one.
University Day celebration also stood as a forum to award students and staff achievers under various categories such as academics, research, innovation, alumni, voluntary services, sports. A total of 300 student awards and 20 staff awards were given by HITS in recognition of hard work and commitment. Dr. N. Vasudevan proposed the denouement address and thanked the gathering.