SUCCESS DAY 2019 | Event Date: Tuesday, 9th, April 2019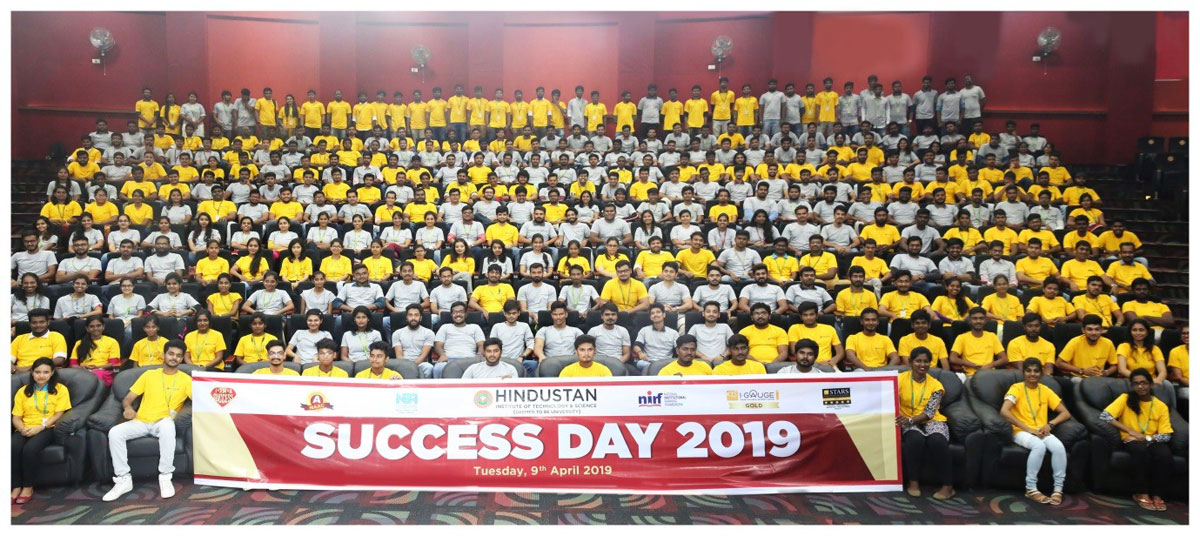 Hindustan Institute of Technology and Science (HITS) celebrated SUCCESS DAY on 9 th April 2019. SUCCESS DAY is celebrated every year in recognition of final year UG and PG students who are placed in firms, chooses career in defense services, opts for higher studies, prefers family business or turns an entrepreneur. HITS takes pride in celebrating the success stories of such students and honours them with Certificate of Recognition. Infosys, IBM, Amazon, Paypal, Vestas, Ramco Systems, IDBI Federal, Data Patterns, Zoho, TATA AIG, JBM Group, Sundram Fasteners, Saint Gobain to name a few are the organizations that visited the Campus this academic year; of which Amazon Development Center India has offered the highest CTC of Rs. 28 lakhs per annum. A total of 850 students were honoured on this occasion making the percentage of placements surpass previous years' record. Mr. Salvo Barbera, CEO, Space Tech International Ltd., Arc Technology, France; Mr. Pon Balaji Sankar, Talent Acquisition, Infosys; Mr. R. Tamilvanan, Chief Sales Officer; and Mr. Raghav Rangarajan, Founder, Ignite were the resource persons at the event.
Mr. Salvo Barbera emphasized on developing passion at work and strengthening oneself with hard work. Mr. Pon Balaji Sankar gave a glimpse of what to expect in a corporate environment and appealed the participants to stay updated and build ability to deliver results. Mr. R. Tamilvanan stressed on never ending learning. Mr. Raghav Rangarajan reiterated on failures which are absolutely okay as long as one aims to set higher benchmarks. Earlier, Dr. K.P. Isaac, Vice Chancellor, HITS iterated on holding good values and integrity in par with career advancement. Dr. Pon Ramalingam, Registrar, HITS appreciated students on their success and opined them to stay connected with their alma mater. Mr. B. Thirumaran, Head- Placement, HITS proposed a vote of thanks.