SEVILI - CARING THE CARE TAKERS OF COVID -19, ROBOT DEVELOPED BY HITS | Event Date: Sunday, 22nd, March 2020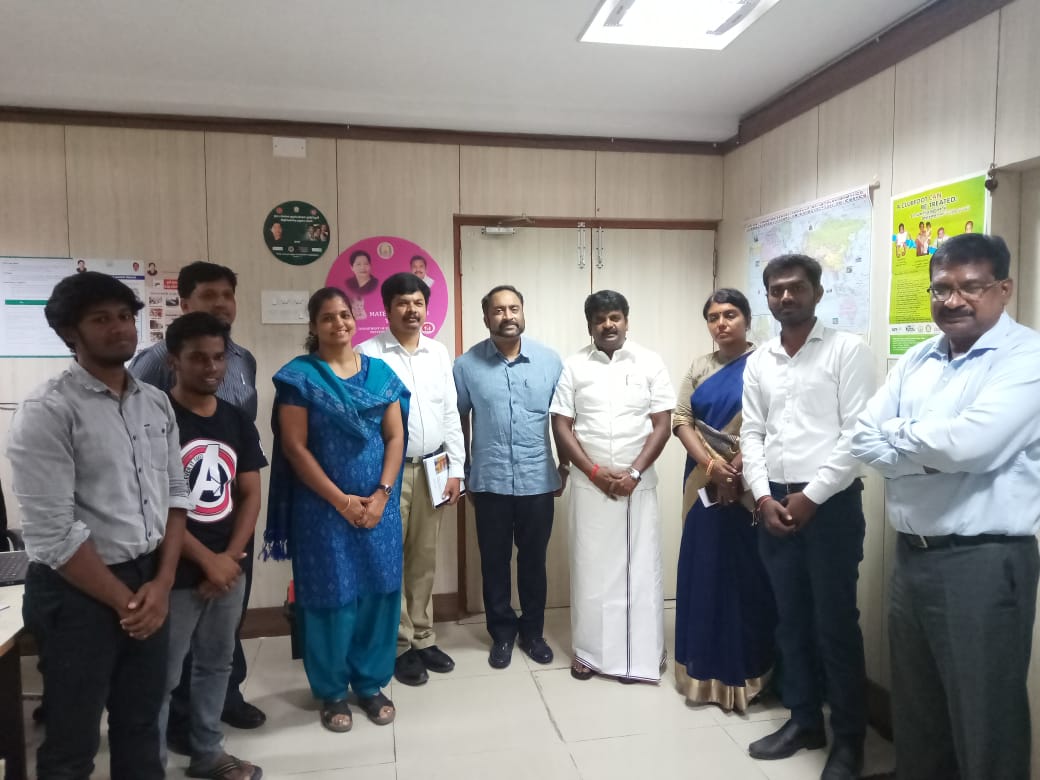 Hindustan Manufactures Life Saving 'Sevili' Robot for Tamil Nadu and the initiative was supported by Renault Nissan
'Coronavirus' is a global emergency as it exponentially spreads across the world. Large number of doctors, nurses and other paramedical workers are playing a crucial role in the battle against COVID-19. In this course of humanitarian service, they are at high risk of exposure to viral transmission and getting affected. One way of minimizing the spread is to reduce the frequency of closer interactions with affected patients.
In order to support the initiatives to control the spread of COVID-19, Sevili - a service robot was developed by the Centre for Automation and Robotics, Hindustan Institute of Technology and Science, Chennai to assist medical frontline.
'Sevili' is a Tamil word which means 'Care Taker'. The first 'SEVILI' developed and sponsored by the University is deployed at Rajiv Gandhi Govt. Hospital (RGGH), Chennai. Four more robots are given to Isolation Wards at RGGH. This initiative was supported by Renault Nissan.
Sevili is capable of navigating to the isolation ward to deliver food, Medication and other necessities. It facilitates remote communication between medical frontline and quarantined patient through Video/Audio.
The project team is led by Prof Dinakaran Head of the Centre for Automation and Robotics (ANRO) and the members include Prof M M Ramya & other faculty of ANRO, research associates Mr Karthick Kumar, Mr Jaise Jose, Mr Rajesh, Mr Sujin, Technical Staff Mr.Vinayagamoorthy and Mr Rajasekar, Students of Mechatronics Engineering Mr Lena Sekar, Mr Akash and Mr Sivaprakasam.
Prof Dinakaran said that the centre is ready to scale up the numbers as the design is simple and modular.
Prof Dinakaran expressed his sincere gratitude to Dr Vijayabaskar, Dept. of Health and Family Welfare for his interest in implementing technological solutions to serve for present situation. He also thanked Dr Jayanthi Dean of Madras Medical College and Rajiv Gandhi General Hospital for her suggestions to fine-tune the features.
Prof Dinakaran expressed his gratitude to Renault Nissan for lending their supporting hand to Hindustan Institute of Technology and Science for first phase scale up of the product. He also thanked Axis Global Automation for the support in production of Sevili Robots.
Team ANRO thanked Dr Anand Jacob Verghese, Pro-Chancellor for his guidance, Mr Ashok Verghese, Director for his support, and Dr K P Issac Vice Chancellor for his encouragement for the successful implementation of the product. Dr D Dinakaran said that the University is very much proud of being a part of the battle against COVID-19.
For Support