SEVILI-CARETAKER ROBOT ASSISTS MEDICAL FRONTLINES DURING COVID-19 | Event Date: Wednesday, 22nd, April 2020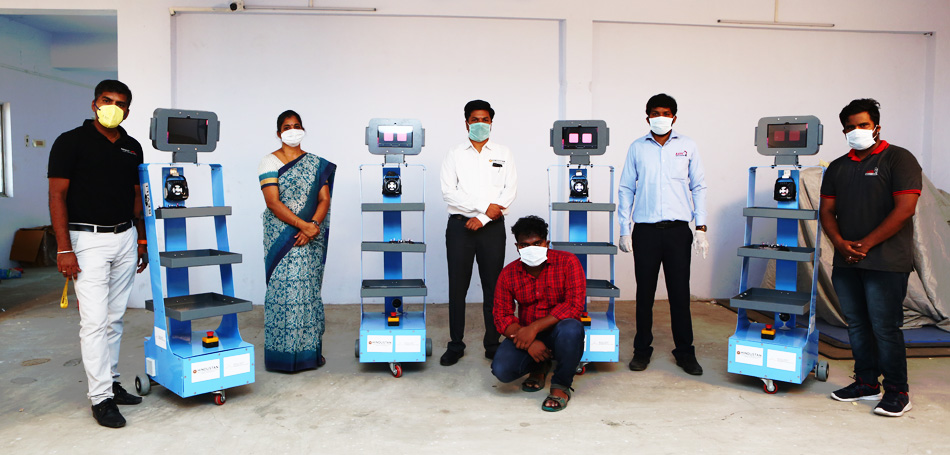 The novel Coronavirus, has wobbled the globe with its rapid, and uncontrollable spread. In the battle against COVID-19, large number of doctors, nurses and other paramedical workers are involved to provide effective treatment risking their own wellness. The Centre for Automation and Robotics at Hindustan Institute of Technology and Science with a unified mission to protect the frontline medical workers developed Sevili, an exclusive service robot to monitor infected patients. Sevili is capable of navigating to the isolation ward to deliver food, medication and other necessities; and facilitates remote communication between medical team and quarantined patient through video & audio aids. Currently, 5 Sevili Robots are deployed at Rajiv Gandhi Govt. Hospital. The effort has been appreciated and welcomed by Dr. Vijayabhaskar, Hon'ble Health Minister of Tamil Nadu.
Sevili has come up with one of the ways of minimizing the spread of virus by reducing the frequency of closer interactions with Corona affected patients. The project team led by Prof. Dinakaran, Head, Centre for Automation and Robotics (ANRO) and the members include Prof. M. M. Ramya & other faculty of ANRO, research associates Mr. Karthick Kumar, Mr. Jaise Jose, Mr. Rajesh, Mr. Sujin, Technical Staff Mr. Vinayagamoorthy and Mr. Rajasekar, Students of Mechatronics Engineering Mr. Lena Sekar, Mr. Akash and Mr. Sivaprakasam have involved themselves in a commendable mission. The team's administrative contributions and innovative ideas have attained new heights and given new hopes to fight crisis.
Renault Nissan has joined hands with Hindustan Institute of Technology and Science for first phase scale up of the product. Hindustan is very much proud of being a part of the battle against COVID-19 through technological innovations and contributions. We very much admire the team's shrewdness in taking this decisive action at the right time!