RANE 2019 | Event Date: Thursday, 29th, August 2019 -Friday, 30th, August 2019

The 2nd International Conference on "Robotics, Automation & Non-Destructive Evaluation - RANE 2019" on theme "Technology for Society" was conducted by Centre for Automation and Robotics, School of Mechanical Sciences on 29 and 30 August 2019. Dr. K. P. Issac, Vice Chancellor, HITS in his inaugural address emphasized the importance of Artificial Intelligence (AI), Robotics and Automation in the years to come. The chief guest, Dr. Shane Xie, Professor and Chair, Robotics, School of Electrical Engineering, University of Leeds, UK, in his special address listed the importance of robotics in day today life and pointed the role of robots in patient assistance and rehabilitation. Similarly, Dr. Amarnath, representative of Dr. Himangshu Das, Director,National Institute for Empowerment of Persons with Multiple Disabilities (NIEPMD), Chennai, pointed the need of robotics and automation technology at affordable cost for the assistance of patients with multiple disabilities.; and expressed NIEPMD's interest in sponsoring such initiatives. Mr. Ashok Verghese, Director, HITS released RANE 2019 Proceedings whose first copy was received by Dr. Shane Xie and also launched the website of RANE 2020 in grandeur. Mr. Ashok Verghese was keen on carrying out the research towards assistive techniques and emphasized on transforming HITS to be a marked leader powered by collaborations with major industries and academic institutions. Prof. Philip Picton, Senior Professor, University of Northampton appreciated the initiative take by ANRO in creating awareness on NDT amongst the skilled technicians and gave away the NDT Training Certificates, an important outcome of the Royal Academy Project. Dr. S.G. Ponnambalam, Professor, Universiti Malaysia Pahang, Malaysia, and Dr. Manukid Parnichkun, Professor, Asian Institute of Technology, Thailand were seen at the function.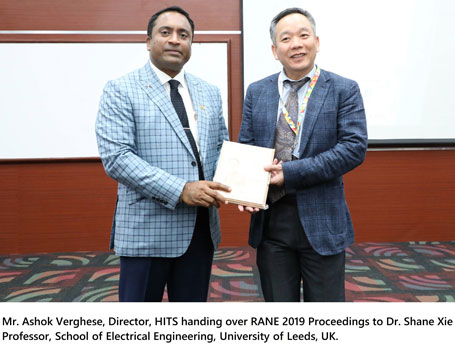 Panel discussion on "Mechatronics – Interdisciplinary Programmes – Challenges, Perception and Way Forward" following the discussion and resolution made in RANE 2018 and inputs received from the Chairman, GATE Committee focused on framing a common curriculum for GATE exam in Mechatronics Engineering. The panel consented to submit a draft of modular curriculum designed based on the discussions to MHRD/ AICTE/ GATE for consideration
Keynote and invited lectures from Dr. Shane Xie on "Reconfigurable Lower Limb Exoskeleton for Effective Stroke Treatment in residential Settings;" Dr. T. Asokan, Professor, IIT Madras, on "Design and Analysis of Multimodal Robots for Field and Service Applications;" Prof. Phil Picton on "Artificial Intelligence: Hype or Reality?"; Prof. Manukid Parichkun, Asian Institute of Technology, Bangkok, Thailand on "Advanced Robotics and Mechatronics Researches;" Prof. Ponnambalam, "Evolutionary Algorithms to Balance Robotic Assembly Lines;" and Dr. Nilesh J Vasa, Professor and former Head of Engineering Design on "Optomechatronics" marked RANE 2019 besides paper and poster presentation and stalls.