PRO CHANCELLOR RECEIVES "EDUPRENEUR OF THE YEAR 2020" AWARD | Event Date: Tuesday, 25th, February 2020 -Wednesday, 26th, February 2020
The 13th Higher Education, Skill and Livelihood Conclave – Future of Higher Education and Skill 2030 aimed to promote world class quality education, innovation and research. Organized on 25 and 26 February 2020 atIndia Habitat Centre, New Delhi, the conclave recognized and nurtured an atmosphere of excellence and quality in the institutions that groom future leaders and felicitated those who have significantly contributed for the society in terms of Education.
Dr.Anand Jacob Verghese, Director&CEO, Hindustan Group of Institutions was honoured with the most coveted "Edupreneur of the Year 2020" Award for his remarkable accomplishments in the field of higher education. Hindustan Institute of Technology and Science was also acknowledged with "Institute of the Year for Higher Education – South" Award at the conclave which was received by Mr. Ashok Verghese, Director, HITS & Ms. Anita Gupta, Regional Manager, Delhi Office, HITS. The conclave was attended by over 300 Chancellors, Vice Chancellors, Principals, Deans, Directors and Promoters of leading Government and Private Universities, Institutions, Colleges, Edutech Startups, and Consultants across the country.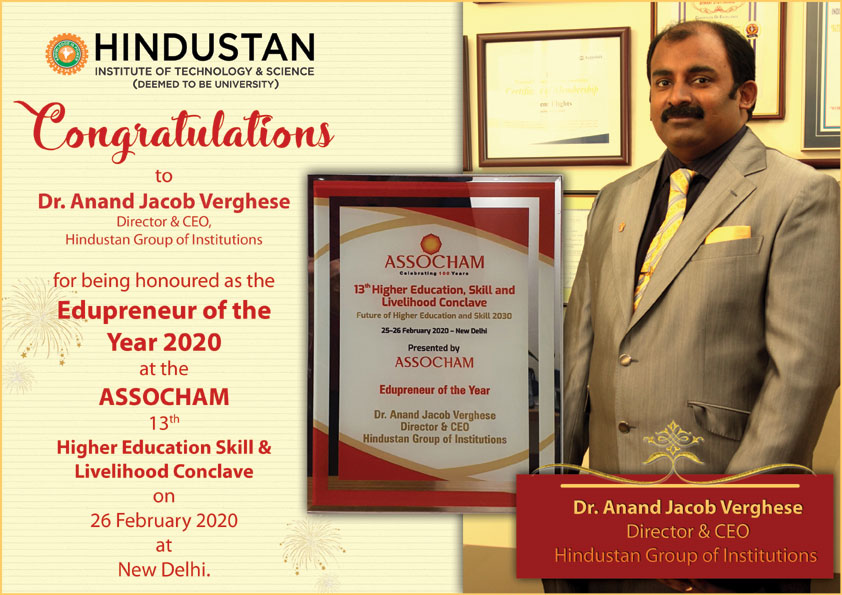 L-R: Dr. G.D. Sharma, Former Secretary, UGC; Padma Shri. Dr. Pritam Singh, Ex-Director, IIM-Lucknow; Mr. Deepak Sood, Secretary General, ASSOCHAM; Dr. Mahendra Nath Pandey, Hon'ble Minister, Ministry of Skill Development and Entrepreneurship, Mr. Ashok Verghese, Director, Hindustan Institute of Technology & Science,Chennai; and Dr. Prashanth Bhalla, Chairman, ASSOCHAM National Council of Education.