NATIONAL WEBINAR ON NEP 2020 | Event Date: Saturday, 29th, May 2021
Dr. KCG Verghese Higher Education Leadership Management (HELM) Centre, and IQAC, HITS jointly organized the National Webinar on 29 May 2021. The programme commenced with the Welcome Address by Dr. S.N.Sridhara, Vice Chancellor, HITS. He extended a warm and cordial welcome to the Chief Guest, Dr. Thiagarajan, Chancellor, Avinashalingam Institute for Home Science and Higher Education for Women for accepting the invite to present on NEP 2020, on behalf of the Chancellor, Dr.Mrs. Elizabeth Verghese; Dr. Anand Jacob Verghese, Pro Chancellor; Mr. Ashok Verghese& Dr. Aby Sam, Directors. He also welcomed the audience comprising over 240 participants across40 plus institutions.
The Vice Chancellor briefed HELM centre which was inaugurated on 12 July 2017, by Prof. Ved Prakash Former Chairman, University Grants Commission, New Delhi during the 6thInternational Young Scholars Workshop conducted in collaboration with the American Society of Public Administration. Several programmes were held under the banner of HELM in line with their vision that is "Shaping the future of Higher Education Institutions across the globe through continual innovation In Education, Leadership & Management, Research and contribution to Society". Late Dr. KCG Verghese, Founder Chairman of Hindustan Group of Institutions, Chennai, India, as we know was a visionary par excellence. His aim was to empower the youth and to meet the challenges of the 21st century. He mentioned that the centre Heads of HELM and IQAC, Dr. Sherine Joy and Dr. T. Sudalaimuthu, have collaborated to host this National Webinar on Impact of NEP 2020 on Higher Education, and he also mentioned that both the centres have the similar vision of providing Quality Education. Dr.S.N. Sridhara, mentioned that HITS management had taken measures and vision beyond NEP and he thanked Dr. Elizabeth Verghese, Chancellor, HITS , Pro Chancellor, Dr. Anand Jacob Verghese, Directors and good practices have been implemented to a great extent.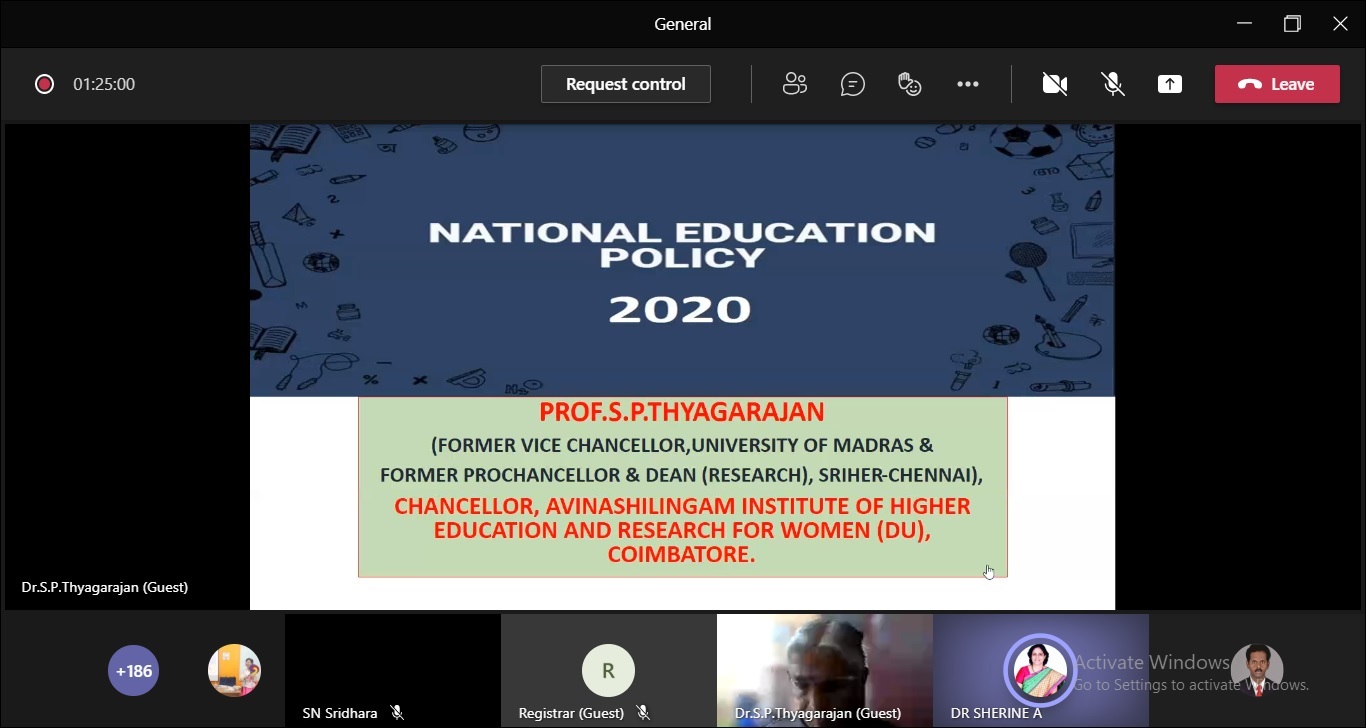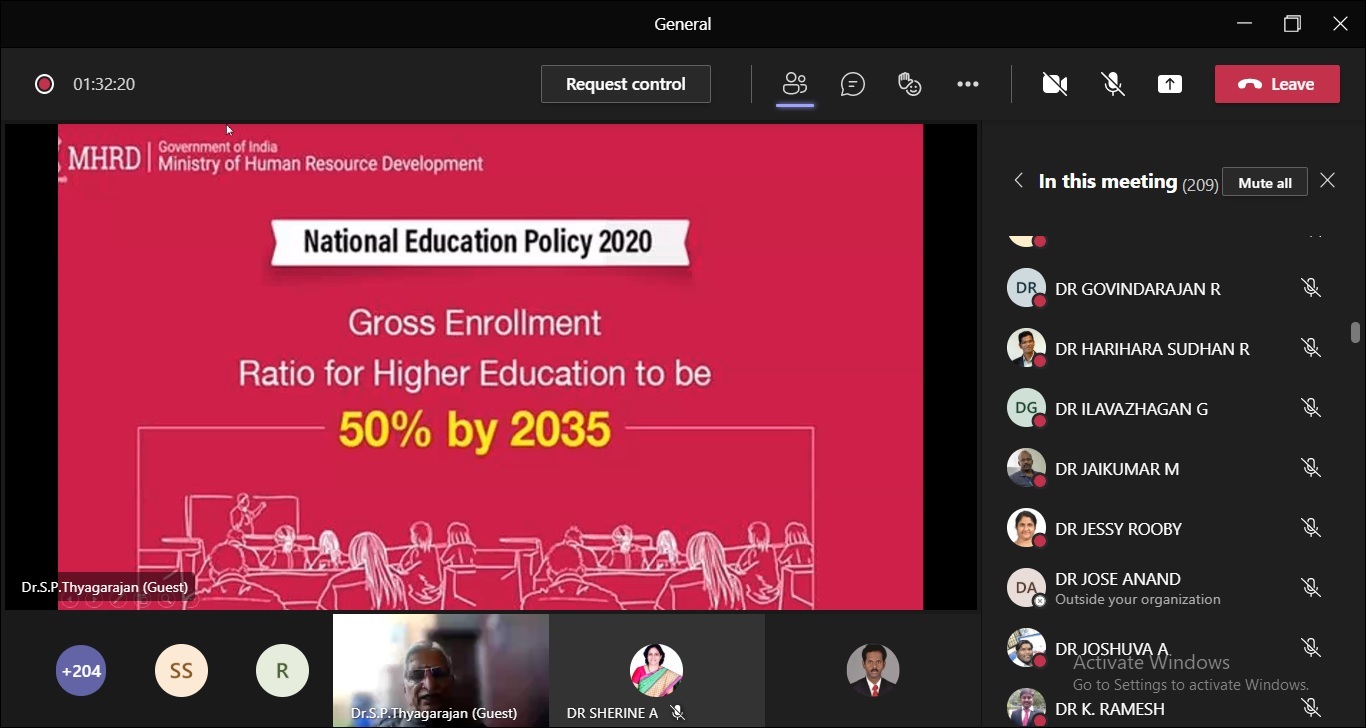 The welcome address was followed by the introduction of the Chief Guest, Prof. S.P.Thyagarajan, Chancellor, Avinashalingam Institute for Home Science and Higher Education for Women by Dr. Pon Ramalingam, Registrar, Hindustan Institute of Technology & Science. The eminent resource person Dr. Thyagarajan has 51 years of teaching and research experience in Tamil Nadu Medical Colleges, University of Madras and Sri Ramachandra Institute of Higher Education and Research (Deemed to be University. He was instrumental in developing several UGC Regulations for Multi-centric Research projects of National funding agencies and National Programs of MHRD, Government of India including RUSA for the State Universities and Colleges. He has achieved several accolades and awards.
Dr. Thyagarajan, began his address with a thanking note to the Management of Hindustan Institute of Technology & science, for the invitation. He began to present his views reiterating the importance of NEP 2020, which has gained popularity not only in our nation but also overseas. Therefore, it's important that the stakeholder should necessarily understand the components of NEP 2020. Out of the 11 chapters of the NEP document he mentioned that he would showcase, three chapters that dealt with, areas towards a holistic education, to bring the sustainable development goal with global competency and concentrating on promoting high quality research, which were the unique features of NEP and also the challenges implementing the policy. He also briefed on the outcome pillars of NEP 2020, key principles and approaches, dealing with Holistic Multidisciplinary, HE, synergy of vocational education with regular education, value education as integral component of education, reframing skill education with internships and incubation centres, integration of Global Citizenship Education' in tune with SDG -4,strengthening of Indian Classical Languages, literature and scientific vocabulary of Indian Languages, functionalization of e-education along with face-to-face education, rejuvenating Indian research on par with international quality. He emphasized that all these reforms require HEI-Ecosystem, quality curricular framework, assessment tools, technological support and National level HEI Operational Structure. He also explained the challenges faced to implement NEP related to execution of Choice Based Credit System that would be nationalized through a system designed by NEP. Model Multidisiplinary education and Research University, Academic Bank of credits were explicitly explained.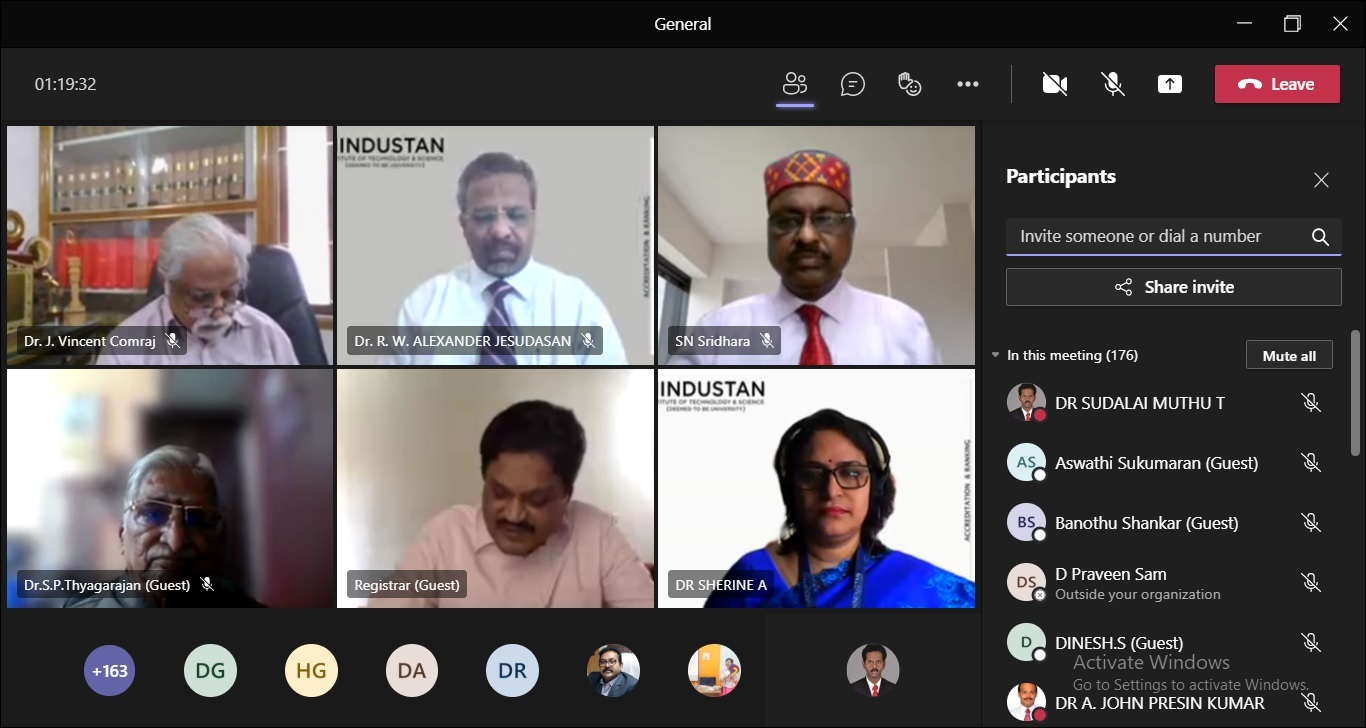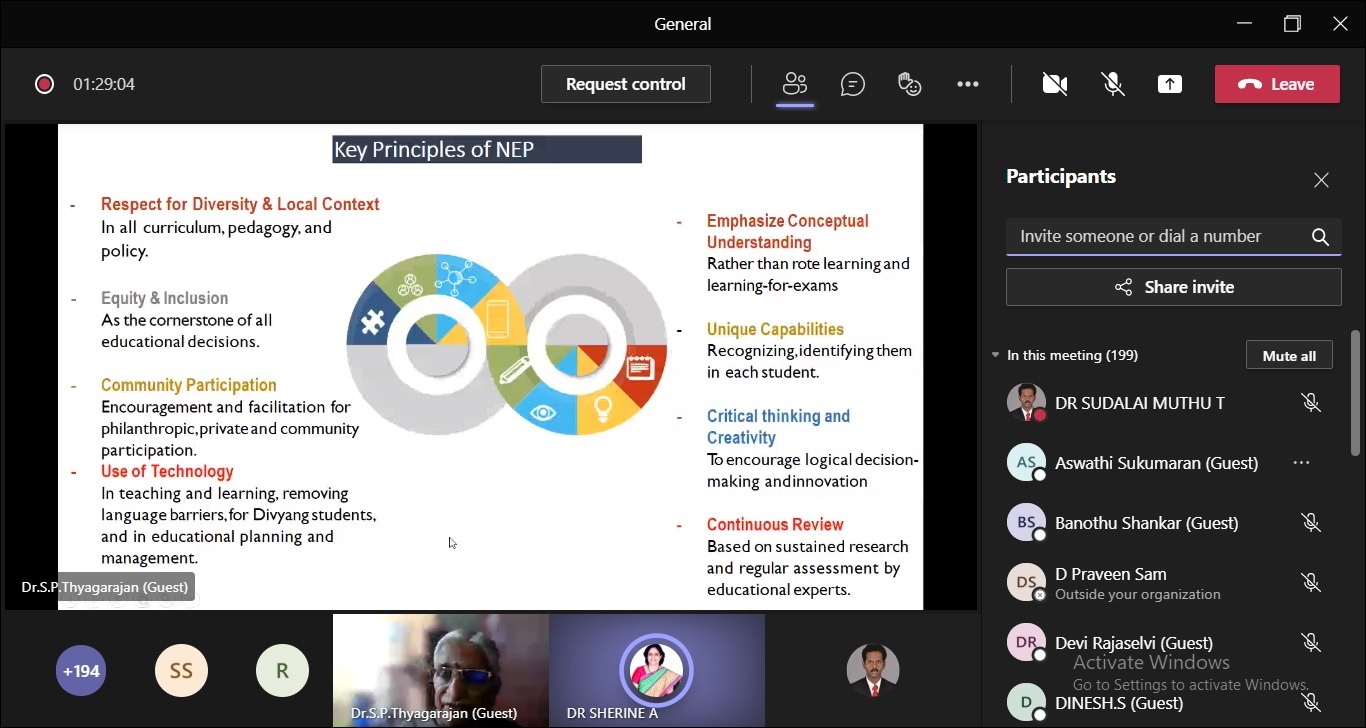 The salient outcome anticipated of NEP 2020 across the country is the achievement of the Gross Enrollment ratio for Higher Education to attain 50% by 2035. The second major reform is Holistic and Multidisciplinary education- flexible of subjects, Multipleentry/exit. UG programme for 3-4 years (certificate/diploma/PG Diploma/Degree). He also spoke credit transfers and academic bank of credits. HE has to provide absolute autonomy of students, choosing the courses they desire as per their aptitude and expectations. Student will have an account number and deposit the credits from institutions in India and abroad. He also explained the functions of Academic Bank of Credits is an academic service provider, to facilitate all students of HEI's . He also explained the aspects of global citizenship education and domains of learning. He briefed about promoting high quality research: opportunity to integrate arts humanities, sciences, technology and social sciences and also the role of NRF mentioned in the NEP document. He also briefed about the various schemes and explained in detail the NEP policy implementation cycle. He reiterated the fact that it is important to monitor, sustain, and enhance the quality of education, and it is a real challenge.
Dr. Alexander Jesudasan, Pro Vice Chancellor, HITS, was invited to speak on, NEP 2020 for Universities and its Opportunities. Dr. Alexander, has more than 35 years of experience in both teaching and administration. He had donned several prestigious academic roles at Madras Christian College, Tambaram before joining HITS in the year 2020. He also served as Member in NAAC since 2009 and assessed more than 30 colleges in India. He has several awards and fellowships to his credit and it includes 'Higher Education Excellence Award' by Staffordshire University, UK.
He commenced his speech, giving due recognition to the previous speaker who is a doyen in the realm of education. He continued his presentation highlighting on the march towards higher accomplishment in HE through NEP 2020. He explained the evolution of NEP 2020 right from 1968 and the entire journey of NEP and how Dr. K. Kasturirangan committee submitted the NEP document in the year 2020. He outlined the aim of NEP, scope of NEP and opportunities available through NEP and Innovations in NEP.
Dr. Alexander highlighted the aims of NEP and it includes, to develop good, thoughtful, well rounded and creative individuals, education should be aiming to the development of character and ethical values, importance of connect with society and aim to focus on purposeful living. He went on to elaborate the scope of NEP and the important aspect to revamp the curriculum and update it and make it more relevant to make the students employable and focus on industry connects. His presentation highlighted on the scope of introducing foreign languages so that the students will have leverage over other students and scope for employability. He mentioned that HITS is already offering several foreign languages Korean, French, German, Japanese, Spanish, Mandarin, with a focus to reach out globally and also focus on internationalization and employability opportunities. He also emphasized that NEP focuses on integrity of faculty, and it is a vital aspect, he applauded the Accreditation bodies who have implemented measures to check and monitor the same. He mentioned about the opportunities available for Universities through the NEP implementation. Scope of introducing Online Learning and ODL Programmes, and highlighted the initiatives of HITS during the present pandemic situation thus keeping abreast with transforming of education. Move towards vibrant multidisciplinary, multilingual flexibility, incorporate more vocational subjects, Honors/Minors and soft skills, NEP advocates on the Importance of implementation of soft skill in engineering institutions, community engagement in line with SDGs, and also acknowledging the institutions who have already implemented Value based education. He also mentioned about the ABC (Academic Bank of Credit) and the 4-year UG degree and Multiple exit formula and went on to highlight the scope for innovations. He ended his presentation by reiterating that NEP 2020 will bring out the best of the educational institution throughout our nation, since it is focused on highly student centric, flexibility in accordance with students choice and trajectory, multidisciplinary and holistic education, creativity and critical thinking, extensive use of technology, respect for diversity and internationalization, equity and synergy in curriculum across all levels of education, outstanding research and deep rootedness and pride in India.
Dr. Vasudevan summarized the entire session highlighting the implementation aspects and mentioning the significant points highlighted by NEP in a nutshell and concluded with the Vote of Thanks.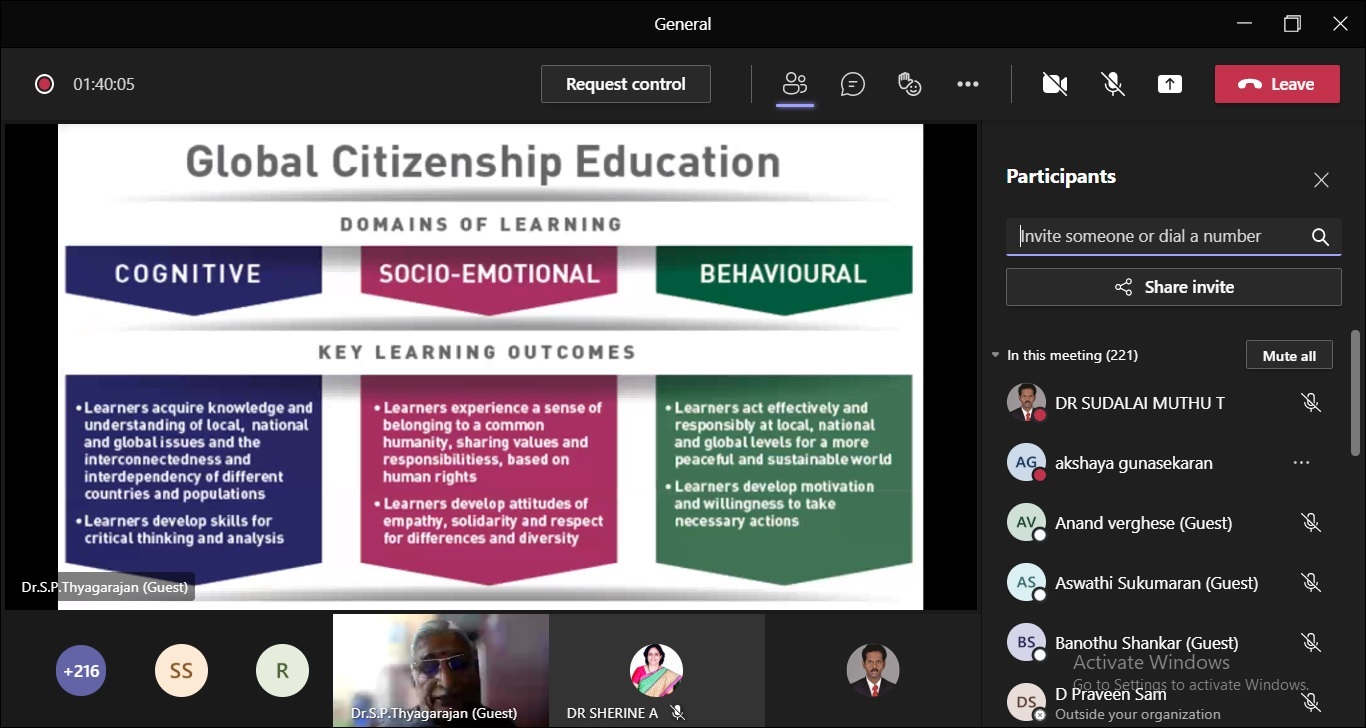 PARTICIPANTS LIST
| NO. | INSTITUTION'S NAME |
| --- | --- |
| 1 | Annamacharya Institute of Technology, Rajampet, Andhra Pradesh, |
| 2 | Auxilium College of Arts &Science, Pudukottai, TN. |
| 3 | Auxilium College, Vellore. |
| 4 | AV College of Engineering, Myaladutharai. |
| 5 | B.V. Raja Institute of Technology, Narasapur, Hyderabad. |
| 6 | Career College, Bhopal. |
| 7 | Christ University, Bangalore. |
| 8 | CMR Engineering College, Hyderabad, Telangana. |
| 9 | CMR Engineering College, Hyderabad. |
| 10 | Dibrugarh University, Assam. |
| 11 | GL Bajaj Group of Institutions, Mathura, |
| 12 | Government Law College, Trivandrum. |
| 13 | Govt. Polytechnic College, Aranthagi, TN. |
| 14 | GTTI Sidhannur, Raichur, Karnataka. |
| 15 | Hindustan College of Arts and Science |
| 16 | Hindustan Institute of Engineering and Technology |
| 17 | Hindustan Institute of Technology & Science |
| 18 | Hindustan International Schools |
| 19 | IIM & Commerce, Hyderabad. |
| 20 | Institute of Excellence in Higher Education, Bhopal. |
| 21 | IPS Academy, Indore. |
| 22 | ISL Engineering College, Hyderabad. |
| 23 | KCG College of Technology |
| 24 | KGISL Institute of Technology, Coimbatore. |
| 25 | KKNR School, Nellore, AP. |
| 26 | KLEF College, Guntur, AP. |
| 27 | Koshys Institute of Management Studies, Bengaluru, Karnataka. |
| 28 | Kumaraguru College of Engineering, TN. |
| 29 | Loyola College, Chennai. |
| 30 | Murugapa Polytechnic College, Salem. |
| 31 | Rajalakshmi Engineering college, Chennai. |
| 32 | Rukmini Devi Public School, New Delhi. |
| 33 | Sibsagar Girls college, Assam. |
| 34 | Sree Narayana Law College, Villupuram. |
| 35 | Sreenidhi Institute of Science & Technology, Hyderabad. |
| 36 | Sri Aurobindo College, New Delhi. |
| 37 | Srinivasa Ramanuja Institute of Technology, Anantapur, AP. |
| 38 | SSN College of Engineering, Chennai. |
| 39 | St Francis College for Women, Begumpet, Hyderabad. |
| 40 | St. Mary's college, Thoothukudi |
| 41 | SV College of Engineering, Tirupathi. |
| 42 | Thiagarajar College, Madurai. |
| 43 | University of Delhi |
| 44 | Vardhaman College of Engineering, Hyderabad. |
| 45 | Vidya Jyoti Institute of Technology, Hyderabad. |
| 46 | Vikram University, Ujjain. |
| 47 | Villa Marie College for Women, Hyderabad. |
| 48 | Vishwakarma Institute of Information Technology, Pune. |