INTERNATIONAL DAY 2019 | Event Date: Thursday, 26th, September 2019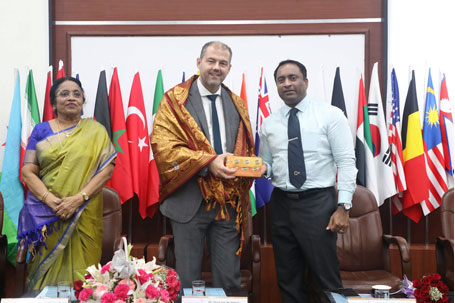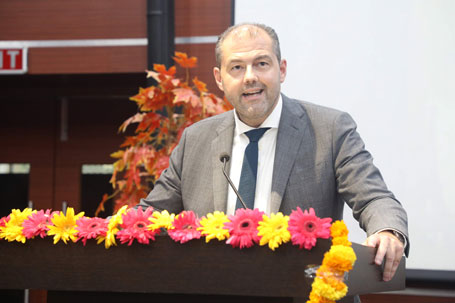 International Day - 2019 was celebrated in much admiration and zeal on 26 September 2019. Dr. Mrs. Elizabeth Verghese, Chancellor in her presidential address highlighted the rich legacy of Hindustan Group of Institutions in promoting internationalization. She recalled that lot of young people from Africa, Gulf and Middle East underwent training in Automobile and Aeronautical Maintenance Engineering. Dr. K. P. Isaac, Vice Chancellor stressed the need for internationalization of education and the steps taken by Hindustan Institute of Technology & Science towards it. He emphasized the impact of such steps in improving the quality of education. The Chief Guest, Mr. Mark Van de Vrekan, the Consul General of Belgium addressed on the trade relationship Belgium has with India and the benefits of international exposure. He recalled how during his earlier days of study, he was not aware of the importance of international exposure; and his later days of studies enabled him visit more than 10 countries under Erasmus + programme and how it helped him in being a successful diplomat. Ms. Gayatri Fabian from British High Commission spoke about the relationship Hindustan Institute of Technology & Science has developed with various countries and particularly with universities in UK through the Projects funded by Royal Academy of Engineering through Newton –Bhabha Fund. She also mentioned about the World Technology Universities Network of which Hindustan is a founder member along with Bradford University and the 3rd World Technology Universities Congress held in Chennai for the first time jointly by Hindustan Institute of Technology & Science and IIT Madras.
The international students of Hindustan Institute of Technology & Science along with students from different parts of India entertained the audience with a memorable cultural programme. Students from Djibouti, Japan, Thailand, Sudan, Kenya, Iran, UAE and Oman wearing their traditional attire spoke about their country in their language and took us to a mini tour of their countries through short videos showcasing the culture, important places and people. The international students transformed the stage to a confluence of culture, music and dance rich in flavor. Traditional Bharatha Natyam was performed by students of HITS. Finally, all the students from different parts of the world danced to a Belgium Song and the Consul General, Mr. Mark, Van de Vrekan also joined dance floor.