INDUCTION PROGRAMME FOR BATCH 2020 M.PLAN/M.ARCH | Event Date: Wednesday, 2nd, December 2020
The School of Planning, Architecture and Design Excellence (SPADE) conducted its Induction Programme for the Postgraduate students (M.Plan /M.Arch) of Batch 2020 on 2 and 3 December 2020. The inaugural ceremony of the Induction programme observed Dr. Arindam Biswaas, Associate Professor, School of Architecture and Planning, IIT, Roorkee as Chief Guest; and Mr. Shivashanmugam, Retired Chief Planner, CMDA, Chennai as Guest of Honour.
Ar. Reshmi Panicker, HoD (Planning and Arch) gave a brief overview of Hindustan Institute of Technology and Science and the PG programmes offered by SPADE with 26 glorious years of remarkable service with astounding accomplishments. Dr. Sheeba Chander, Dean, SPADE delivered the presidential address by welcoming the students and elucidating the importance of postgraduation degree for their career advancement and knowledge enhancement. She drew references of the previous batches in terms of exposure acquired through interaction with foreign speakers and few research activities.
Dr. Arindam Biswaas reflected on the wide opportunities students will gain through research; and mentioned that the contribution of the students is of immense importance for shaping the built environment of the country. Mr. Shiva Shanmugam highlighted on urbanisation and stated that lack of manpower and planning skills are the major reasons for its adverse effects such as quality of life, poor infrastructure, water scarcity, pollution, overcrowding etc. He further stressed on the importance of ICT in planning and also use of GIS, IRS in planning.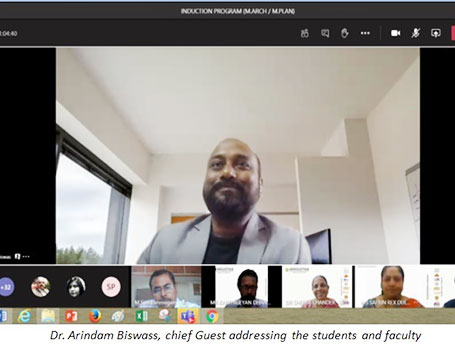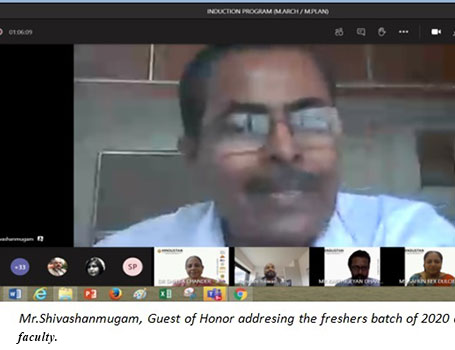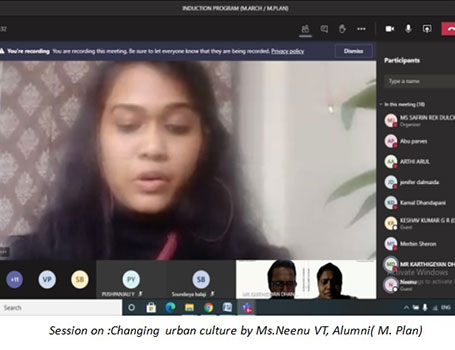 In her felicitation address, Dr. Angeline Prabhavathy, Dean PG Studies welcomed Batch 2020 and voiced that postgraduation is expertise in a particular field, and it requires regular reading and updating of knowledge. Ar. Emiline Madonna Jose, Professor, SPADE in her session on "Transformation into Social Catalyst" related to various societal and how architects and planners can contribute towards solving such issues. She also explained the various needs quoting Maslow's Hierarchy and highlighted how students' perception should differ when they are pursuing their postgraduation studies.
Students were privileged to observe Public Viva voce of Ar.Preetha jacob, SPADE and learn her research activities. Later, a Motivational Talk by Ar.Suja Kartha (Alumni, M.Arch) was organised. The programme concluded as Ms. Neenu V.T, Alumni (M.Plan) addressed on "Scope of Changing Urban Culture" by counting on her transformation from Civil Engineering to Urban Planning. The guests were presented with Digital Illustrations made by Mr. Yugendran and Mr. Rohit Kumar pursuing III B.Arch.