HOLI | Event Date: Friday, 18th, March 2022
The Office of Student Affairs organised Holi'22 grandly at the Open Air Theatre on 18 March 2022. Head - Student Affairs, welcomed the gathering. Students performed different dances, belted out Holi numbers, and showcased the Holi costumes on stage. Dr. K.Mohammed Ibrahim Khaleel, Regional Director, Indian Council for Cultural Relations (ICCR), Chennai delivered the Chief Guest address and expressed, "Holi symbolizes the unity, diversity, magnanimity & versatility of India. It removes enmity and brings joy in everyone. Different colours spread gives us happiness. Color and variety are synonymous with Indian culture, beliefs, and way of life.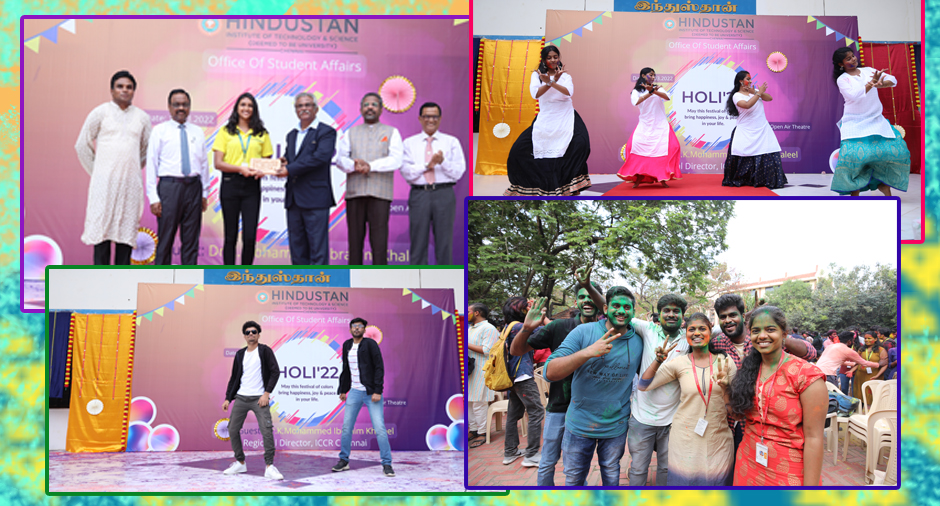 A country steeped in traditions, India charms and bedazzles all her visitors with a kaleidoscopic rendezvous.
Every street, every city, and every corner has a story to tell—all you have to do is listen.
But it is tradition, culture, and celebrations that truly bring this country together.
One of the most symbolic in the country is called Holi festival of colors.
A festival that celebrates the victory of good over evil, Holi is a celebration of the arrival of spring and harvests to come.
It's the Holi festival of colors, emotions, and happiness. And what better way to express yourself than with the vibrant colors of the rainbow? I wish you all a happy Holi!"
The Vice Chancellor, Dr. S. N. Sridhara gave away prizes to the winners of various events. The Pro Vice Chancellor, Dr. R. W. Alexander Jesudasan felicitated the winners. The Head – SLAAS, Dr. David Easow expressed his greetings and congratulated the participants. The Cultural Secretary of Hindustan Student Council, Ms. S.K. Priyadarshini proposed the vote of thanks.