ENGLISH LANGUAGE DAY | Event Date: Friday, 23rd, April 2021
The Department of Languages celebrated "English Language Day" commemorating the birthday of the Bard of Avon, William Shakespeare, English playwright, poet, and actor on 23 April 2021. The event was conducted as a prelude to the HOST 2021, HITS National Online Scrabble Tournament organized by the Department of Languages, HITS, ELTAI Kancheepuram Chapter and Athena Literary Club. Ms. R. Poornima, British Council School Ambassador Teach For India presided as the Chief Guest. Dr. Poornima is a CELTA certified teacher of English from the University of Cambridge, certified in educational research by Harvard Graduate School of Education and a validated teacher trainer by Imagine Education, UK. She is involved in the British Council Academic Teach for India (TFI) Fellow, Ma Foi Etude, UK Teacher Exchange Program, State Council Educational Research and Training - Delhi, Tamil Nadu, Telangana & Andhra Pradesh.
Ms. Varsha Nair, I Year BA Englishintroduced the event with an excerpt from William Shakespeare's play, Hamlet:
Hamlet: "Lord Polonius: What do you read, my lord?
Hamlet: Words, words, words.
Lord Polonius: What is the matter, my lord?
Hamlet: Between who?
Lord Polonius: I mean, the matter that you read, my lord."
Dr. A. Sherine Joy, HoD, Languages and Rankingsextended a cordial welcome to more than 90 participants who had logged in to witness the English Language Day virtual celebrations. In her introduction, Dr.Sherine expressed her view for showcasing the prowess of vocabulary and the importance of acknowledging the fact that, William Shakespeare is credited with the invention or introduction of over 1,700 words that are still used in English today.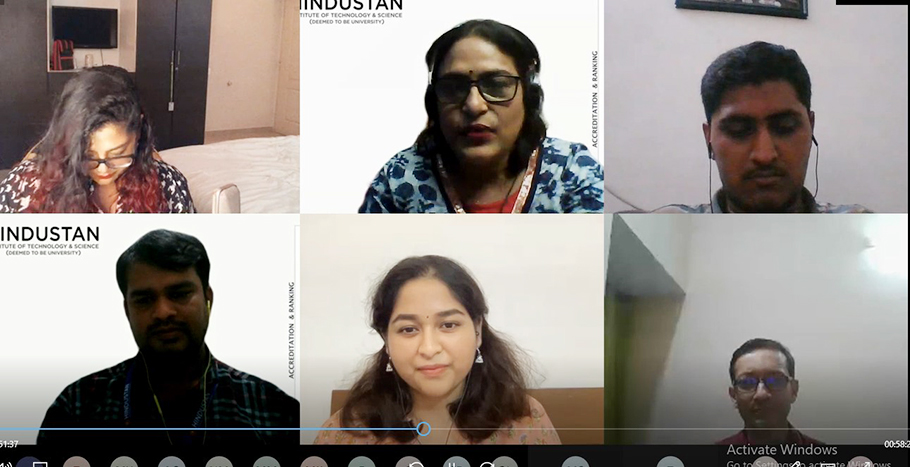 Dr. Poornima delivered a special lecture titled "What's in the name?" based on Vocabulary Building through Shakespeare Plays. She shared her personal experiences reading the book "Tales from Shakespeare" by Charles & Mary Lamb and how she was fascinated by the novel even at the age of 10. Her lecture painted a vivid picture about speed dating the Bard's vocabulary, explore meaning through pictures, clues and context and interacting in chat box. Several Shakespearian phrases were recollected and the participants comprising students from schools and colleges all over India actively participated in the activities. Activities were lively and the students were encouraged to find out the meanings of the words used by Shakespeare in Sonnets, though an activity 'Let's go Fishing'. The resource person also explained the research-based vocabulary building strategies from Shakespearean works.
The session ended with an exhilarating experience for the participants in enriching themselves with Shakespearean Vocabulary. The next session was by Mr. Ranganatha Chakravarthy,International Scrabble Champion and Founder, Madras Scrabble Foundation. He briefed the rules and strategies to play online scrabble tournament. The session was successfully attended by the registered participants of the National Scrabble Tournament HOST 2021 conducted as part of the English Language Day celebration. The session was fun-filled and informative. The programmed ended with a Vote of Thanks by Mr. Chillakuru Nagaraju, AP, Dept. of Languages.