Cyber Security & Pen Testing Workshop | Event Date: Wednesday, 27th, October 2021 -Thursday, 28th, October 2021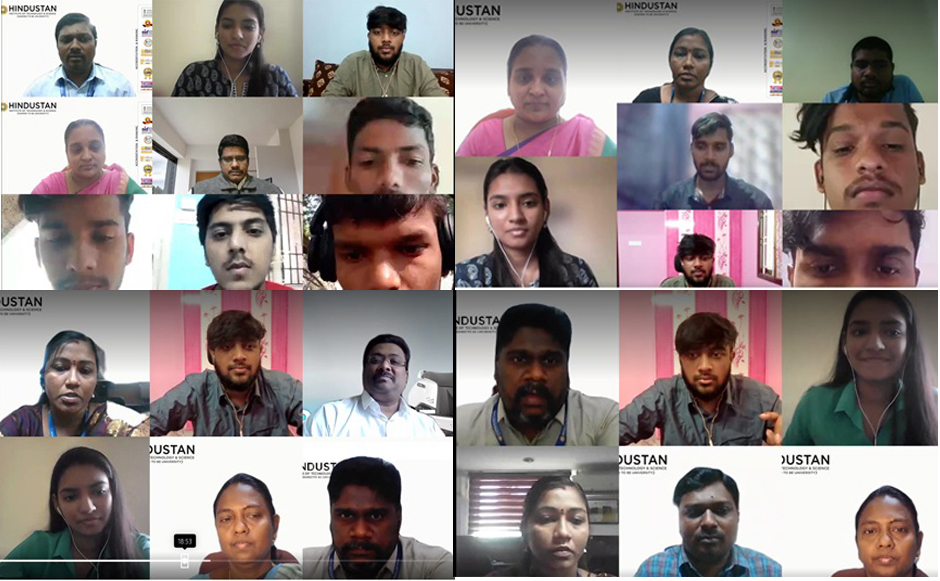 The Cyber Security & Pen Testing Workshop was conducted by the Kruptos Security Club (KSC), Centre for Networking and Cyber Defense (CNCD) and Department of Information Technology, HITS via MS Teams on 27 and 28 October 2021. Mr. S. Srikanth, Chief Information Security Officer, TVS Motor Company presided over the event and delivered the keynote address. In the introduction and welcome address, Dr. Kumaresan, Assistant Professor, IT, addressed the future of Cyber Security and its innovation. The presidential address given by Dr. Angelina Geetha, Dean (E&T) explained about the impact of Cyber Security workshop. Over 140 students participated in the workshop.
The first session of workshop was started by Mr. S. Srikanth on "Emerging Threats in Operation Technology in Manufacturing". He addressed by starting off with a brief view on threats, then continued with the operational technologies in manufacturing, various threats found on manufacturing and detection mechanisms etc. The second session was started by Mr. Ashok Kumar Mohan, Faculty Associate, TIFAC-CORE in Cyber Security, Amritha School of Engineering, Amrita Vishwa Vidyapeetham, Amritha University, Coimbatore. He discussed about email forensics and interacted with the participants, setting the pace for the whole event. The interesting session was also a hands-on demo on how to detect attacks, and enhanced the participants with fascinating facts in email Forensics.
The Afternoon session was handled by Mr. S. Ram Sundar, Director and Centre Head of HebeSec Technologies and Alagappa University - HebeSec Research and Development Centre (AU-HRC), Karaikudi. He explained about "Red Teaming and Career Opportunities in Cyber Security". Later on, the sessions were continued by Mr. Vignesh, Technical Advisor in Alagappa University - HebeSec Research and Development Centre (AU-HRC) and Senior Security Engineer at Freshworks. He also elaborated on Red Team Exercise Coverage, Red Team Exercise Deliverable, Some Tips for the New Red Teamers and concluded the session with Message for budding Cybersecurity Professional.
The next day started with session by Mr. S. Guru Prasad, Director - Cybertracs Technologies & Research Private Limited. Bangalore on the general concepts of "Cyber Threat Intelligence". Dr. V. Ceronmani Sharmila, Professor & Head, Department of Information Technology, HITS, discussed about "Penetration Testing Methodologies". She delivered a hands-on training about how to do penetration testing and tools used in each stage of penetration testing along with demonstration.
The Last two sessions were conducted by Mr. I. Thowbik Ahamed, Final Year Student (Cyber Security), Department of Information Technology, HITS. He gave a demonstration lecture about "Web Application Testing Tools and OWASP Top 10 Vulnerabilities" by using various tools.