CHIAROSCURO 2020 | Event Date: Friday, 18th, September 2020
Every year, School of Planning, Architecture and Design Excellence (SPADE) conducts its annual symposium, CHIAROSCURO 2020-MIRAGE to celebrate the yearly achievements of the department and to bring in new insights to the students. This year, CHIAROSCURO 2020 on the theme "Paradoxes in Architecture" was conducted online as the first ever International Virtual Symposium in the history of SPADE on 18 and 19 of September 2020. All the Technical Sessions were streamed live on YouTube.
The event was kick started with Dr.SheebaChander, Dean, SPADE welcoming the gathering which was followed by the Presidential Address delivered by Dr. Anand Jacob Verghese, Pro Chancellor, HITS, who also released the official Logo of SPADE. A brief introduction about Chiaroscuro 2020 was given by Mr. NohaThanangadan, Student President. Dr. Alexander Jesudasan, Pro Vice Chancellor, HITS; Dr. Aby Sam, Director, HGI; and Ar. VergisOommen, Distinguished Visiting Faculty, SPADE, HITS gave the Felicitation Address. Prof. Marc Aurel Schnabel, Dean, Faculty of Architecture and Design, Victoria University of Wellington, New Zealand delivered the Chief Guest address. Ar. AnoodhaKunnath, Alumnus, HITS, also a Film-maker, Curiouser presided as the Guest of Honour.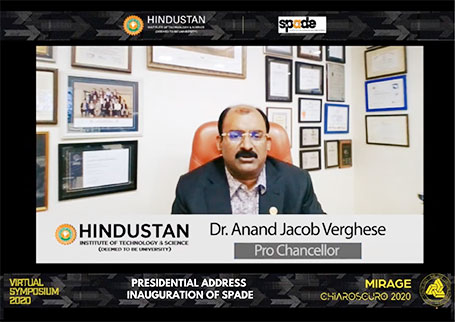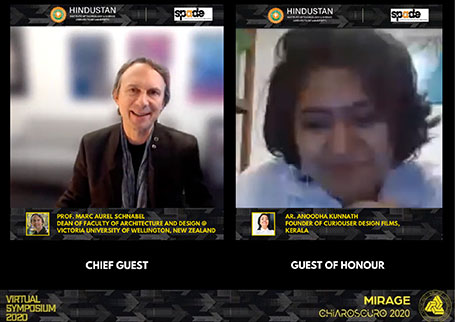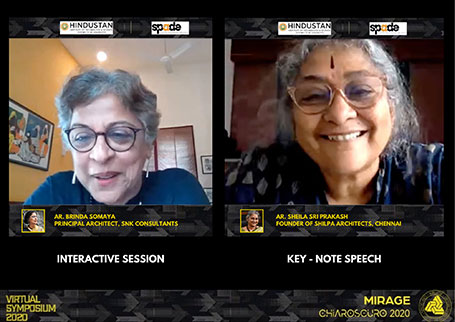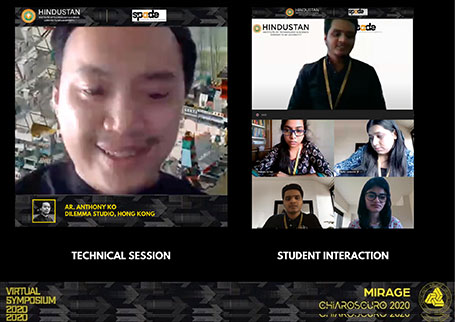 A virtual MoU exchange between Victoria University of Wellington, New Zealand and HITS took place on this occasion further strengthening the ties between the two universities. As a part of the International Virtual Symposium – Chiaroscuro 2020, "Mirage", the annual Department Magazine, was released during the inauguration by Mr. Ashok Verghese, Director, HITS. The souvenir covered a wide range of thought-provoking Articles, intriguing Sketches, captivating Photographs and interesting Designs – all by the students and staff of SPADE and a series of notes on the speakers who enlightened us on the topic, along with a special interview, curated in a very comprehensible way by the Editorial Board.
Chiaroscuro also witnessed live Interactive Session with Ar. Brinda Somaya. Principal Architect of Somaya and Kalappa consultants. Students of SPADE had wonderful opportunities to interview reputed architects, designers and photographers from around the world including Ar. Christopher Singer, Managing Director, SCSY Studio, Singapore; Ar. Murali Murugan, Principal Architect, Murali Architects, Chennai; and Prof. Giovanni Hänninen, School of Architecture and Society of the Milan Polytechnic.
NAME & DESIGNATION

TOPIC HIGHLIGHTS

Prof. Marc Aurel Schnabel, Dean, Faculty of Architecture and Design, VUW, New Zealand

Various abstract and intangible aspects of exploration in design. Combing multi-disciplinary aspects and intangible elements helps in exploring designs better.

Ar. Anthony Ko, Architect, Dilemma Studio, Hong Kong

Relationship between paradoxes in theoretical architectural and actual design spaces.

Ar. Sheila Sri Prakash,

Founder, Shilpa Architects

Insight into design philosophies and theories of reciprocities, holistic sustainability in architecture, indo-centric design and cultural representation.

Prof. Gareth Doherty, Director, Master in Landscape Program, Harvard University Graduate School of Design, USA.

Brief on his book "Paradoxes of green; landscape of a city state".
Ar. Reshmi B Panicker, HoD, SPADE, HITS welcomed the audience for the Valedictory session.All the distinguished guest and chief guests were honoured with an illustration of their portrait as a token of gratitude from the students of SPADE. Results of various events such as Short Film, Photography, Reels, Sketching/Painting, Poetry Writing, Quiz, Vocal & Instrumental, and Dance were also announced. Mr. Ramanan 4th year B.Arch. proposed the Vote of thanks. The virtual International symposium was a grand success and a proud memory SPADE could cherish over the years.