11th CONVOCATION - 2021 | Event Date: Monday, 11th, January 2021
It's time to celebrate all the hard work that led to this joyful occasion!
Hindustan Institute of Technology & Science (HITS) celebrated its 11th Convocation on 11 January 2020, Monday at 11 a.m. Dr. G. Satheesh Reddy, Secretary, Department of Defence Research &Development; and Chairman, DRDO, presided the 11thConvocation as Chief Guest; and honoured a total of 1688 graduands comprising UG, PG, Ph.D., Diplomawiththeir degrees. The Convocation honoured 68 Rank Holders with Medals for meritorious performance in Academics. Dr. Elizabeth Verghese, Chairperson, Hindustan Group of Institutions; Dr. Anand Jacob Verghese, CEO, Hindustan Group of Institutions; Dr. S. N. Sridhara, Vice Chancellor; Dr. R.W. Alexander Jesudasan, Pro Vice Chancellor; Dr. Aby Sam, Director; Mr. Ashok Verghese, Director; Dr.Pon Ramalingam, Registrar; and Members of the Board of Management, Deans,&HoDs, and Faculty Members presided over the grand event.
The Convocation was conducted in both Offline & Onlinemode(Hindustan's YouTube Channel ) so as to adhere Social Distancing during the pandemic. The honourable Dignitaries on dais, Guests, Graduands, Parents, practiced Covid Protocols throughout the conduct of the event.
Dr. S. N. Sridhara, Vice Chancellor delivered the Welcome Address and presented the Annual Report—the highlights of 2019-20 comprising the institutions' achievements in Rankings, Awards, Academics& Research Activities, Social Outreach Activities, Sports, Culturals, Training & Placements,in a nutshell.
In her Convocation Address, Dr. Elizabeth Verghese, Chairperson, Hindustan Group of Institutions, recounted the vision of Hindustan "To Make Every Man A Success & No Man A Failure" that has materialized this day yet again. Dr. Elizabeth aptly exclaimed, "The prestige of a nation relies on the caliber of educational institutions and the graduates it produces year after year". She was proud to note the scales Hindustan—a pioneer in Aviation—hasreached over years; and is now asymbol of aspiration for the youth of many nations. She guided the graduands to acknowledge their family, friends, and well-wishers who have contributed to the fulfillment of life's purpose and asked them to draw inspiration from great personalities. Dr. R.W. Alexander Jesudasan, Pro Vice Chancellor introduced the Chief Guest and welcomed him to address the gathering.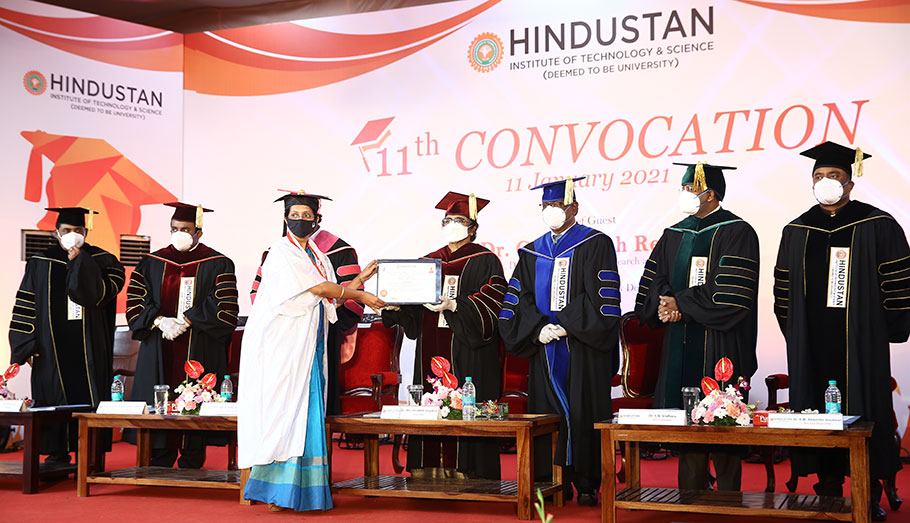 The Secretary, Department of Defence Research & Development; and Chairman, DRDO, Dr. G. Satheesh Reddy's Convocation Address ignited the spirit of Research and the much-required self-contribution to the upliftment of the nation. He congratulated Hindustan for its remarkable hand dealing with prestigious Projects associated with DRDO, SERB, NSTL, CVRDE, DARE, GTRE & other leading industries. Dr. Satheesh acclaimed that India has developed from what it was before 30-40 years; and has come a huge way majorly dealing with Defence Technology, and setting records. Referring to Anti-satellite Missile test in 2019, Dr. Satheeshfervently exclaimed thatthe target of the test was a satellite present in a low Earth orbit, which was hit with a kinetic kill vehicle. The test made India the fourth country after the US, Russia and China to have tested an ASAT weapon. He also pointed on other notable achievements namely, Arjun Tank, one of the main battle tanks developed by DRDO for Indian Army; Advanced Towed Artillery Gun System (ATAGS), the indigenous gun that will soon be the world's longest-range gun; and Advanced Combat Aircraft—all of which signifyIndia's successful ability of demonstration. "Atma Nirbhar Bharat", the vision of the Prime Minister of making India a self-reliant nation is the need of the hour" urgedDr. Satheesh; and concluded his address announcing 5 exclusive labs to be opened shortly that would work with young people below 35 years. He expressed hishappiness to support Hindustan & its young researchers for whom opportunity to work on projects at DRDO Labs are open.
The Management, Members of the Board, Staff, and Students of Hindustan Institute of Technology & Science congratulate the parents, and all graduates towards attaining their degree and wish them the best in all endeavours!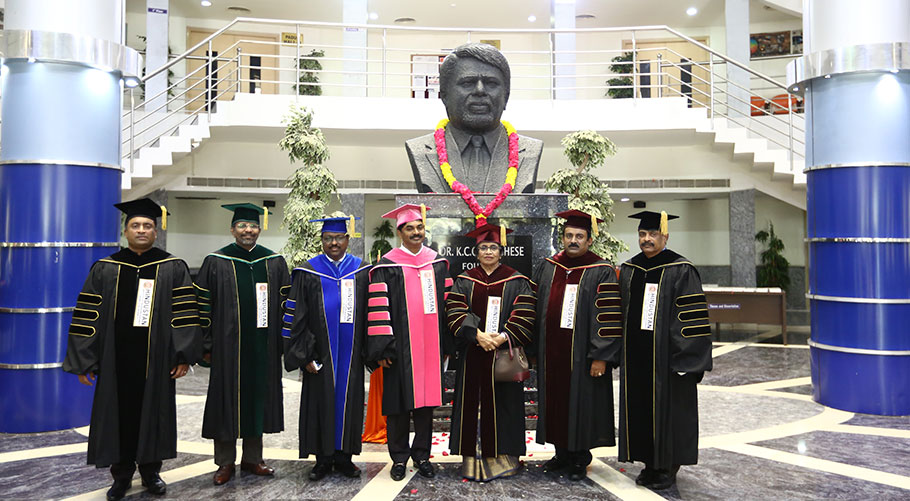 | | | |
| --- | --- | --- |
| NO. | PROGRAMME | TOTAL |
| 1 | UG – B.TECH. &B.ARCH | 1119 |
| 2 | UG – ARTS& SCIENCE | 273 |
| 3 | DIPLOMA | 19 |
| 4 | PG | 238 |
| 5 | PH.D. | 39 |
Post Convocation, Dr. G. Satheesh Reddy inauguratedCentre For Automation and Robotics' (ANRO) "Motion Control Laboratory" & "Human Machine Interaction Laboratory". ANRO is one of the prominent Research Centres of Excellence in Hindustan Institute of Technology & Science which promotes educational and research activities in the field of Robotics, Automation and Computer Vision. ANRO has been involving in projects aiming at the welfare of the society during the COVID pandemic. It has developed Sevili, a Service Robot to assist medical frontlines by navigating to the isolation wards thereby monitor quarantined patients, and provide them food and other necessities. Similarly, it also developed Suzhali, a Powered Air Purifying Respirator (PAPR) that protects medical frontline professionals from harmful viral and bacterial infections while working in ICU. While Sevili Robots were deployed at Rajiv Gandhi Govt. Hospital, Suzhali was successfully tested at Chengalpattu Govt. Hospital. A total of Rs. 248 lakhs worth of ANRO's projects have been funded by many agencies like DRDO, SERB etc.