10TH CONVOCATION CELEBRATED IN SPLENDOR | Event Date: Saturday, 19th, October 2019
The future belongs to those who believe in the beauty of their dreams! - Eleanor Roosevelt.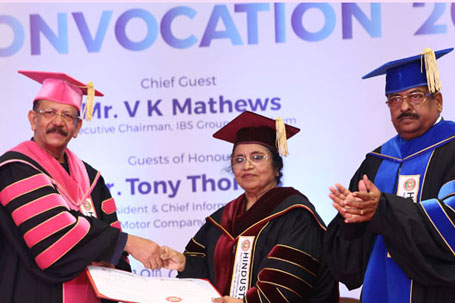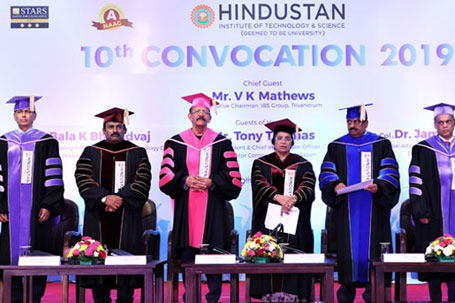 The 10th Convocation of Hindustan Institute of Technology and Science celebrated on 19 October 2019 was embellished with the presence of Mr. V K Mathews, Executive Chairman, IBS Group, Trivandrum as Chief Guest; and Mr. Bala K Baradwaj, Managing Director, Boeing India Engineering & Technology Centre, Bengaluru & President SAEINDIA; Mr. Tony Thomas, Corporate Vice President & Chief Information Officer, Global IS/IT, Nissan Motor Co. Ltd., Japan; and Prof. Col. Dr. James Thomas, Principal Advisor, Prof. Cardiac Surgery, Director Specialties & Former Vice Chancellor, Padmashree Dr. D Y Patil University, Navi Mumbai as Guests of Honour. The convocation viewed 1413 graduands comprising 29 Ph.D., 1 MS by Research, 216 PG, 966 UG and 201 UG Arts and Science being honoured with degrees. Besides, the chief guest and the guests of honour were awarded with Doctor of Science (Honoris Causa) on this remarkable event.
The Annual Report presented by the Vice Chancellor, Dr. K. P. Isaac outlined key achievements and milestones attained by the institute over the last academic year with able guidance and support of the Management, faculty members, and students and resolved with a promising note to continue the successful trend and strive harder in the near years. Dr. (Mrs.) Elizabeth Verghese in her Chancellor's address referred the graduates as the future of the nation and drew reminiscence of Dr. KCG Verghese, the Founder Chairman, Hindustan Group of Institutions, whose motto "To Make Every Man A Success And No Man A Failure" aptly fell on the Convocation Day.
Mr. VK Mathews opined that the world is shaken by economic uncertainties, and disruptive innovations that have changed the paradigm of comfort and permanency. "With emerging technologies, 50% of human jobs can be automated; which most likely means the same percent of deprivation in job opportunities" says Mr. VK Mathews. He beseeched the graduates to technically upgrade themselves, intellectually consume more every day, and learn to live with technology and machines.
Mr. Bala K Baradwaj urged the graduates to take a moment to recall and reflect on their journey till today and express their due gratitude to family, teachers, and well-wishers for being their spine. In Mr. Baradwaj's view, being an entrepreneur can be proven best at the prime age: young minds bubbling with ideas are certain to accomplish more and got very little to lose. "Ambition, Bravery backed up by Commitment is the ABC formula for success. As much as we take from the society, we must also ensure our contribution paid back in double" concluded Dr. Baradwaj. "Attaining degree is not the end, but the beginning of knowledge," voiced Mr. Tony Thomas in his special address. He remarked that half of the jobs that exist today will vanish without a trace in another 20-25 years from now. And the only way to get alive and be connected is by adapting to the change and keep enhancing knowledge according to the time's relevance. Prof. Col. Dr. James Thomas highlighted the importance of 9C's Curiosity, Creative, Communicative, Character, Courage, Conviction, Charisma, Competence, and Common Sense that are essential for oneself to lead a life intertwined with values. In a stead fasting world, Prof. Col. Dr. James Thomas says, "almost all are driven towards eatables that are mostly devoid of nutrition. This has caused a major setback in health, especially youngsters, and make them disease-proned. A fight against this irregular lifestyle is the need of the hour is vital alongside other needs." The convocation came to a denouement with distribution of awards and administration of pledge by the graduates. Dr. Anand Jacob Verghese, Pro Chancellor; Dr. Aby Sam, Director; and Mr. Ashok Verghese, Director; members of the Board of Management, HITS; Dr. Susan, Director, Hindustan College of Arts and Science; Dr. Annie Jacob, Director, KCG College of Technology; and special invitees were also spotted at the event.