B.Tech ECE Specialization in Electronics Manufacturing Technology
B.Tech ECE Specialization in Electronics Manufacturing Technology
About the Course
Salient Features
Facilities
About the Course – Electronics Manufacturing Technology (EMT)
The Department of Electronics and Communication Engineering has made significant remarks in contributing to the development of the student community and betterment of the institution since 1985. The vision of the department is to be a premier academic center for quality education so as to meet the industrial standards and research in diverse areas of Electronics and Communication with social commitment. Our mission is to develop innovative teaching and learning pedagogies and infuse scientific temperament among students to enhance inter-disciplinary skills and entrepreneurship skills with life-long learning. The department is accredited by NBA and offers B.Tech in ECE with Honors/Minors Specialization in Embedded Systems/ Bio-Medical Engineering, M.Tech in Digital Image Processing, Embedded and Real Time Systems, Defense Technology and Ph.D programme. The Department has highly qualified, experienced and committed faculty members, self-sustained with industry supported laboratories, project labs, Centers of Excellence and an exclusively well-stocked library.

B.Tech ECE with Specialization in Electronics Manufacturing Technology envisages to position the engineering aspirants as a global expertise for Electronics System Design and Manufacturing (ESDM) with driving capabilities for developing core components, chipsets, SMD integration, assembly and manufacturing. The specialization mainly focusses on capacity building of engineering aspirants to pursue their dream careers in Smart electronics manufacturing, Industry 5.0, Communication and Sensors through a diverse range of theoretical skills and practical experience. The specialization primarily deals with design and implementation of Embedded and Real-Time Systems in industrial processes, automotive and consumer electronic appliances.

The programme in Electronics Manufacturing Technology is supported by TAmilNadu Smart Advanced Manufacturing (TANSAM) powered by Siemens for software development and hardware design. The specialization has been conceptualized to strengthen the electronics devices manufacturing eco-system with suitable industry collaboration and value addition. Students will have opportunity to work at IIT (Madras) for Circuit Prototyping and printing. The course also provides 100% assured internship at manufacturing industries such as Flextronics, SANMINA Corporation, QMAX Test Equipments, Nokia Networks & Solutions and specific core MSME industries in association with TANSAM. To equip the students to be industry ready they are encouraged to carry out Industry projects in various manufacturing sectors like Infineon Technologies, Semtronics Micro Systems, Terminus Circuits, Adroit IC Design and so on.


Salient Features
Industry Collaborative and integrative Teaching Learning Pedagogy and Curriculum
Project based learning and industry supported projects
Experienced faculty with Interdisciplinary expertise
State of art industry assisted Laboratories, Centre of Excellence in Sensors and Process Control (CENSE), Underwater Robotics and Communication (URoC) for interdisciplinary research and product development
Specialization supported by

Centre of Excellence – Tamil Nadu Smart Advanced Manufacturing (TANSAM) for Electronics Manufacturing
QMAX Test Equipment Pvt Ltd. for Electronics Testing
IIITM for Electronics circuit and Prototyping

Corporate Mentor ship for Internship cum placements in core sectors
International Semester exchange program and value-added certification
Credit Transfer certification courses from SWAYAM / NPTEL
360-degree support ecosystem in the form of Infrastructure (Hardware & Software labs), Knowledge & hand-holding by industry experts, Mentoring & Networking to nurture innovative start-ups in emerging Electronics Manufacturing Technologies
Research incubation at UG Level by publishing high-quality peer reviewed articles and patents
Opportunity to be a part of 75 student Satellite Mission Launch by enrolling with KCG Satellite Project
Merit, Sports and corporate Scholarship for admission
Facilites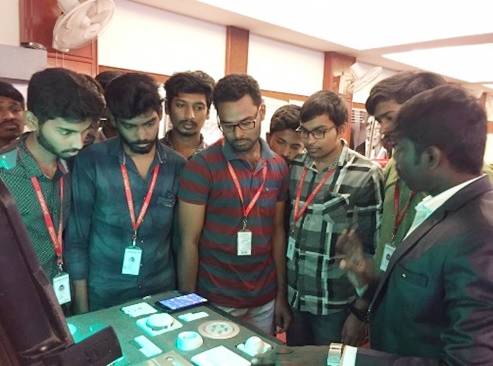 Design Project Lab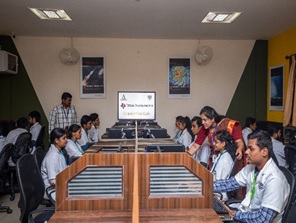 Texas Instruments Innovation Centre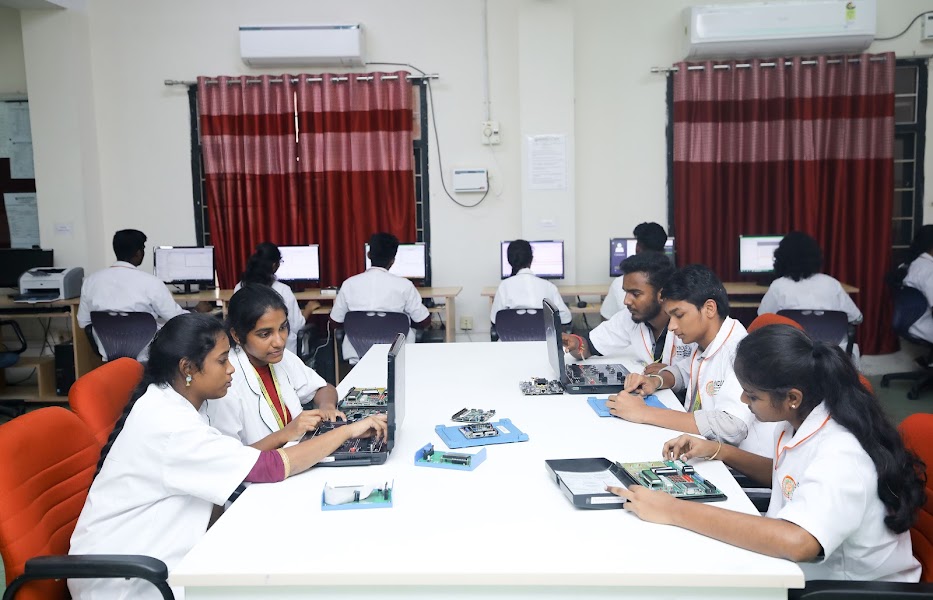 DIY Electronics Club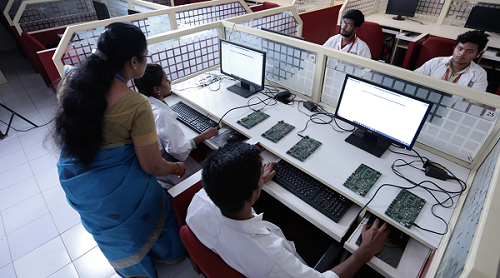 Digital Signal Processing