WEBINAR ON HAPPY CITIES THROUGH STREETS | Event Date: Wednesday, 21st, April 2021
On the occasion of world landscape architecture month (April), SPADE organized a webinar on "Happy Cities Through Streets" by Ar. Aswathy Dlip, Senior Programme Manager, ITDP, India on 21 April 2021. Students and faculty members of SPADE participated.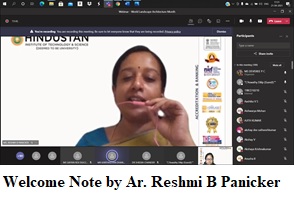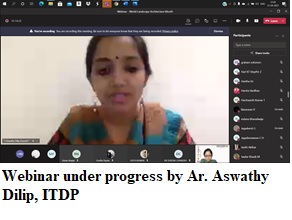 Ar. Aswathy shared her experience of doing post-graduation and also her professional experience with eminent architects of India which bridged her to join ITDP as a senior Programme Manager. She also mentioned that the students should develop extra skills beyond academics which will guide them to be a better professional. Ar. Aswathy spoke about the Organization in which she is currently working on, ITDP Institute of transportation and development policy, their goals and promotions on sustainable transportation around the world, and about the work the organization does in Chennai for the past 10 years. Further, she discussed about how ITDP created public spaces along the streets with the survey that ITDP has taken on the different mode of mobility people use for different needs and also mentioned how world's best cities design the streets by allocating spaces to all users. The talk continued with the process of the work they initiate in reforming the streets, setting non-motorized transport policy guidelines and promoting it with guidance of the government and expanding the transformation through capacity building and institutional frame work. Ar. Aswathy highlighted various opportunities that exist in developing Happy cities like India cycle 4 change and street for people challenge.