INTERNATIONAL SEMINAR ON ENGINEERING SCIENCE RESEARCH BEYOND DISCIPLINARY BOUNDARIES | Event Date: Thursday, 3rd, January 2019
The Department of Electrical and Electronics Engineering organized a one-day International Seminar on "Engineering Science Research Beyond Disciplinary Boundaries" on 3 January 2019. Dr. A K Parvathy, Professor, EEE addressed the gathering and emphasized the need for interdisciplinary research. Dr. D. Mohan, Associate Dean (Research) stressed the importance of research and its dissemination to society. He also highlighted the importance of the collaborative research in today's context. Dr. K.R. Devabalaji, Assistant Professor, EEE department introduced the guest speaker Dr. Joseph Antony, Associate Professor, University of Leeds and invited him for the lecture. Dr. Joseph Antony gave an overview of the interdisciplinary research his department is presently undertaking. Some of the major research areas discussed were:
Material research.
Flow chamber device in Exo Mars 2020 project.
Photonics in Engineering Mechanics.
Potential applications in probing the health of machines and automobiles.
Bio-sensing, pattern recognition and image processing.
Photo stress sensing, microscopy measurement and multi-scale simulation in Engineering.
Infrared tomography to detect early damages at micro scale.
Green engineering.
Measuring displacement fields in granular systems.
Advanced liquid systems – Nano fluids.
Improving energy capturing and management.
The seminar proceeded with lots of stimulating questions and ended up with great learning experience for the attendees.
PROFILE OF DR. JOSEPH ANTONY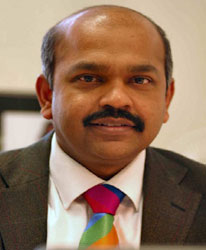 Dr Antony is an Associate Professor at the School of Chemical and Process Engineering, University of Leeds.  His primary research interest lies in the area of Particulate Mechanics and Physics, especially on the bulk behaviour of powders and grain under industrial process conditions as a function of particle-scale properties. He uses wide range of computational tools such as DEM, FEM, theoretical and experimental procedures in his research.  He is a proud recipient of the prestigious 'MIT Young Researcher Fellowship Award for Exemplary Research in Computational Mechanics'.  He has made several publications in reputed international journals and conference proceedings. And serves as a member of editorial boards for many international journals in his filed including Journal of Nanotechnology and Research Letters in Nano Technology.  He has also served as a guest editor for the Jl. Granular Matter and the lead editor of the book 'Granular Materials: Fundamentals and Applications', published by the Royal Society of Chemistry, London in 2004.  His biography is included in the Edition of Marquis Who's Who in the World and the Directory of International Biography Centre, Cambridge.