HITS DELEGATION AT NAFSA 2019-WASHINGTON D.C., USA. | Event Date: Sunday, 26th, May 2019
NAFSA, the Association of International Educators is the world's largest non-profit association which is dedicated to international education and exchange, working to advance policies and practices that ensure a more interconnected, peaceful world today and for generations to come. The NAFSA Annual Conference & Expo is the largest and most dynamic international education event in the world. The NAFSA 2019 brought in nearly 10,000 professionals from over 110 countries. In 2019, NAFSA brought together more than 350 exhibitors representing every aspect of international education including academic institutions, consulting firms, pathway providers, insurance companies, third-party providers, and much more. HITS had a separate booth at NAFSA this year and had a good visibility at the expo.
The NAFSA 2019 was held from May 26 – 31 at the Walter E Washington Convention Centre, Washington D.C., USA.
The HITS delegation led by Mr.Ashok Verghese, Director, HGI, comprising of the Dr.M.K.Badrinarayanan, Professor & Head, School of Management, and Mr.G,Dinesh Kumar, Asst. Professor (S.G.), School of Aero, represented our prestigious Hindustan Group of Institutions at the NAFSA 2019 Conference & Expo.
Mr.Ashok Verghese, Director, HITS, attended the Presidents and Provosts Summit at NAFSA 2019, which is a special, invitation-only event that brought together the campus Presidents, Chancellors, Rectors, and Chief Academic officers together to connect with colleagues from around the world.
The delegation had meeting with about 90 delegates during the event and on May 31, 2019, the following MOUs were signed and exchanged
UCM (University Catholica Del Maule), Chile.
University of Aveiro , Portugal.
SUP- BioTech , France.
University of Mendoza, Argentina
The delegation also met 9 of our existing partner universities at NAFSA 2019 and several HITS alumni during the visit to the US.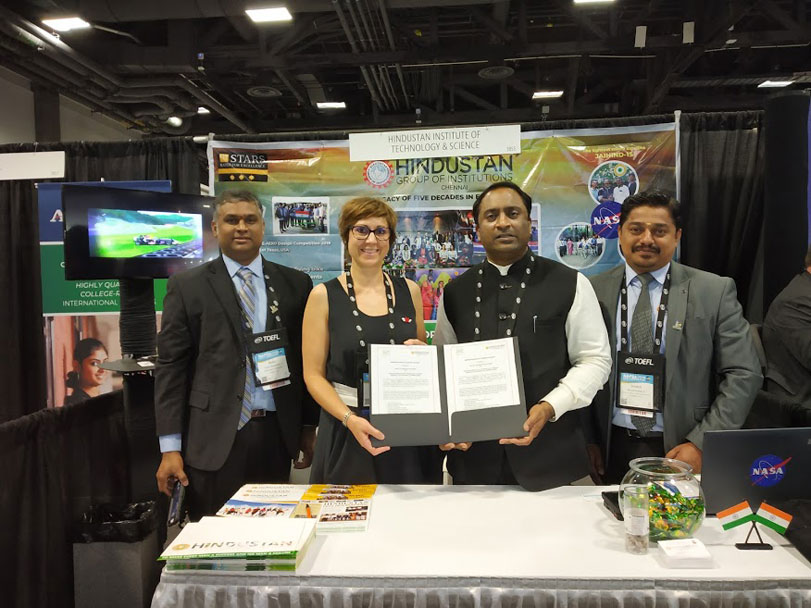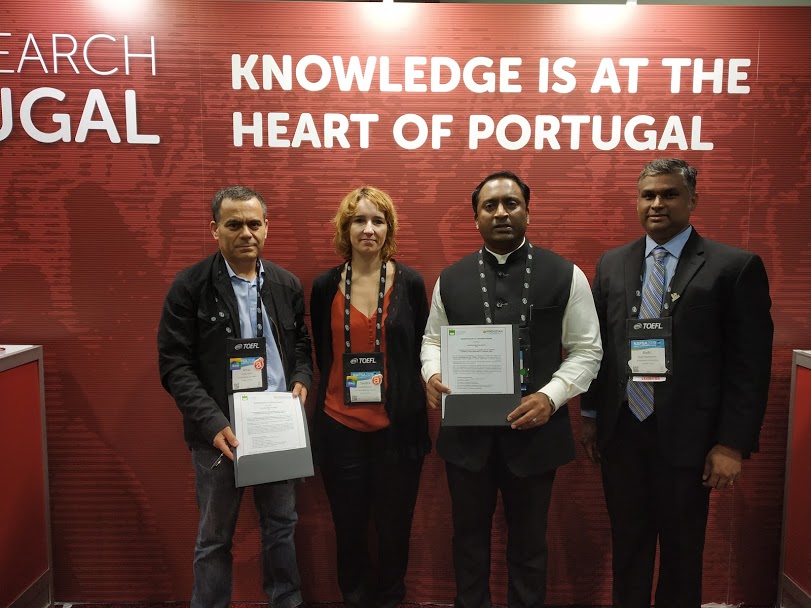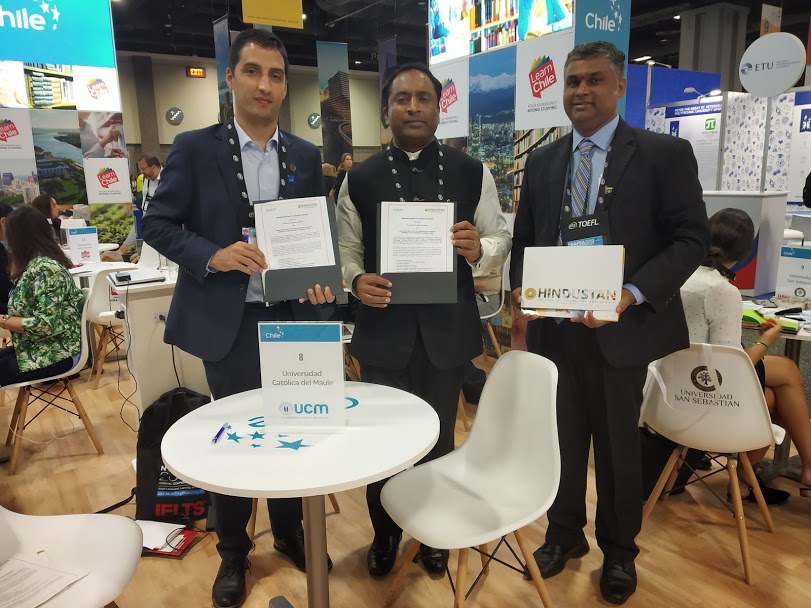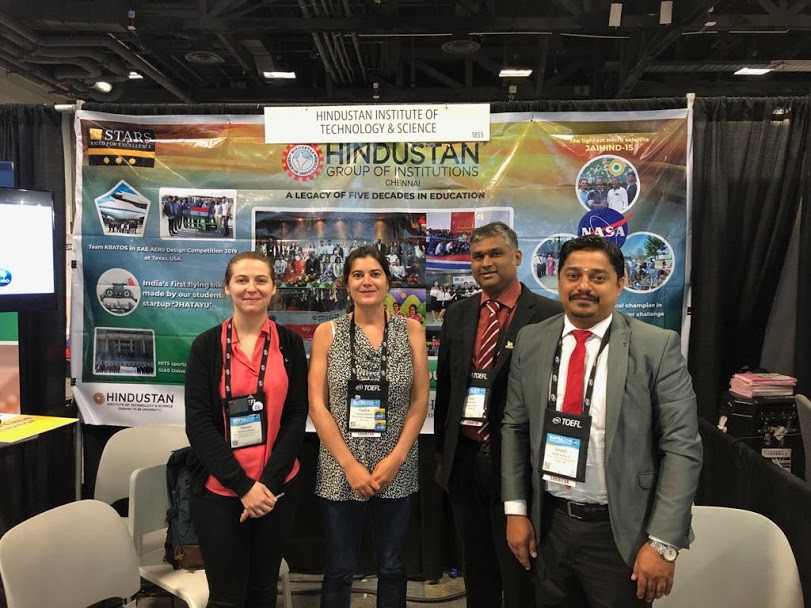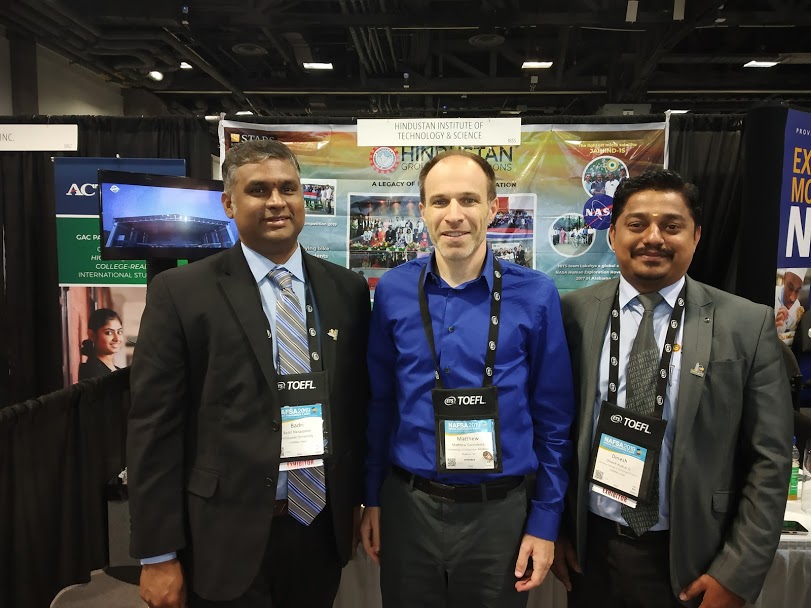 Existing Partners – Met at NAFSA 2019
| S.No. | Country | City | Name of the University | Contact Person |
| --- | --- | --- | --- | --- |
| 1 | Morocco | Jadida | Universty of international de Rabat | Ms.Balkis Boum, Intenational Mobility Coordinator |
| 2 | Germany | Lemgo | TH OWL | Mr.James O Reilly, Head of IA |
| 3 | Turkey | Istanbul | Yildiz Tecgnical University | Prof. Dr. Bayram Ali Ersoy, Faculty of Arts & Sciences |
| 4 | France | Ivry- surseine | IPSA | Ms.Pauline Carreau, Head of International Office |
| 5 | Brazil | Sao Pedro | UFIF | Ms.Barbara Simoes Daibert, Dean of international Relations |
| 6 | Germany | Trier | Trier University of Applied Sciences | Managng Director, Erasmus coordinator |
| 7 | Italy | Milan | Politecnico Milano | Dr.Dora Lononi, Head International Projects |
| 8 | Australia | Pernith | Western Sydney University | Ms.Isis Kowaliauskas, Asst. Manager, International Mobility and recruitment manager (Europe) |
| 9 | Latvia | Riga | Riga Technical Institute | Dr.Igors Tipans, Deputy Rector for International Academic Cooperation and Studies |