GLOBAL WALKERS | Event Date: Thursday, 3rd, January 2019
SEMESTER EXCHANGE PROGRAMME - IPSA, FRANCE.
Ms. Ashwini Mahakalkar, Final Year, Aerospace Engg.
France is a country known for its technological acumen, diverse fields of engineering and sciences; and one of the top hotspots for Aeronautics and Aerospace. My journey for this semester exchange started when I enrolled myself for the French language course at Hindustan. This journey continued to next level when we students were taken to "Choose France Tour (CFT)" coordinated by Ms. Clarisse (AP-French) and Mr. Kirubakaran Sebastin(AP-Aeronatuical Engg.) where we had an opportunity to interact with French universities and know their procedures and curriculum. During my 5thsemester, I started the process for the semester exchange and enrolled myself for IPSA. After successful credit mapping, my application was selected for the spring intake 2020. Later, through the guidance of Mr.Kirubakaran, I was able to avail the Charpak Semester Exchange Scholarship. The scholarship awarded me a paid grant of 700 euros per month exclusive of visa charges and processing charges at French embassy. To my surprise, I was privileged to know that I am the only recipient of the French scholarship grant among the other exchange students. I place my sincere heartfelt thanks for institution and for the faculty who guided me to avail such premises.
The courses were carefully selected to match my credits. The initial couple of days, we were given a tour about French universities and culture and we took part in making of macarons as a part of French cuisine and delicacy. Our classes were structured through an online tracking system and we had hands on experience on variety of software and laboratories. The uniqueness of Research Innovation programme was that we were given enough privilege on a chosen topic of latest research trends. Grouped in an international team, my topic was Machine Learning for Redshift Estimation: a prime topic for detecting extra solar planets. Also, noteworthy to mention, a group project on "Atmospheric Re-entry of Vehicles" which opened & broke the horizons of conventional stereotypic learning. By mid of March we were asked to return to the host countries due to uprising pandemic; post which further classes, tutorials, projects, team discussions, assessments and exams took place online. Through this program, I was given hands-on training and projects works on MSC NASTRAN/PATRAN(FEM), Machine Learning Through Python (Astronomy), STAR-CCM+(CFD), MATLAB AND SIMULINK (Flight Dynamics And Atmospheric Reentry). All these were made possible only by the privileges awarded by Hindustan; and I believe I'll carry forward this unique experience for rest of my career.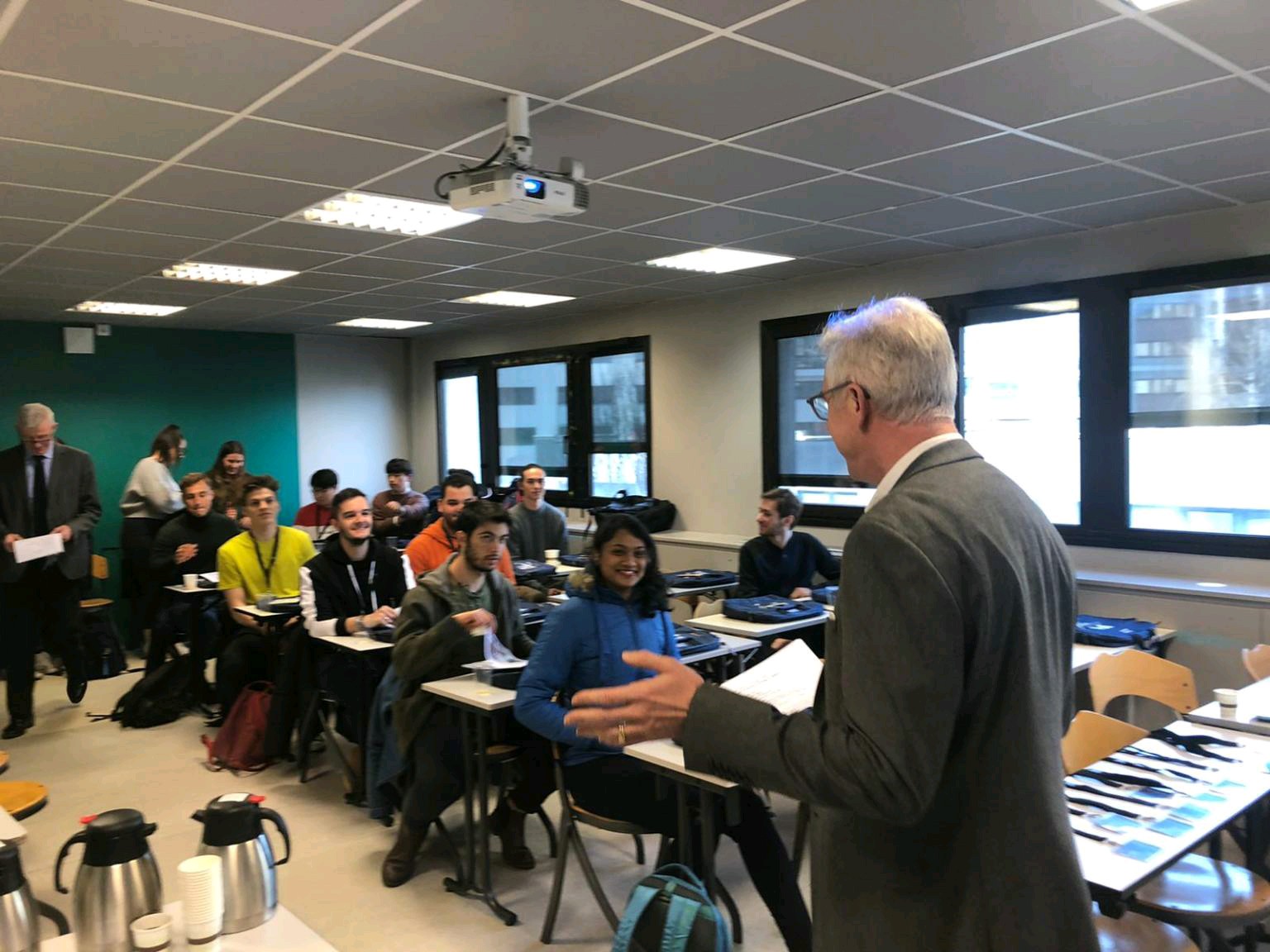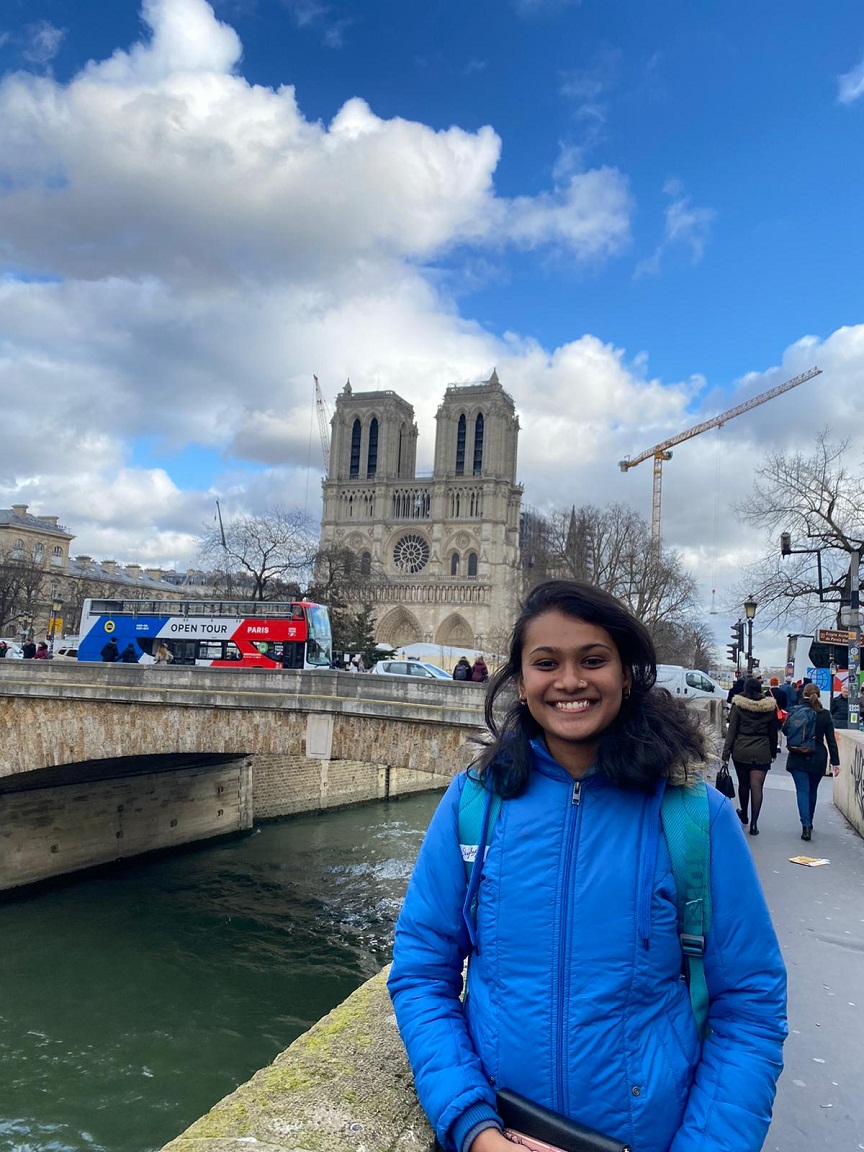 UBAYA UNIVERSITAS SURABAYA, INDONESIA
Mr. Akkash Babu N.S. & Mr. Joe Martin J., Pre-final Year – Information Technology
TWe were privileged to attend the 2 nd Ubaya's Summer Programme at Ubaya Universitas Surabaya, Indonesia between 2 and 08 December 2019. Our brief learning sessions focused on fascinating topics such as "Indonesian Economics," "Cyber Crime," "The First 1000 days of life," "Indonesian Local Orchid Conservation," and "Internet of Things." Besides academics, a city tour intended to explore local places in Surabaya enabled us observe Heroes Monument; 10 th November Museum Surabaya, an exclusive museum recounting the memories of freedom era; House of Sampoerna, former cigar factory now turned into museum; Mirota Craft Centre, a handicraft shop providing exquisite souvenirs. Our 2-hour journey to the UTC (Ubaya Training Centre) located in Trawas, mountainous area, was made cheerful with cultural performance by traditional local people. We were also briefed on the procedure to make Indonesian traditional cake and snacks and it took over an hour for us to prepare the same. The final day was marked with closing ceremony and distribution of certificates to all participants. It was truly an enriching experience and we thank Hindustan for the opportunity!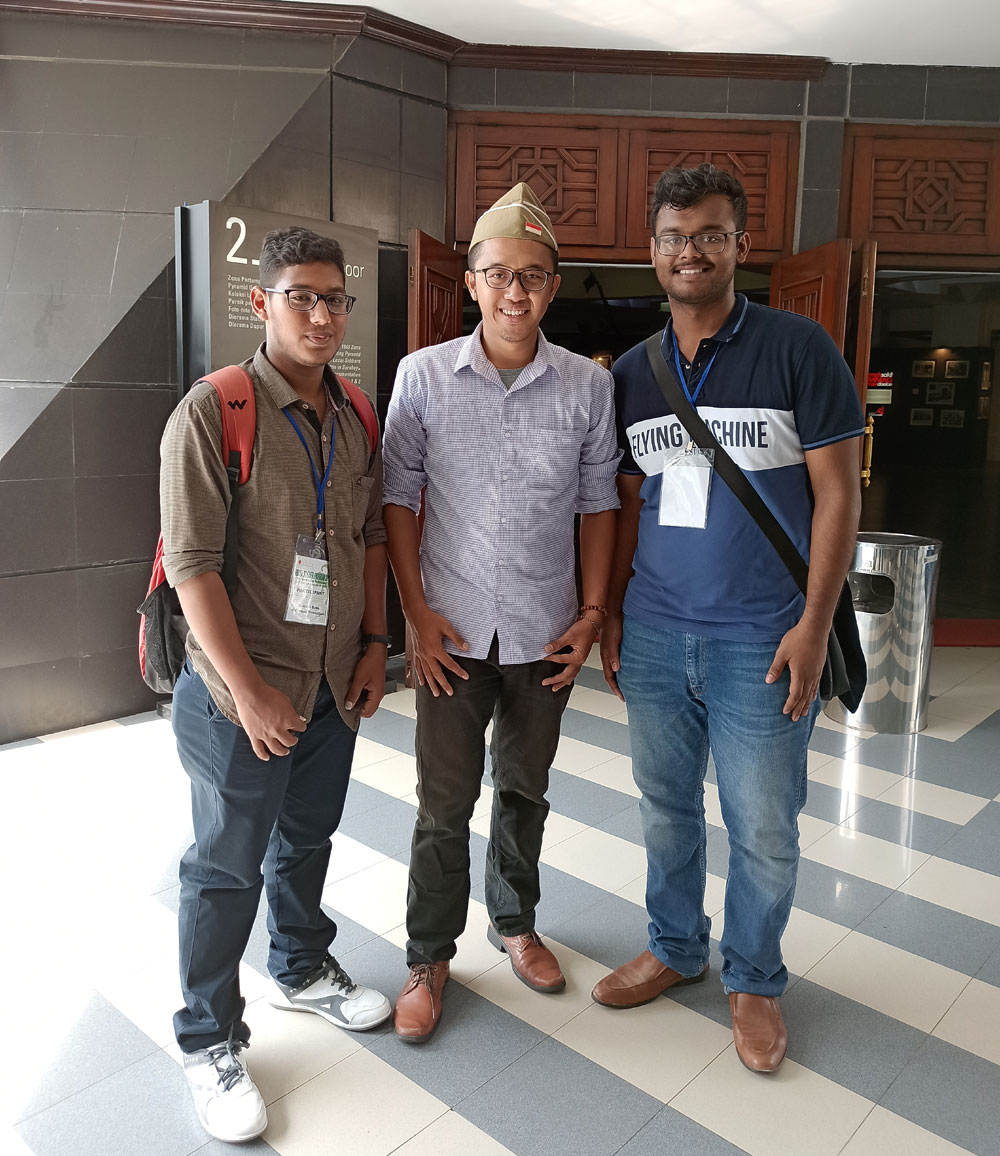 MOSCOW AVIATION INSTITUTE (MAI) - MOSCOW
Ms. SameenaShaik, Ms. MulpuriNamratha, Mr. RonakGhatge, & Mr. Vajja Jaya Vikeswara Rao, Pre-final year - Aeronautical Engineering
The exposure to Moscow Aviation Institute through a Semester Exchange Programme brought in a terrific change; and enabled us have a practical study amidst experienced professors. We underwent hands on training under scholars to find solutions to the problems they encounter in Aviation. The assignments given by the professors involved a deep understanding and problem solving skills and had a real test of them. We participated in the cultural activities conducted by MAI: the Halloween party is one among them which we absolutely loved. An industrial visit to the S7 Airlines let us know about exit doors and its function and rescue operations when an aircraft is damaged. We also privileged to attend an International Conference hosted by MAI. Besides the best experiences in the Institute, we had a great time in exploring the beautiful city. Extremely grateful to our alma mater for giving us this exchange program opportunity.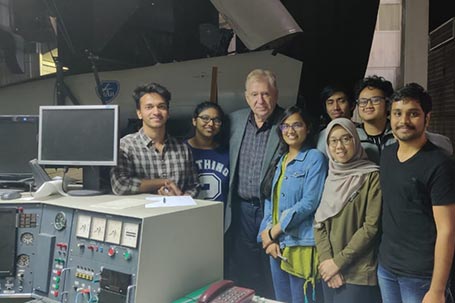 PANYAPIWAT INSTITUTE OF MANAGEMENT - THAILAND
Mr. KeerthirajanAsokan, Final year - Mechanical Engineering
The 8-day Cultural Immersion Programme hosted by Panyapiwat Institute of Management (PIM) in Cooperation with Association of Universities of Asia and Pacific (AUAP)organized between 25 August and1 September 2019 drew a group of students from 11 different countries, with diverse study streams, together in a forum. It was a platform for us to sculpt our leadership qualities and understand the diverse cultures to build a better world for the future. The best part of the program for me was that I was able to understand and learn the different perspectives on global issues around the world by interacting with the students from different parts of the world. This gave me an understanding of both the sides of every story. The lecture of Thailand Foreign Minister gave an insight on how to take forward a country as a whole and plan to drive their economy. The whole experience was a big buddle of knowledge, joy, friendship which will be cherished for my lifetime. This event has seeded hopes and confidence for a brighter and a peaceful world tomorrow.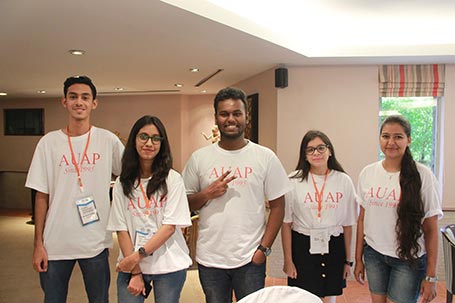 UNIVERISITI TEKNOLOGI - MALAYSIA
Dr. M. M. Ramya, Professor, Mechatronics Engineering
A conference is a culmination of great minds deliberating on novel and need of the hour themes; and it's so professionally a rewarding experience to attend such events. I had an opportunity to be a part of World Technology University Congress-4 (WTUC4) from 2 to 4 October 2019 at National Taiwan University of Science and Technology. The network enabled me to participate in the Faculty Exchange Programme with Univerisiti Teknologi, Malaysia. Various activities were planned during this exchange program. I had an opportunity to teach Programming and Robotics to a truly international crowd, as UTM had a number of overseas students. Interactions with faculty and researchers opened up a lot of opportunities to collaborate. This international experience has helped me to integrate into a diverse culture and have a better accepting of individual differences and learning needs. Besides, socializing with colleagues from other institutions, a trip to a possibly exotic locale is another reason to make this visit more memorable.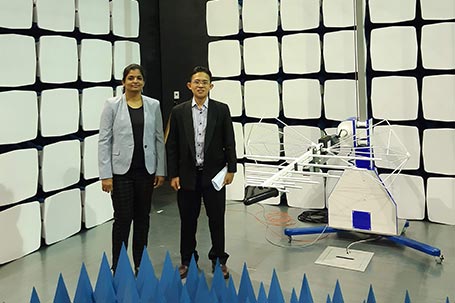 UNIVERSITI MALAYSIA PAHANG (UMP) – MALAYSIA
Dr. V. Preethi, Assoc. Prof. Department of Civil Engineering
In accordance with the Memorandum of Understanding between HITS and UMP, Malaysia, two students from the M. Tech. Environmental Engineering, Mr. Vimal Raj and Mr. T. Santha Kumar and I, Dr. V. Preethi, Department of Civil Engineering travelled to Malaysia to conduct a Collaborative Research at UMP between 23 October and 20 November 2019. Our research at the Department of Mechanical Engineering consisted two types: Hydrogen utilization in Internal Combustion Engine and Bio-oil Production from Algae and Utilization in Internal Combustion Engine. Our team also participated in an International Conference on Environmental Sustainability and Social Science Management (ICESM2019) at Gambang Resort, Gambang, Pahang, Malaysia on 12 & 13 November 2019. I had an opportunity to deliver a Keynote Address on "Solar Hydrogen Production and Selection of Nano Materials." We express our heartfelt gratitude to Team Hindustan and UMP organizers.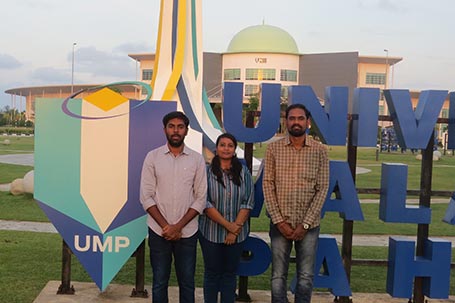 GUANGDONG UNIVERSITY OF FOREIGN STUDIES - CHINA
Mr. Justin J., Mr. Ernest Reuban K., Ms. Gnancy Grace Angel S., Ms. Jennifer Maria Camilla J., Mr. Sri Charan M., and Mr. Jeffrey J.C., First year MBA.
Our travel to China to partake in the Tech-Challenge Event - 11thABBS BRICS Meet from 15 to 17 November 2019 helped us learn more about language, culture, and people. The meet had events including business game, quiz, debate, paper presentation, and discussion. We were appreciated by the jury members for our efforts; especially, for the debating skills at the British Parliamentary type of Debate on "The Trade War". It was also enthralling to participate at the cultural programme in traditional wears wherein everyone saw us in awe. With our great efforts as a team, we were honoured with a trophy for securing the second place in the overall championship. As a good gesture of encouraging upcoming BRICS participants from HITS, we dedicate this trophy to them. Every beginning has an end; and every end is a new beginning. It's a relentless cycle seen in every aspect of our lives. We would like to thank the Hindustan Institute of Technology and Science for giving us such a wonderful opportunity and also our beloved HOD and Professors for guiding us throughout this programme. And a special thanks to Mrs. Zhang Xiaojuan, Mr. Allen Peter Ms. Huang Zhu and Ms. Jiang Jiarong who impressed us with the world-class hospitality throughout our journey.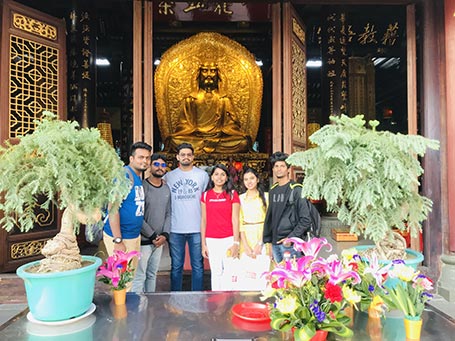 ARISTOTLE UNIVERSITY – GREECE
Dr. A. Sherine Joy, Professor, Languages
I was privileged to be a Presenter at the "International Conference on Interactive Mobile Communication Technologies and Learning" (IMCL 2019), a Technical Event organized by Aristotle University, Thessaloniki on 31 October and 1 November 2019. I had fruitful interaction with the Professors of Aristotle University who were keen to know more about Hindustan University and the possible collaboration.Thessaloniki is a charming and laidback city with a vibrant night life, with astonishing landmarks, magnificent buildings and loving people. The participants of the conference had a great time witnessing the Grecian dance during the gala dinner hosted by the organizers. We also went on to see churches with mosaic paintings, parks, museums, and market place filled with fresh vegetables, olives, fruits: an absolute explosion of colours. Thessaloniki is a land with rich history, where predominantly the remains and evidence of Romans, Byzantine and Ottoman history exists. Unforgettable moments spent at Greece in its sparkling white beaches, White tower Rotunda, Ladadika area, Port of Thessaloniki, Greek culture and their hospitality are etched in my mind forever.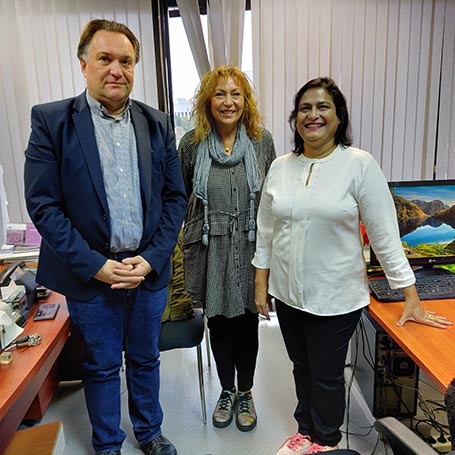 Trier University of Applied Science, Germany
Mr. T. Shanmuganathan, Assistant Professor, Automobile Engineering
I was fortunate to visit Trier University of Applied Science (TUAS) as a part of DAAD (German Academic Exchange Service) Funded project under "A New Passage to India-German – Indian Higher Education Co-operation 2019-2023" between 20 to 26 October 2019. As a principal investigator, it was a great opportunity to me to extend my research project experimentation & investigations on Development of Driver Behavior Pattern & Road Anomaly Detection system in association with Prof. Dr. Peter Koenig, Project Lead-DAAD & Faculty, Automotive Engineering; Prof. Dr. Karl Hofmann-von-kap-herr, Project Lead-DAAD & Faculty, Manufacturing and Production Technologies; and Prof. Dr. Roland Trapp, Faculty, Civil Engineering, Service Engineering and Food Technology ,Trier University of Applied Science. Being an automobile enthusiast, visiting to Germany was a longtime dream and it materialized during this visit. I had an amazing opportunity to visit Mercedes Benz Museum at Stuttgart. My excitement did not end there; I had another surprise when I visited IFAS Environmental Campus, Birkenfeld where entire campus has been designed & operated with automation and sustainable renewable energy. During my visit Prof. Dr. Peter Koenig took us home for dinner, and let me to the kitchen to learn to make barbeque. Finally engineer day celebration bid farewell to all! Every experience will have an emotion attached and letting it go is not easy. I didn't want to return, but forced myself to move on and explore more! Sincere Thanks to Hindustan for a rewarding experience!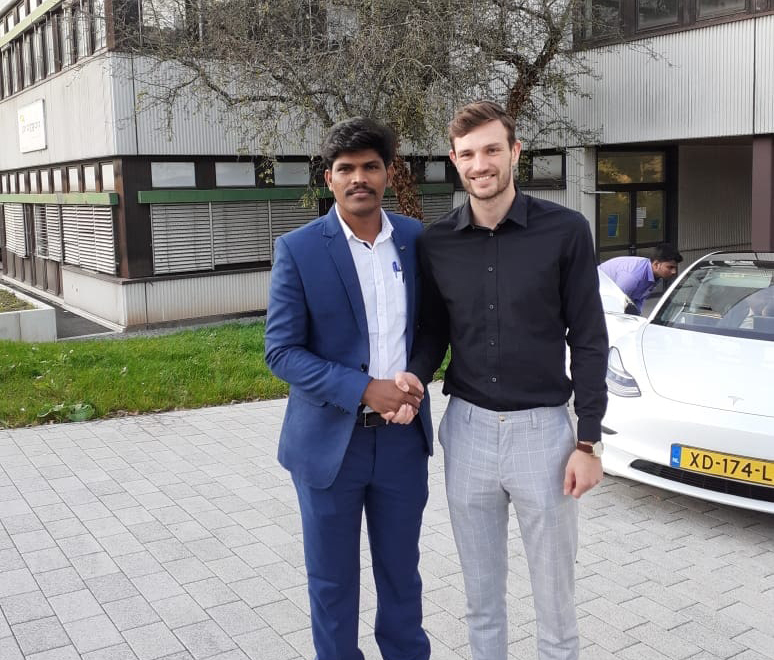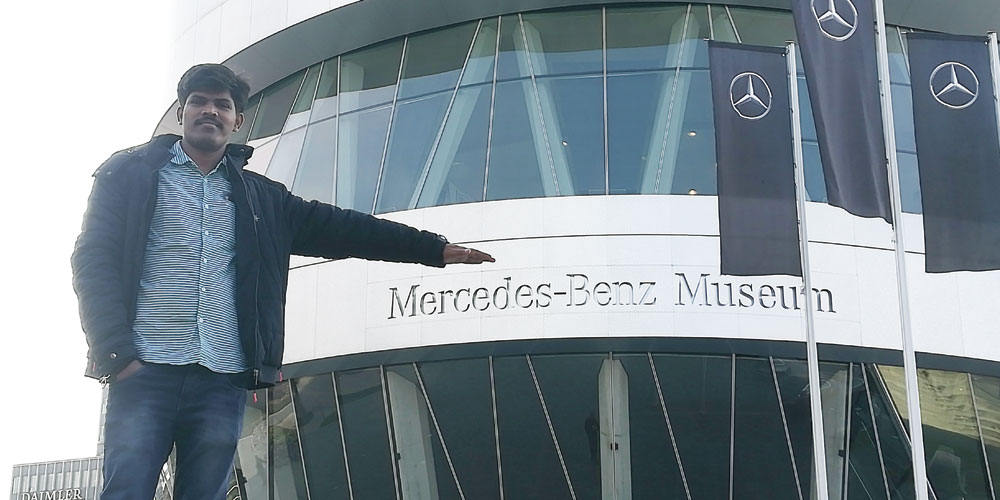 Trier University of Applied Science, Germany
Dr. Raja Thilagar Samuel Devadoss, Associate Professor, Civil Engineering
The German Academic Exchange Service (DAAD) is the largest German support organization in the field of international academic co-operation which is sponsoring 'Vision Zero,' a project aimed to reduce the traffic accidents to 'Zero', a joint effort from HITS and Trier University of Applied Sciences, Trier, Germany. As a part of the research project the students and the faculties of both universities are visiting each other and share their expertise and gain knowledge in the areas of traffic safety and vehicle safety aspects. A team of students and faculties, including me, of HITS visited the Trier University from 19 to 26 October 2019. During my 7-day research project programme, Prof. Dr.-Ing. Roland Trapp, Transportation Division, Dept. of Civil Engineeringexplained the simulation of traffic flow for heterogeneous traffic, and the challenges in simulating from the homogenous traffic flow. Students of both Universities were divided into groups and were given specific task to work on. While we celebrated 'Engineers Day' on 25 October at Trier University, where the students presented the work they have done to the group of faculties and students of Trier University. I also had the opportunity to visit the crash simulation lab, which is one of the world's leading research labs in vehicle safety dynamics. The demonstrations by the staff members had given me a real time experience on the impacts of accidents; and helped me to understand the design aspects of safety towards driver, passenger and vehicle.It was a wonderful experience for me to understand the work culture of the Trier University on the whole. Furthermore, a great place to learn from others, share your strengths and make collaborations.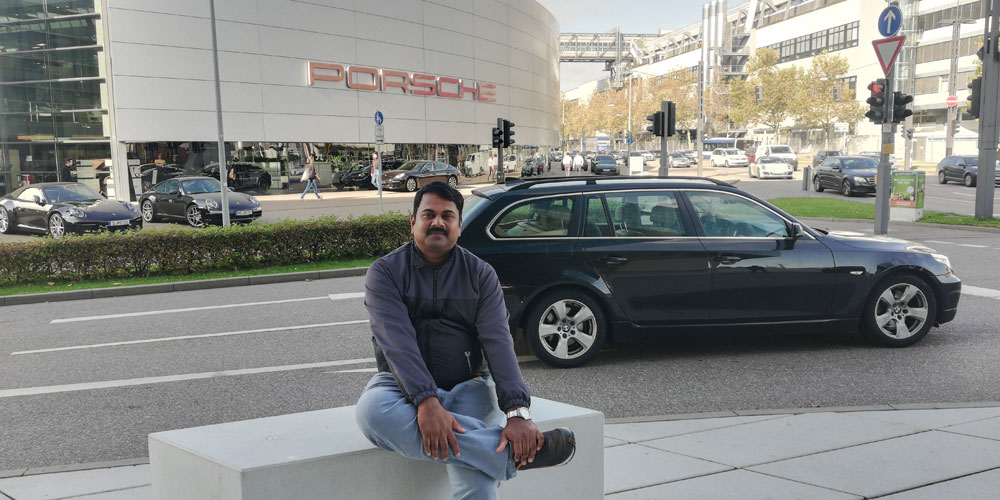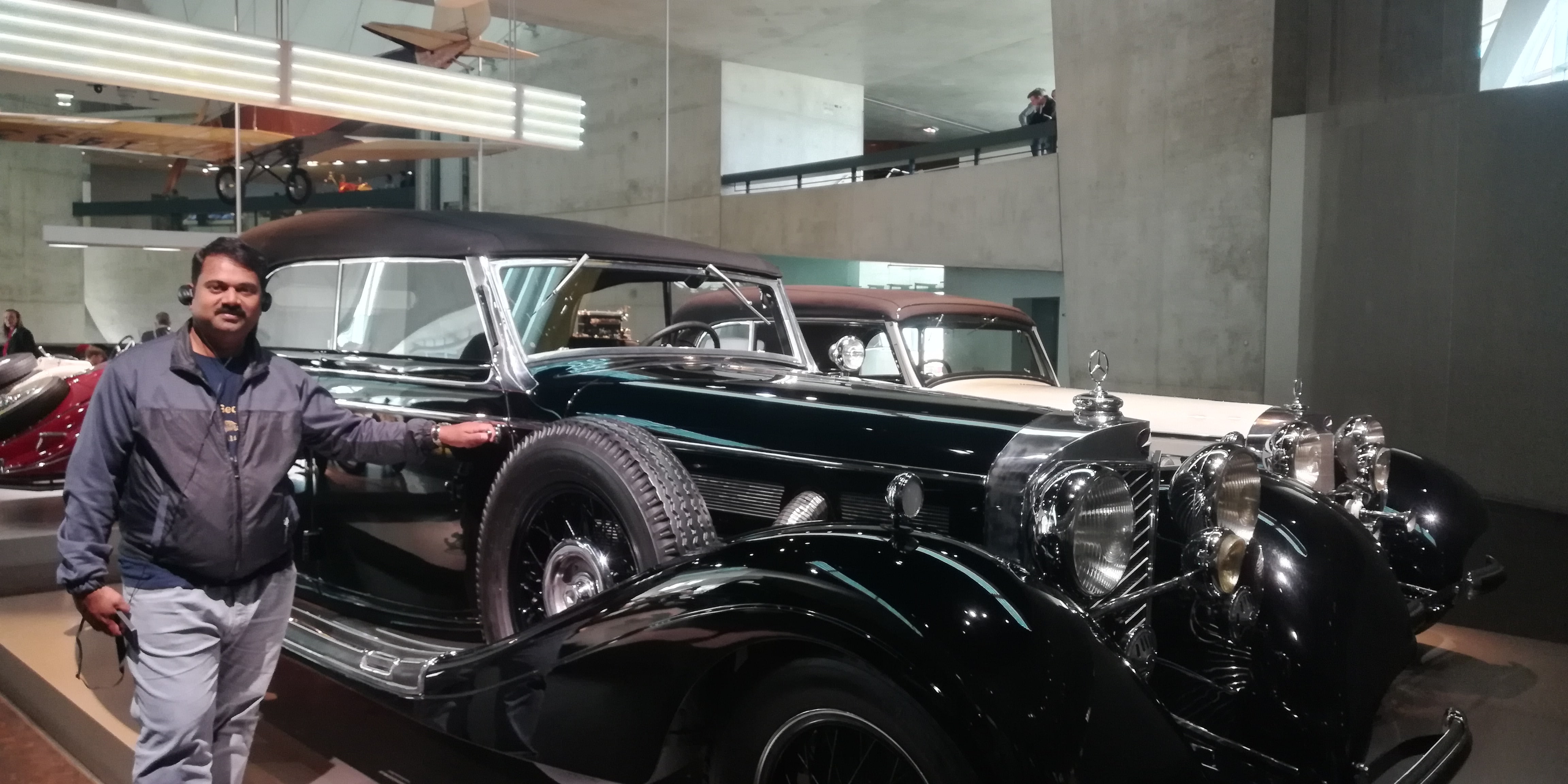 Trier University of Applied Science, Germany
Ms. GeetanjaliChandam& Mr. VibiShathishSrivishnu, B. Tech. Civil Engineering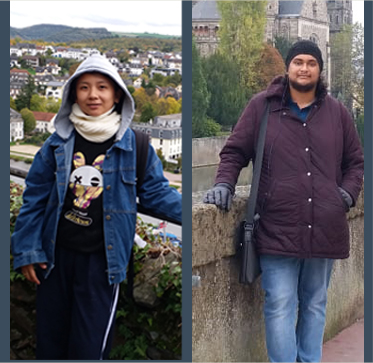 I was honoured to visit Trier University regarding the Indo–German traffic project. The hospitality of the Professors and students had me shook. I learnt a lot while I was there. The tour around the Trier city was amazing, every nook and corner of the city was astonishing. I really felt grateful towards Professor Roland Trapp who was with us for the whole time while working for the project, he was really supportive and I was privileged to work under him.Besides the project, Professor Peter have planned lot other surprising visits to different places. Saarburg a city in Germany was one among the cities we have visited, the students of Trier University accompanied us and briefed every details for the city. A dinner party at Professor Peter's home was the spotlight of our trip. Our Faculty, Dr. Samuel Devadoos and Mr. Shanmuganathan was really caring and supportive. The team members of our Project were really co-operative and helpful. The project trip was really worth the hard work we have given. I hope this kind of trends will never stop so that more and more students will get the exposure.
VEX Robotics Competition, Philippines
Mr. Lena Sekar, Mr. Gian Carlo, Mr. Haran Pragadeesh, &Mr. MukeshSriram B. Tech. Mechatronics Engineering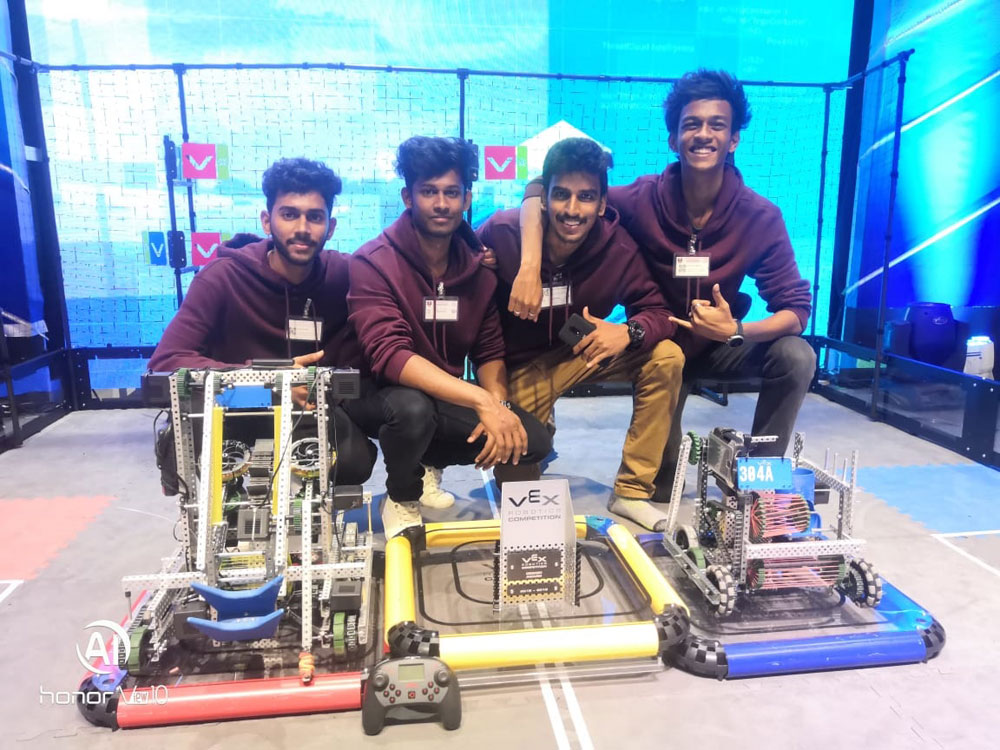 The VEX Robotics competition held at Manila, Philippines was one of the best experiences of our lives. We stayed very close to the World Trade Center where the competition was held, which helped us very much as to carry the robots. At the first day of the competition, we were allowed to test our robots and calibrate them to the field. We also had a warm-up match that day which helped in debugging the errors we had.The biggest hardship we faced was in finding time in between matches to charge our robot's batteries since the matches were very closely scheduled with only 5-10 minutes in between them. Our team from a competitive point of view faired really well in the matches, which led us to being one of the 4 teams in the semi-finals. Although we lost the championship, all the judges were impressed with our robots due to their unique designs and the tasks they were able to accomplish during the autonomous period of the matches.Particularly, the picking and placing of caps on the poles during the Autonomous period never failed to get us applause as no other team had programmed their robots to do so. On the whole, the competition proved to be of great help in building ourselves. It gave us a great learning experience at the international level.
SEMESTER EXCHANGE PROGRAMMES
SUMMER PROGRAMME AT BEN GURION UNIVERSITY
Mr. R. Ajay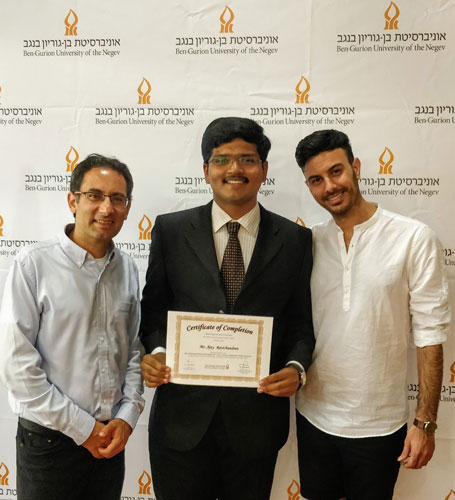 I was fortunate enough to attend the summer programme at Ben-Gurion University of the Negev, Israel with a merit scholarship awarded for my stellar background and consistent performance in academics and achievements. This Annual International Cyber Security and Machine Learning International Academic and Professional Program (ICSML) for the year 2019 was organized by the Malware Labs in collaboration with the University's Office of International Academic Affairs which aimed at bringing leading researchers and practitioners in machine learning, data science, big data predictive analytics, and a variety of cyber security experts together. The program's speakers and lecturers include many of the most respected and knowledgeable machine learning and cyber security experts from academia and industry. The ICSML program also enables participants to visit industrial companies and additional research centres located in Israel. I received a sublime opportunity to visit companies like Verint, Morphisec and most notably Checkpoint (Headquartered at Israel) which is one of the top companies in the world for Cyber Security. In addition to this, I was able to meet many students and professors from Countries such as Spain, Mexico, China, Japan. Chile, US and UK. the knowledge and exposure gained through this programme was valuable. Overall, a good visit with lot of memories to cherish!
Mr. S. Naveen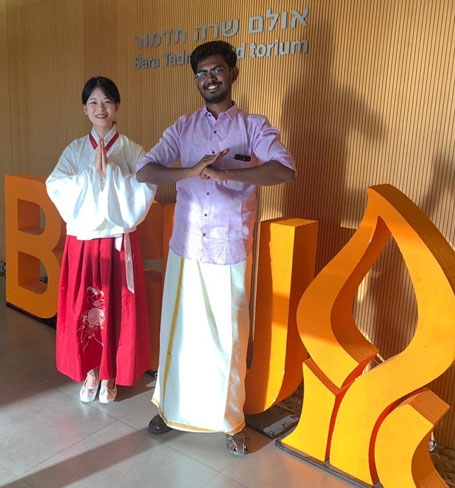 The Summer Programme on Data Mining and Business Intelligence for Cyber Security at BGU, Israel was so special to me, not because it was my first trip, but an Israel trip was one of my bucket lists. From the moment of getting my Visa till I returned back was so enriching. I got to meet my counselor, International office team and our batch mates from various countries including Israel, China, Spain, Mexico, USA, Greece, Chile, Thailand and UK. It was great to meet and talk to different people from various cultures. As classes began I realized that except me, others in my class were Scholars, Researchers, and Professors. Each and every lecture were amazing. During weekend we explored The Old City of Beer Sheva, House of David Ben Gurion, Dead Sea, Jerusalem, Tel Aviv etc. Apart from this we also had trips to companies including Verint, Checkpoint and IBM. As part of the course we had to do a project. I worked on the project with an Indian Security Researcher working in Japan. I got to learn a lot from her and it was a great to do such an extensive project within a short term under the guidance of the professors at BGU. The last day was the most memorable day. The most emotional moment was when we got our certificates and finally bid farewell to all! Every experience will have an emotion attached and letting it go is not easy! I never wanted to return back. But we have to let go and move on to explore more.
Ms. Juhi Singh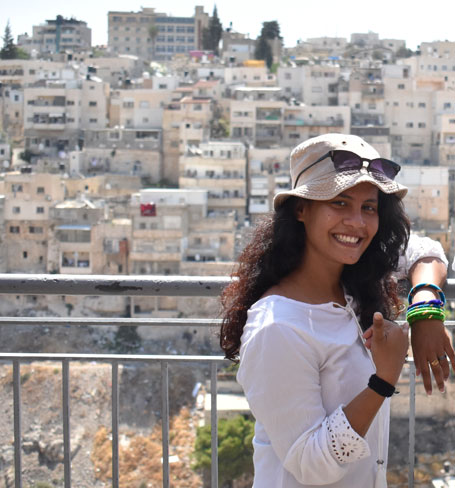 Every student has a dream to study abroad, and I never thought I'll ever get a chance until I heard about summer programme at BGU-Israel (Data Mining and Business Intelligence in Cyber Security). I applied with no hope that I'll get selected; and to my surprise, I got selected with 92% Scholarship. It was time to fly to the country where most of the tech people dream to go: Isreal. In one word I could describe my Experience at BGU-Israel as "Sababa", a Hebrew word which means "Excellent/Cool." This summer program was so interesting that I have spent my whole month in another country with different culture people. Our academic schedule began from 8: 30 a.m. to 4 or even late. We had around six to seven professors; each great in their respective domains. We came to know about the research paper they were working and it was absolutely mind blowing! The study environment of BGU made me fall for it: quality of study, professors, 24 hours opened labs, Hi-Tech on campus park, Israeli Students, Canteens, Library and much more. Regularly we had cultural events including International Food fest, International Night, Star Gazing etc. My stay at Israel ended with graduation ceremony. With a heavy heart I bid bye to our Professors, friends and the International office staffs and University!
VISIT TO SINGAPORE AND MALAYSIA
Dr. R. SundaraRajan, Associate Professor, Department of Mathematics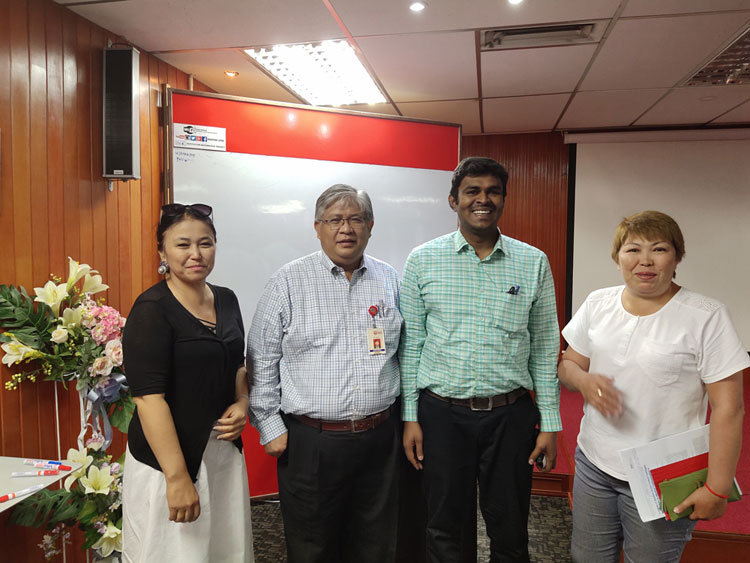 I was fortunate to visit National University of Singapore (NUS), Universiti Putra Malaysia (UPM), and Universiti Tenaga Nasional (UNITEN), Malaysia in pursuit of my research between 1 and 10 June 2019. I met ProfessorLeong Hon Wai, Department of Computer Science, NUS, who deliberated on "Reliability Measures in Interconnection Networks" and "Computational Methods for Protein Complex Prediction in Biological Networks"; and Dr.Sudeep Stephen, Department of Computer Science with whom I have submitted a research article in the peer reviewed journal. Later, I delivered a lecture on one of my research areas titled "Fuzzy Embedding in Interconnection Networks."Meeting withProf.Louxin Zhang, Department of Mathematics has fostered a brilliant chance for joint research proposal. My seminaron "Embedding in Interconnection Networks"in the Institute of Mathematical Research (INSPEM), UPMwas followed by interaction with faculty members from Universiti Putra Malaysia, UniversitiKebangsaan Malaysia, and Al-Farabi Kazakh National University exploring possibilities for various research problems and future collaborations. I have submitted a research project titled "Analysis, Characterizations and Simulations of Malaysian Networks" to the Government of Malaysia. UNITEN was helpful to analyse the possibilities in terms of funded projects, collaborative research articles, faculty and student exchange programmes. I express my sincere gratitude to the Management of Hindustan for letting me travel to enhance my knowledge. I'm certain that the visit has opened avenues for joint collaborations for research and publications. Further, I thank the Institute for Mathematical Research (INSPEM), Universiti Putra Malaysia (UPM), Malaysia for giving a grant to visit INSPEM, UPM as a visiting researcher during my visit to INSPEM, UPM.
SEMESTER EXCHANGE PROGRAMME AT YILDIZ TECHNICAL UNIVERSITY, TURKEY
Ms. Namitha Sandeep, B.Tech., CSE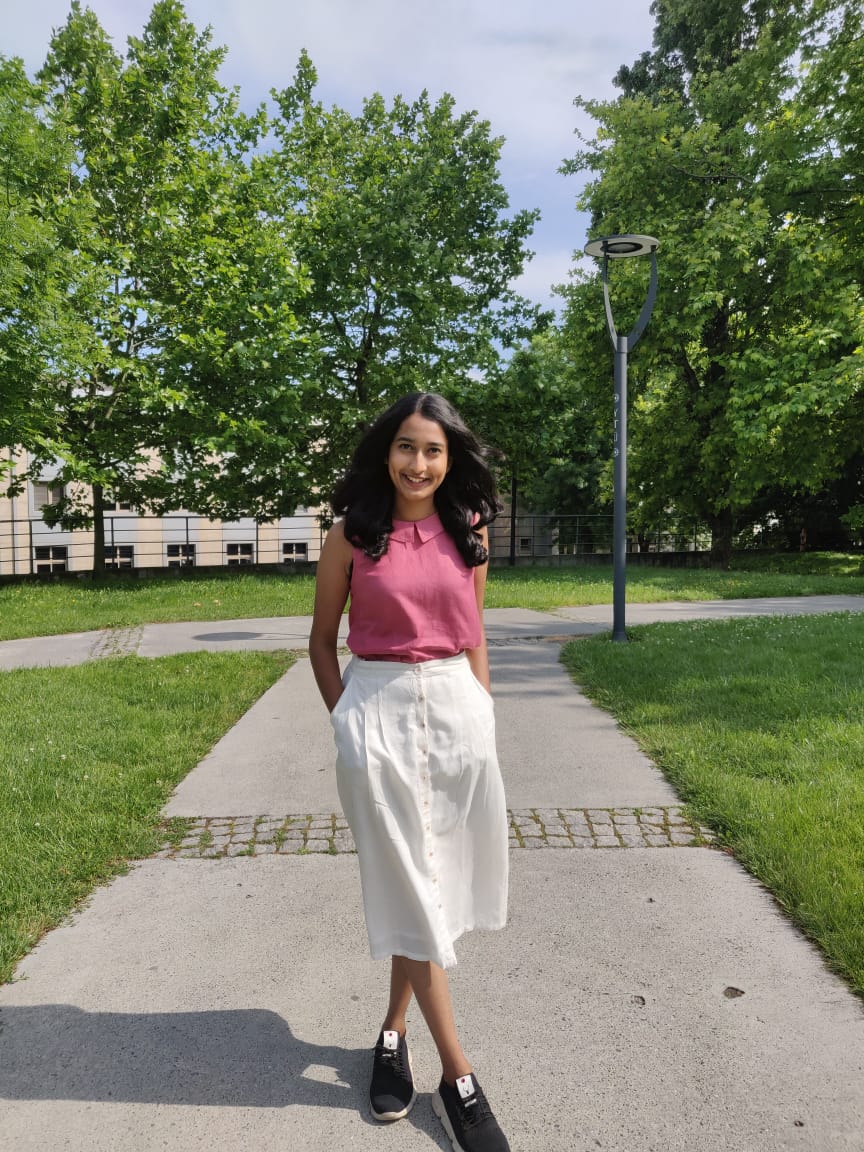 Istanbul is such a vibrant city that it was difficult to take eyes off that beauty. I miss everything about Istanbul. Studying abroad had always been a desire of mine; and studying in Istanbul,Turkey under Erasmus programme was quite an enriching experience. It is not only academically and culturally fulfilling, but also fosters personal growth. You become independent and open to new, exciting, or terrifying challenges that you would never have encountered in your home country. Those happy months in Istanbul was worth the hard work done in India. I missed the hardship of traveling across the country within a few hours. It was incredible to witness cultural differences within Istanbul's geographical regions for a day trip. I met a lot of amazing people and got to learn a lot from them. Studying in Yildiz Technical University got me into a different education system, which was completely new. Initially it was a bit challenging, but soon I gained interest and lovedit. Time management of the host university was the main highlight at Yildiz. Similarly, the professors and the other officials were very supportive and encouraging to our queries and needs and provided all the adequate feedback and input. I loved my experience at Yildiz Technical University, Istanbul, Turkey and I would gladly attend again if I still had some time before graduating. Being in a classroom does not teach experience: that kind of education is received by going out into the world and embracing it head on. This unforgettable experience has undeniably broadened my horizons. "Istanbul'useviyorum" (I Love Istanbul)!
SEMESTER EXCHANGE PROGRAMME AT HOCHSCHULE OSTWESTFALEN, LIPPE, GERMANY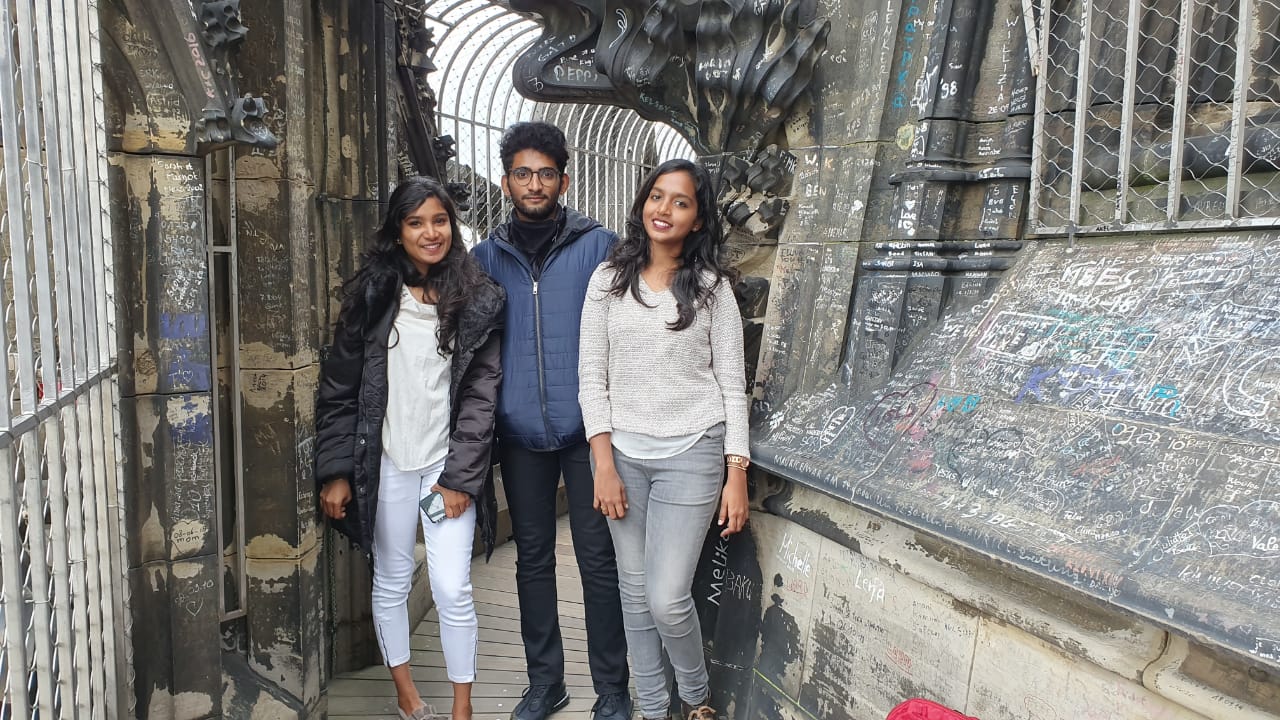 Ms. SowmiyaKaarthik, Mr. V. Sakthivel V., and Ms. V. Nivetha pursuing 3rd year, B. Arch. are undergoing Semester Exchange Programme at HochschuleOstwestfalen, Lippe - University of Applied Sciences, Germany since March 2019. They had a chance to participate in International Day celebrated on 13 June 2019 and represent India in events such as dance, food preparation, mehendi designing etc. The students would be returning to Hindustan in August 2019.
VISIT TO UK UNIVERSITIES
Dr. A.K. Parvathy &Dr. K.R. Devabalaji, Professors, EEE.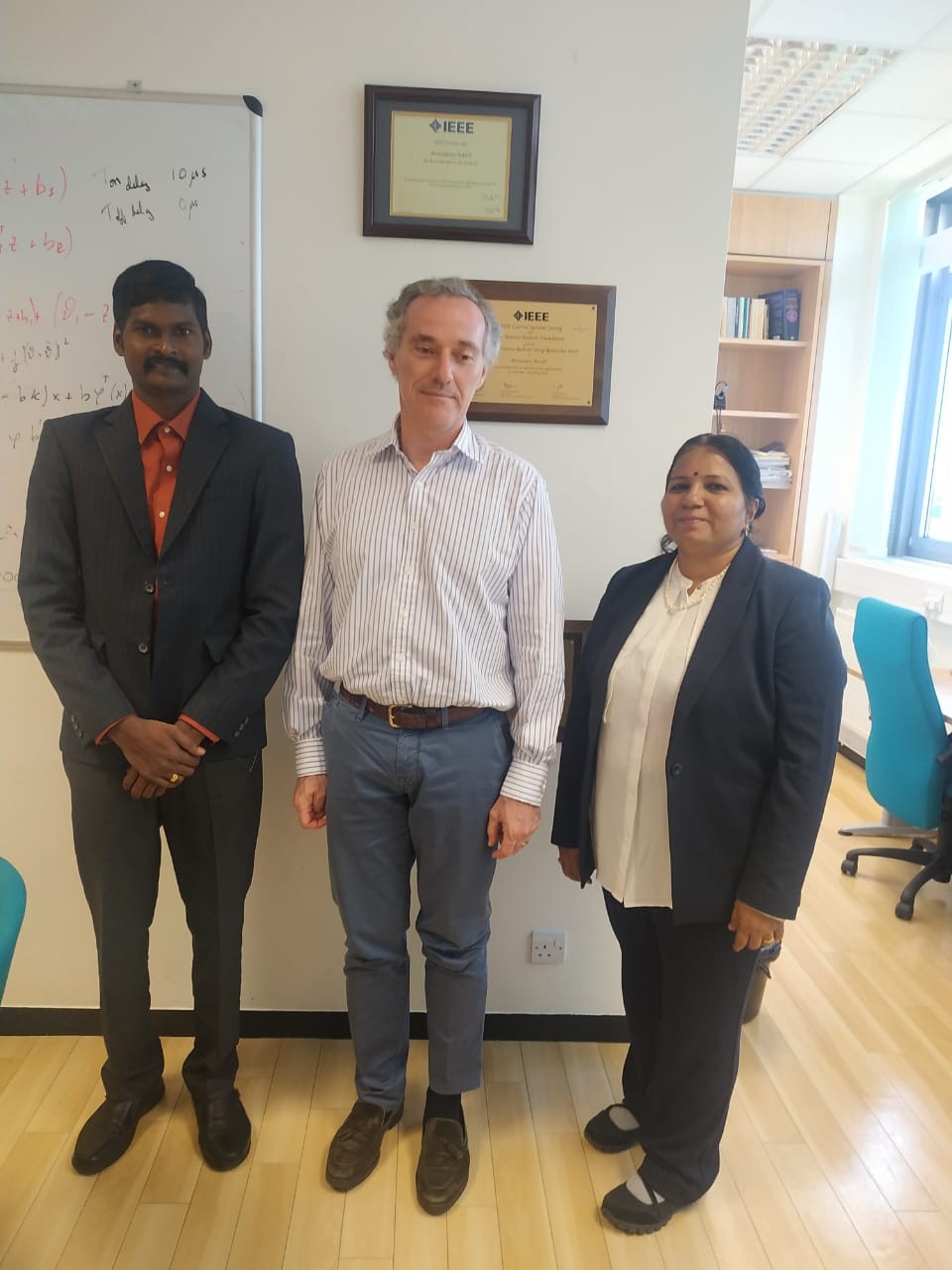 An opportunity to visit Imperial College, London; University of Bradfordand University of Leeds, England as a part of Newton Bhabha Funded Project between 28 June and 7 July 2019 was quite a thrilling and informative experience. Dr. Alessandro Astolfi, Head of Control and Power Research Group; and Dr. B. Pal, Professor, Department of EEE, Imperial College, London were willing to invite research scholars for joint projects. Dr.GeevMokryani, Department of EEE, University of Bradford showed interest to collaborate with HITS for projects funded by the British Council; and was also keen on accommodating suitable candidates for Post- doctoral research. Dr. Joseph Antony, Department of Chemical and Process Engineering; Dr.PetrosAristidou, Department of EEE; and Dr. Simon, Post Doctoral Research fellow, University of Leeds took us on a guided tour to Low Carbon Energy, Electrical Engineering, Battery and EV lab, and Low Carbon Engine Lab. Research scholars at Leeds presented posters in areas of Mini grid and rural electrification. We hope the visit at UK would enable in promising collaborations for mutual benefits. Huge thanks to Hindustan for the opportunity!
SEMESTER EXCHANGE PROGRAMME AT YILDIZ TECHNICAL UNIVERSITY, TURKEY
Ms. MadhuraG Joshi, B.Tech., CSE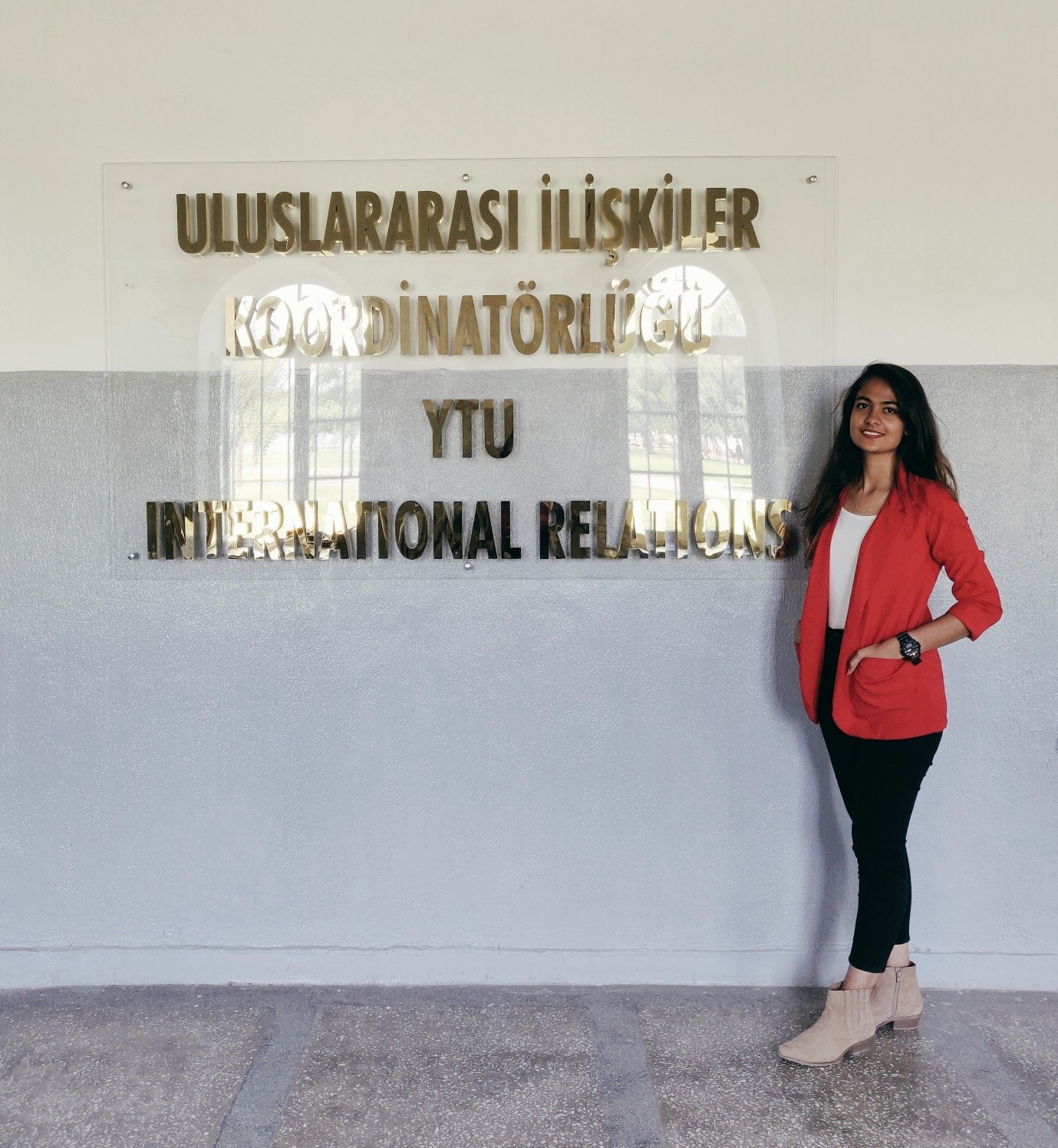 Hard work and consistent good scores got me this great opportunity to be an Erasmus student and study in Istanbul at one of the top colleges of Turkey for a Semester during February 2019. I was always stunned by the way everything worked in Yildiz Technical University; quite systematic and organised. There were days where I did struggle in terms of food, study and understanding the language. But they say without a downfall there is no fun in the hunt for achieving the best. Luckily, the subjects that I studied there were of my interest and I am very grateful that I did happen to study them under the guidance of great professors. My favourite subject to study there was Big Data Analytics. Even though I needed an espresso before it began, I would say it was the most interesting and difficult 3-hour class of the week. I liked subject and the way my professor handled. He made sure that we all understood it very well by repeating the algorithm explanation in Turkish and in English. I also happened to attend the Convocation Ceremony of my department. I was so happy to see all my friends graduating and happier to say it was the day I realized I was studying with my seniors. Istanbul is a beautiful place. I was mesmerized by the creative plantations everywhere in the city! I would also mention about people, their love for the country and their first president. If you are student who loves to learn and grow, I would definitely recommend you to go for such a programme abroad, as you get to experience the study and their crazy testing skills in advance for a semester.
I feel I made the best out of the opportunity, and experienced the best as well. I heartily thank Hindustan for letting a student experience the study and culture in abroad at their early stages. The day I reached back to Chennai, reality did hit me hard. All I said was, "I just woke up from a fantastic dream!"
SEMESTER EXCHANGE PROGRAMME AT DONGGUK UNIVERSITY, KOREA
Mr. Rajesh Dammalapati,B.Tech., CSE.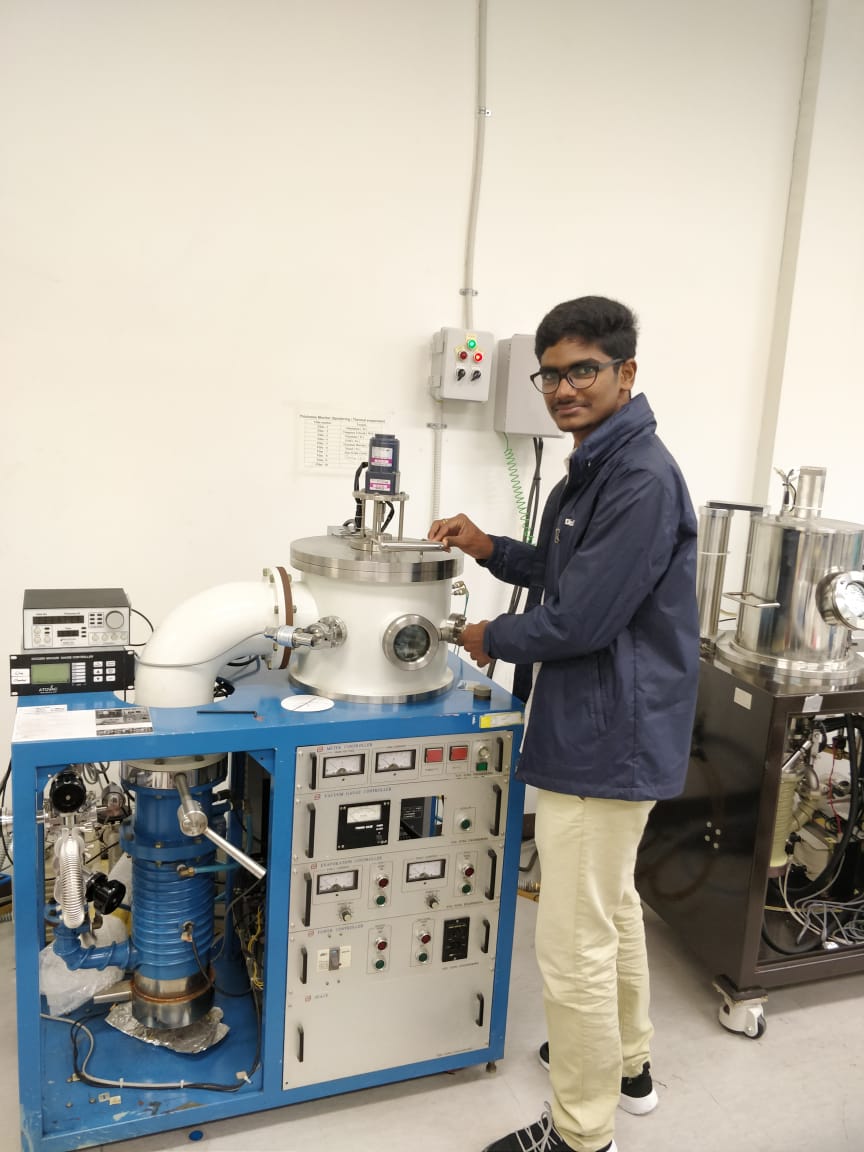 Exchange programme is very useful for an academic exposure and develop international competence as you would get to know people from different cultures and countries. I was privileged enough to study at Dongguk University, Korea through an exchange programme offered by my alma mater. The course I loved very much was Computer Networks because everything was required to do in a practical manner and the questions were quite innovative which actually drew more interest on subject. Working on advanced devices such as "Raspberry pi" in ARM microprocessor and involving in team projects would help you to know the functioning aspects better.
Any international experience is an indefatigable promoter of learning, and is vital in breaking down the barriers to cultural understanding and securing a place in the world as a successful human being. In fact, it is a key to achieve an international competence, and hence encouraged more often. This academic global experience gave me an unexpected improvement in my personality and brought in monumental changes in my perspective. I met great personalities who were doing PHD in different aspects; and discoursing with them has enhanced my scope of understanding. I strongly suggest young learners to apply for exchange programmes and widen your knowledge through global exposure. Sincere thanks to my institution for fostering us!
VISIT TO UNIVERSITY OF BRADFORD, UK.
Dr. V. Ceronmani Sharmila Head, Information Technology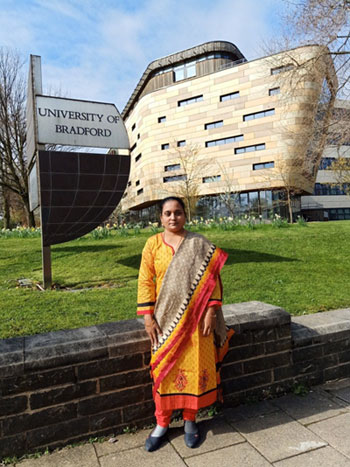 Faculty at Hindustan gain international exposure through International Research Experiential Scheme. I was privileged to go to University of Bradford, UK, for facilitating Joint Research Proposal on 3 April 2019. Hindustan is steadily attaining its prominence globally through membership with World Technology Universities Network (WTUN). Bradford one of the fascinating cities located on West Yorkshire, England owns world class businesses, knowledge and research institutes like University of Bradford named after the city. During my 4-day programme at University of Bradford, I delivered a seminar on "Latest Trends in Cyber Security and Future of Cyber Training" to the faculty and students of School of Engineering and Informatics. Of various interactions I had with experts in University of Bradford, I was also quite able to collaborate on a joint publication.
Thanks to Hindustan for a rewarding experience!
SEMESTER EXCHANGE PROGRAMME AT DONGGUK UNIVERSITY, KOREA
Mr. Raghav Shankar 3 rd Year, B. Tech. Computer Science and Engineering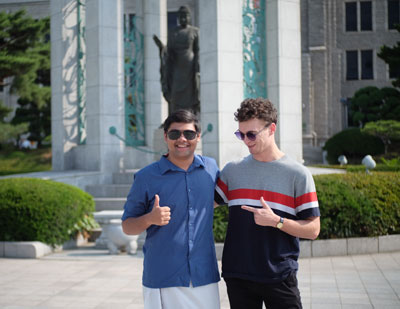 The benefits of an exchange programme are vast. One may come across many challenges to meet in terms of adapting in a new country with an entirely different culture and language. I overcame these difficulties much easily as I saw them as an opportunity for growth and not just a hurdle. The course that I absolutely loved during my stay, between 3 February and June 2018, was Organizational Behaviour which enabled me to team up and partner with a company to solve one of their persistent problems. My team consisted of Koreans, a German and an Austrian. We partnered with LG U+, a leading telecom giant in South Korea, aiming to rework their Work Life Balance Strategy. This course was a keyhole to what awaited me in the corporate world. This experience has been eye opening and has made monumental changes to my perspective. Some great relationships were forged during this period as the minds of both the parties were experiencing more or less the same extent of emotion, thus making the bond that much stronger. I extend my gratitude to Hindustan for this global chance.
MOSCOW AVIATION INSTITUTION (MAI), RUSSIA
Mr. Jayachandra, B. Tech. Aeronautical.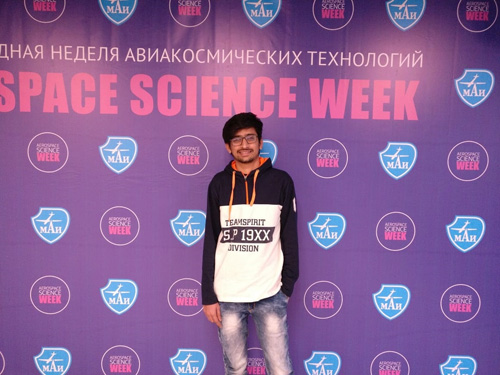 I am still very much caught up in the yesterday's hangover while flying back home from Moscow with renewed overwhelming sense of excitement for my future. Now I am back home with a ton of memories, e-mails to answer, and many stories to share. A semester exchange program at Moscow Aviation Institution (MAI) surely be the one off opportunity provided by Hindustan Institute of Technology and science for its students and we are extremely grateful to it. Our 4 months stay (September to December 2018) in Moscow proved to be a great learning experience. It taught us many things and most importantly, we could learn so much about our course subject. The university had a vast and resourceful campus with kind, patient and very efficient management. Their work was diligently streamlined and the teaching professors were highly knowledgeable and respected in their respective field. Besides, the University was graceful enough for opening its resources to the foreign students. The university had different wind tunnels, highly specialized propulsion workshops, stimulator for various fighter aircraft, space landing and computational software. The most pleasant thing is about Moscow's magnanimous people who go out of their way to help us although they can't converse well in English.
HOCHSCHULE OSTWESTFALEN, LIPPE, GERMANY
Ms. Janaki, B. Arch.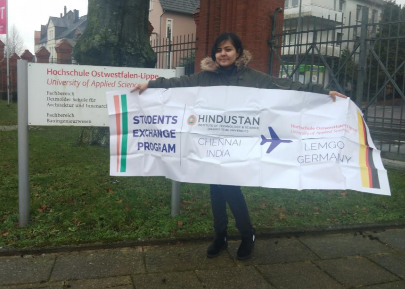 The most unique thing about semester exchange programs are the inter-cultural learning that takes place during the study – we get to learn and experience how the same topic of study is analyzed, processed and put into action in different places of the world. As an architecture student, we often tend to look for inspirations to deepen our creative side and the exchange program has been a great exposure to a completely different style. I also got the opportunity to develop my skills with practical method of learning. In addition to all the academic learning, I also got to evolve as a person right from the initial procedures – to manage financially, to get to know legal procedures, to learn to live independently in a completely different environment. I'm very grateful to HITS that I got to have this opportunity at this very young age. On the whole this unforgettable program has made me academically and has helped me gain the confidence to take up any new opportunities that come through my way.
YILDIZ TECHNICAL UNIVERSITY, TURKEY
Ms. Mouni, M.Tech. CSE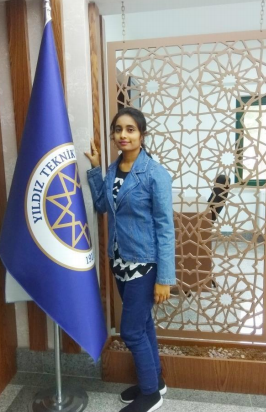 During my 6 months stay in Yildiz Technical University, I learnt many things, more and deep about my course subject, the area in which the database management systems and distributed systems and scope for future Computer Engineers like us. The University was vast and resourceful with its Management being very kind and patient, their work flow was streamlined and finally the teaching professors were highly knowledgeable. In addition, it was very graceful enough to let the foreign students use them. The most pleasant thing about turkey is that, even though their people there don't know the language (English) they tried their best to help us under almost every situation. Every day was a great day; all the people I meet there taught me something new I couldn't have asked for nothing more that this during my stay in turkey from September 2018 to February-2019.
ECOLE NATIONALE DE L'AVIATION CIVILE (ENAC), FRANCE
Mr. Vivian John, M. Tech., Avionics Engineering.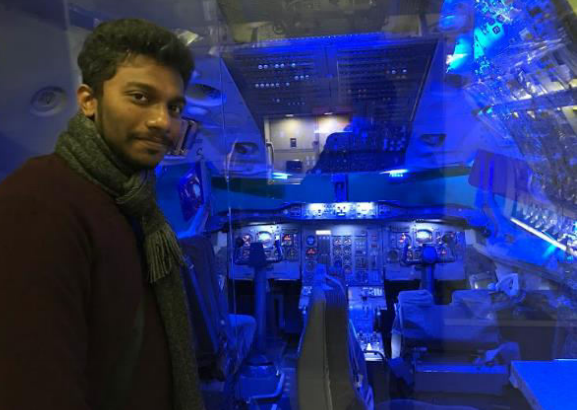 Education is the passport to the future, for tomorrow belongs to those who prepare for it today. A Semester Exchange Program at École nationale de l'aviation civile (ENAC), Toulouse, France was a unique opportunity provided to us. During our 5 months stay at ENAC, Toulouse we attained more exposure which focuses on specific scientific and technical fields to benefit from all the expertise to meet the growing needs of the Aviation Industry. To meet the important challenges, ENAC conducts research and development according to a world-class research centre that works hand in hand with the DGAC - the French Civil Aviation Authority to face the scientific and technical challenges at the heart of the new generation of Air Transport. To develop a research policy that aims at contributing to the national and European priorities. Toulouse has been an amazing and life changing experience where the aviation industry plays a major role and I could not have asked for more than this wonderful stay in Toulouse, France from September 2018 to February 2019.
SPACE CAMP, RUSSIA.
Mr. Deepak Kumar, B. Tech. Aerospace.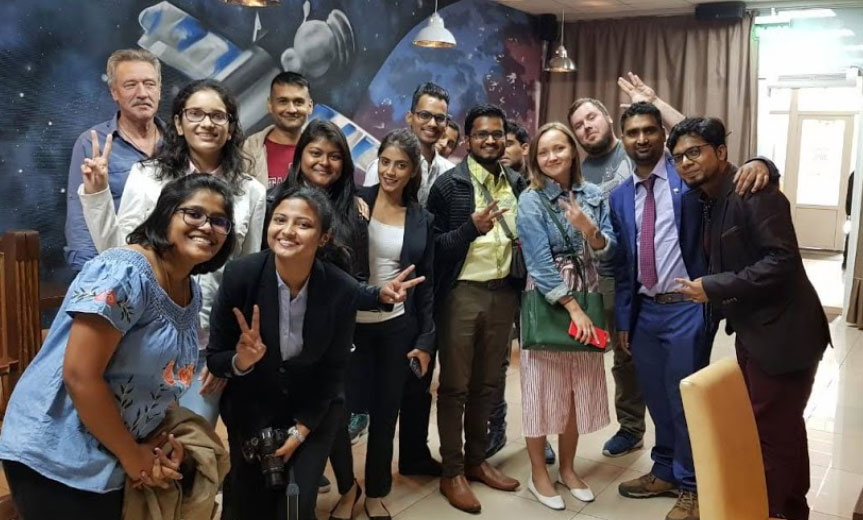 The Space Camp programme at Moscow has already became a lifelong memorable journey which is going to be embedded in my heart forever. HITS is attaining prominence in Russia through the Space Camp Programme we just attended which was jointly organized by Roan Research (India) and Prostocosmos (Moscow). Moscow is an amazing and beautiful city, situated near the river and it houses some of the top companies, Research Institute and also the Russian Space Agency (ROSCOSMOS). During our 3-day programme, we visited many historical monuments such as Kremlin, Red Square, Saint Basil Cathedral and some amazing sites VDNK, Sparrow Hills, Zaryadye and George Park. The organizers of the Space Camp arranged excellent accommodation and food for us. Visiting to Yuri Gagarine Cosmonauts Training Center was one of the highlights of our camp. The Space Camp was truly an amazing eye opening opportunity for us by meeting and interacting with Russian cosmonauts and observing the training programs they undergo at the centre. In the long run, it would be undoubtedly a great beneficial experience for us in our career. Each day I spent at the Space Camp and the people I interacted with had brought about a perspectival change in me.