Common Cancers Prevention and Early Detection | Event Date: Wednesday, 27th, October 2021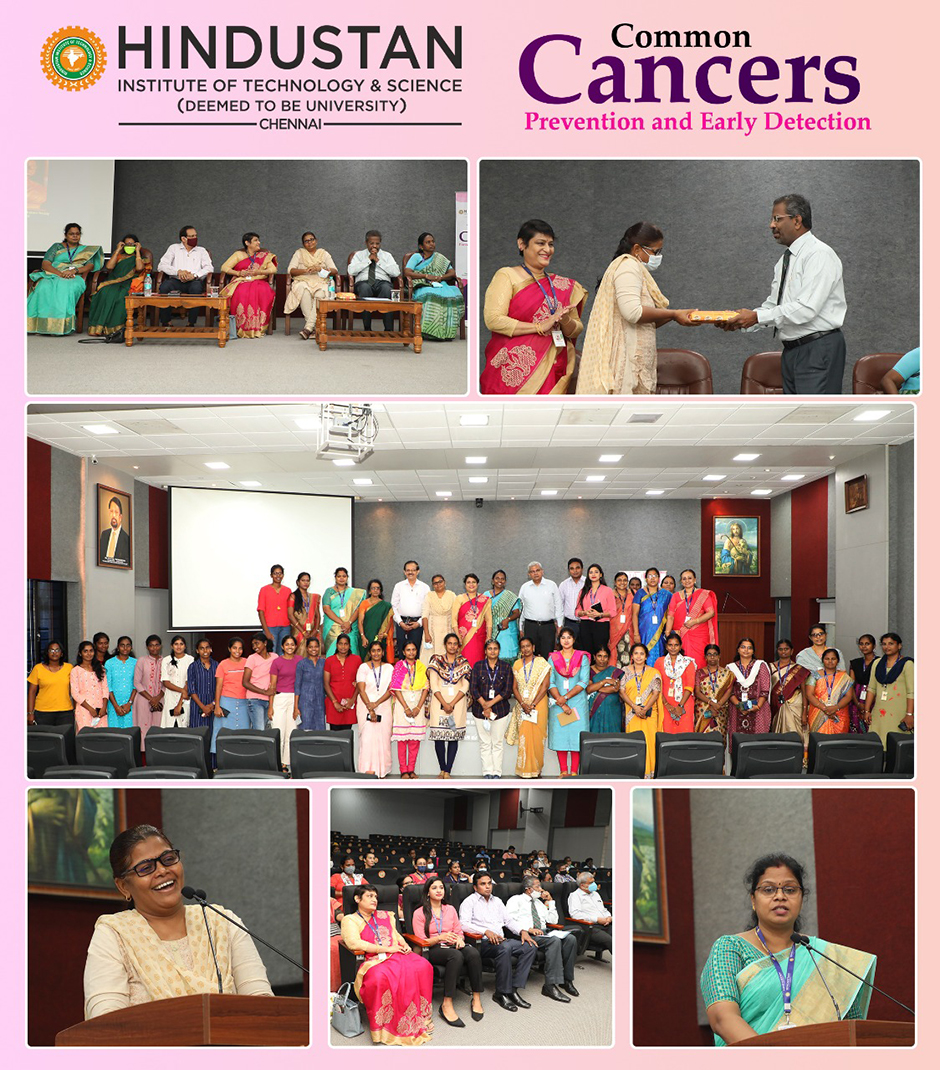 Hindustan Fempower Centre organized a distinguished lecture for HITS staff and students on "Common Cancers Prevention and Early Detection" by Dr. J. S. Malliga, MD, Gynaecologist, Head Department of Preventive Oncology, Cancer Institute (WIA), Adyar, Chennai on 27 October 2021.
Dr. Sherine Joy, Head of Languages and Ranking and Head of Fempower, accorded a warm and cordial welcome to the Chief Guest, Dr. J. S. Malliga. She also welcomed the Guests of Honour, Mr. Janardhanan, Former Y's Men Regional Director& Former International Service Director; and Mrs. Kanagam Janardhanan, Y's Women who serves the community in all possible ways. The chief guest was honoured with a memento by the Pro Vice Chancellor Dr. Alexander Jesudasan and he addressed the gathering with his enthusiastic and informative speech.
In her address on "Common Cancers Prevention and Early Detection", Dr. J. S. Malliga presented various aspects about the cause, early detection and prevention of cancer. She encouraged the participants to ask questions and made it an interactive one. She elaborated about the cause of cancer and spoke about apoptosis - the process of programmed cell death. She elaborated on the effects of cancer and gave the details about the cancer survivor, 95% in western country and 35% in India. Also, she discussed about the pros of detecting cancer in early stage and also about the risk factors. She suggested her audience about breast cancer reduction by bearing children and also breast feeding. A healthy diet is very important in this present scenario and also physical activity and prioritizing the things.
Dr. J. S. Malliga advised the group to do self-breast examination and regular check up to detect any lumps, and if necessary to do ultra sound also. Finally, she requested the audience not to ignore any symptoms and non-healing ulcer and to take necessary steps to detect and prevent it in the early stage itself.The session was lively since it was an interactive session and the audience participated enthusiastically and raised many questions related to cancer, detection, health and prevention. Dr. Pragatha, Deputy Registrar and Coordinator, HITSAA and Coordinator of the event proposed the vote of thanks.