BAJA SAEINDIA 2020 | Event Date: Saturday, 21st, September 2019 -Sunday, 22nd, September 2019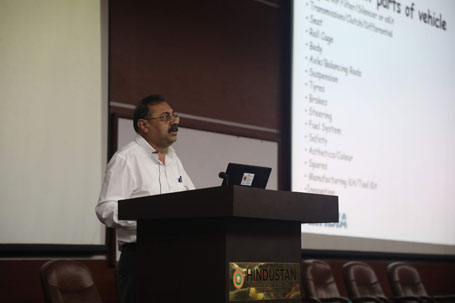 Society of Automobile Engineers (SAE) India conducted a 2-day national workshop at HITS on 21 and 22 September 2019. Dr. Shankar Venugopal, Vice President of Mahindra & Mahindra presided over the event as Chief Guest. Speakers from various fields of expertise deliberated on the upcoming BAJA SAEINDIA 2020 event and how they would make their car compliant to the Rulebook and ultimately win the show. A session on "Challenges of BAJA SAEINDIA 2020", was conducted by Mr. Sanjay Nibandhe, Deputy Director, Automotive Research Authority of India (ARAI). The session targeted on uniqueness of BAJA SAEINDIA 2020, various challenges participants would encounter at it, and how to be prepared for scoring maximum points. Key areas where students would be evaluated were also discussed. Dr. K.C. Vora, Senior Deputy Director & Head, ARAI in an address on "BAJA Design Report, Event and Evaluation Process" reflected on the design event, and jury's expectations towards it. Suggestions to answer queries raised at the event was also given.
Dr. Shankar Venugopal in "Innovations" spoke about the various innovations at BAJA and how the students and teams should implement them to come up with innovative vehicle and bag the innovation award. Dr. K.C. Vora's session on "DFMEA & Design Validation Plan" highlighted on the design validation plan and how teams can go about it, perform different tests and present it with examples to the judges at the event to impress them an d bag points for DFMEA. Mr. K.N. Balaji, Former Senior General Manager, Brakes India spoke about the braking system of the BAJA vehicle, problems faced by the teams and ways they can rectify them. Mr. Sanjay Nibhande and Mr. Sivakumar on "Rulebook and Technical Inspection" briefed on the various changes in the rulebook and emphasized on strict compliance of it. Also, the lecture focused on technical inspection and, methods it would be evaluated. Mr. Villuri Satyanarayan and Mr. Jesse Daniel's session on "Roll Cage Design and CAE Analysis" dealt with the Roll cage design in a BAJA vehicle and the major improvements since the start and other design improvements can possibly be done. Mr. Sparsh and Ms. Gunnam Lasya's address on "Driver Skills & Strategy" and "Sales presentation and Evaluation" dealt the importance of skills a driver should possess to plan a winning strategy for various events at BAJA; and various aspects of the sales presentation.
Mr. PallaLokesh, an alumnus of HITS took a seminar on, "Time Management and Planning for BAJA SAEINDIA 2020". The seminar emphasized on time management, and sticking to realistic deadlines. Mr. Harshith Merchant on "Dynamic Events" briefed on the various dynamic events at the BAJA SAEINDIA 2020, and highlighted the strategies and methods that can be implemented by teams to win each and every event. Mr. Karuppaiah from NATRIP spoke about the BAJA track and how every team has to study it with a couple of videos on the vehicle electronic technologies. Mr. Vinay Mundada addressed on "Design Process, Build Qualities and Failures" and "Powertrain: CVT & Driveline" covering various components and technical components that are involved in a CVT driveline and how one can actually develop their own CVT drivetrains. He also briefed about steering and suspension systems of the BAJA vehicle. Team Helios Racing shared their experience at BAJA international event and drew the intricate differences between the national and international events. They also mentioned about their custom built CVT drivetrain. A seminar on "Electric Powertrain" by Ms. Somya Suryawanshi highlighted the various components involved in an electric drivetrain and alerted on elements to be attended during critical emergency situations and how to troubleshoot it. Ms. Charu Goyal on "Cost Presentation covered the various aspects that go into the cost presentation and what are the weak points that all the teams must build up in. She also spoke about what the cost presentation should consist of how it should be presented to the judges at the event. The last session by Mr. Padma Sewdha saw his experience in BAJA SAEINDIA events and his main take away from the event. Students and teams of BAJA SAEINDIA 2020 ultimately had an overall cognizance of improvements and innovations to experiment in BAJA SAEINDIA 2020.