B.Tech Electronics & Communication Engineering
B.Tech Electronics & Communication Engineering
About the Programme
Vision & Mission
Collaboration with Industries
Placement Details
Awards & Achievements
Lab Infrastructure
Faculty Profile
Curriculum & Syllabus
Specialization
Downloads
About the Department
The Department of Electronics and Communication Engineering was established in the year 1985, with a vision of developing the department as a center of excellence in R&D, in the field of Electronics and Communication Engineering. Our mission is to develop innovative teaching learning pedagogies to drive the concept into the minds of students & infuse scientific temperament

Electronics and Communication Engineering at HITS has a long standing tradition of excellence. The programme provides a sound foundation for people wishing to pursue a career in electrical engineering, communications, control systems, robotics or sensor systems, IOT, Artificial Intelligence, VLSI systems through a diverse range of theoretical skills and practical experience, presented in the context of real applications and design experience

Electronics & Communication Engineering deals with the basic electronics, digital circuits, analog and digital transmission & reception of data, voice and video, microprocessors, satellite communication, microwave engineering, antenna and wave propagation, image processing and signal processing. Electronic systems have made deep inroads into every aspect of daily life. One need only look around homes, offices & industrial plants to see that they feature almost everywhere.

Indeed, it is practically impossible to name any appliances, tools or instruments that do not contain electronic components. In order to compete with rival companies or just remain a step ahead of them, the designers of technical systems & innovative products must be fully aware of both the usage & the limitations of electronic components & systems.

It aims to deepen the knowledge and skills of the students on the basic concepts and theories that will equip them in their professional work involving analysis, systems implementation, operation, production, and maintenance of the various applications in the field of Electronics and Communications Engineering..

This program enriches students with theoretical and practical skills that are required in different spheres of instrumentation and control industries. It enables students to pursue a career in the measurement and control of complex industrial & electrical process. Modules of this program train the student to plan, design, install, operate, control and maintain complex systems that produce materials.

The undergraduates are encouraged to carry out their projects in recent research fields across various areas of Electronics & Communication. Students are also given pathways and are encouraged to develop their technical and research skills by attending various workshops, conferences, competitions, etc.,
Vision & Mission
Vision
To offer holistic education in diverse spheres of Electronics and Communication Engineering to transform students as job aspirants and entrepreneurs
Mission
To impart knowledge to transform students into professional engineers.
To develop their interdisciplinary skills as per the need of the society.
To inculcate Entrepreneurship skills among the students.
Collaboration with Industries
To enable the students to keep pace with changing technological advances, the university has industrial tie-ups with various industries such as:
NOKIA SOLUTIONS AND NETWORKS INDIA PRIVATE LIMITED
RGMTTC
ABESEMICONDUCTOR DESIGN
SANDS INSTRUMENTS PVT LTD
URJITA ELECTRONICS
As part of the collaboration, the following opportunities are provided
Content delivery by industry experts
Projects in collaboration with industry
Internships to engage (students) deeply in hands on real-time situations
Placement Profile – Batch 2015-19
SL.NO.
NAME OF STUDENT PLACED
REGISTER NO
DISCIPLINE
YEAR OF PASSING
ON
/OFF CAMPUS
NAME OF THE EMPLOYER
1

KAMMARI SAI NAVEEN KUMAR

15121021

ECE

2019

On campus

FOCUS ACADEMY FOR CAREER ENHANCEMENT

2

AKSHATHA P KINI

15121042

ECE

2019

On campus

IDBI FEDERAL

3

ARAVINDAN K V

15121128

ECE

2019

On campus

IDBI FEDERAL

4

ASHWIN ANAND

15121022

ECE

2019

On campus

IDBI FEDERAL

5

BALAGA NIHARIKA

15121073

ECE

2019

On campus

IDBI FEDERAL

6

G.VENKATESWARA REDDY

15121036

ECE

2019

On campus

IDBI FEDERAL

7

GUTTURTHI USHA SRI

15121041

ECE

2019

On campus

IDBI FEDERAL

8

K MADHUSUDHAN REDDY

15121075

ECE

2019

Off campus

Wipro

9

KARNATI VEERABHADRA REDDY

15121121

ECE

2019

On campus

IDBI FEDERAL

10

KATASANI GIRIDHAR REDDY

15121096

ECE

2019

On campus

IDBI FEDERAL

11

KODURU SREENIVASULA REDDY

15121110

ECE

2019

On campus

IDBI FEDERAL

12

MAHENDRAKAR SAIVENKAT

15121117

ECE

2019

On campus

IDBI FEDERAL

13

MALLU.PRAVEEN KUMAR REDDY

15121115

ECE

2019

On campus

IDBI FEDERAL

14

MOHANA KRISHNA V

15121033

ECE

2019

On campus

IDBI FEDERAL

15

NALLURI UTWEJ SAI

15121091

ECE

2019

On campus

IDBI FEDERAL

16

R.VAMSI KRISHNA

15121004

ECE

2019

On campus

IDBI FEDERAL

17

RACHAMALLA JAYAKUMAR REDDY

15121051

ECE

2019

On campus

IDBI FEDERAL

18

RAHUL R

15121024

ECE

2019

On campus

IDBI FEDERAL

19

ROHIT OJHA

15121102

ECE

2019

On campus

IDBI FEDERAL

20

SHARIBA T

15121002

ECE

2019

On campus

IDBI FEDERAL

21

SIDDHARTH KALIDAS

15121129

ECE

2019

On campus

IDBI FEDERAL

22

SWETA SATAPATHY

15121045

ECE

2019

On campus

IDBI FEDERAL

23

THAKKELLAPATI VEERANJANEYULU

15121080

ECE

2019

On campus

IDBI FEDERAL

24

YUGESH KUMAR

15121074

ECE

2019

On campus

IDBI FEDERAL

25

RAHUL KUMAR

15121060

ECE

2019

On campus

IDBI FEDERAL

26

DASARI VAMSI

15121049

ECE

2019

On campus

IDBI FEDERAL

27

PRAVEEN KUMAR REDDY MULI

15121082

ECE

2019

On campus

INFOSYS LTD.,

28

ROHIT  KUMAR

15121061

ECE

2019

On campus

INFOSYS LTD.,

29

SAI HARSHITH REDDY  PALEPU

15121088

ECE

2019

On campus

INFOSYS LTD.,

30

THOTAPALLI THARUN  THOTAPALLI SAGAR

15121124

ECE

2019

On campus

INFOSYS LTD.,

31

VENKATA RAGHAVENDRA BYSANI

15121119

ECE

2019

On campus

INFOSYS LTD.,

32

AKSHAITHA P KINI

15121042

ECE

2019

On campus

QSPIDERS

33

BURUGUGADDA NAVEEN

15121106

ECE

2019

On campus

QSPIDERS

34

GIRIDHAR REDDY K

15121096

ECE

2019

On campus

QSPIDERS

35

HARI KRISHNA E

15121081

ECE

2019

On campus

QSPIDERS

36

KALLURI BHARATH

15121031

ECE

2019

On campus

QSPIDERS

37

SAI KAMALNATH REDDY

15121041

ECE

2019

On campus

QSPIDERS

38

SHAIK IQBAL HUSSAIN

15121035

ECE

2019

On campus

QSPIDERS

39

SRINIVASULU REDDY

15121114

ECE

2019

On campus

QSPIDERS

40

SWETA SATHAPATHY

15121045

ECE

2019

On campus

QSPIDERS

41

TARA MANOHAR

15121009

ECE

2019

On campus

QSPIDERS

42

THAKKELLAPATI VEERANJANEYALU

15121080

ECE

2019

On campus

QSPIDERS

43

USHASRI G

15121041

ECE

2019

On campus

QSPIDERS

44

VEERA REDDY K

15121054

ECE

2019

On campus

QSPIDERS

45

VENKATPRASAD REDDY A

15121103

ECE

2019

On campus

QSPIDERS

46

SRILEKHA SANTHATI

15121076

ECE

2019

Off campus

TATA CONSULTANCY SERVICES

47

VENKATA KANTIBOYINA

15121066

ECE

2019

Off
campus

TATA CONSULTANCY SERVICES

48

RAKHEEB SHAIK

151210

ECE

2019

On campus

VALUE LABS

49

SINGAMANENI SAI PRANATHI

15121072

ECE

2019

On campus

VVDN TECHNOLOGIES

50

SRILAKSHMI G

151210

ECE

2019

On campus

VVDN TECHNOLOGIES
Awards & Achievements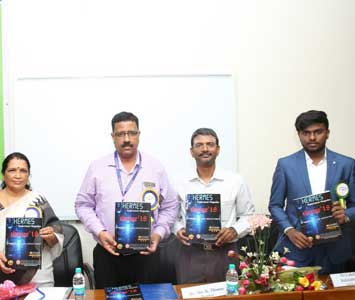 CHARGE 2018
IV @ NARL
NOKIA MOU
RANE 2018
Student project-Flood Management System using IoT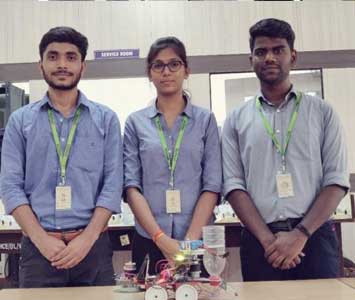 Student Project-GSM assisted multi frequency robotic control system
Lab Infrastructure
DIGITAL ELECTRONICS LAB
COMMUNICATION LAB
ELECTRONICS LAB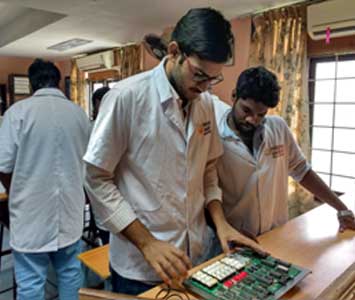 MICROPROCESSOR LAB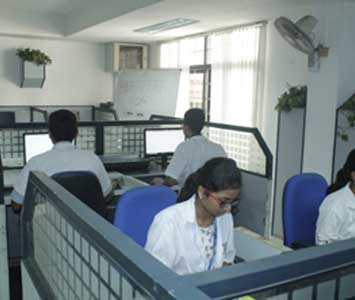 DIGITAL SIGNAL PROCESSING LAB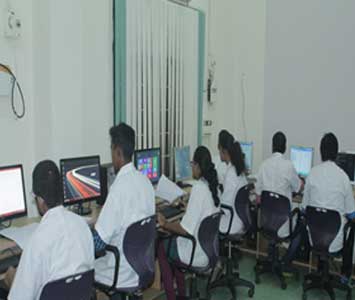 VLSI & NETWORK LAB
Faculty Profile
| | | | |
| --- | --- | --- | --- |
| 1. | Dr. Himanshu Shekhar | Professor | |
| 2 | Dr. PALLAVI  SINGH | Assistant Professor (SG) | |
| 3 | Dr. S.SASIKUMAR | Professor | |
| 4 | Dr.Aby.K.Thomas | Professor & HOD, | |
| 5 | Dr.AL.Vallikannu | Associate Professor | |
| 6 | Dr.K.Sakthidasan @ Sankaran | Associate Professor | |
| 7 | Dr.S. Prabha | Associate Professor | |
| 8 | Dr.V. SHERLIN SOLOMI | Associate Professor(S.G) | |
| 9 | Dr.V.R.Prakash | Associate Professor(S.G) | |
| 10 | Mr. P.RAMESH | Assistant Professor(S.G) | |
| 11 | MR.K. Sunilkumar | Assistant Professor | |
| 12 | Mr.Rajmohan | Assistant Professor(S.G) | |
| 13 | Mr.S.S.Manikandan | Assistant Professor(S.G) | |
| 14 | MR.SAHAYA LENIN D | Assistant Professor(S.G) | |
| 15 | Mr.V.Beslin Geo | Assistant Professor(S.G) | |
| 16 | Ms. Kavitha.B. C | Assistant Professor(S.G) | |
| 17 | Ms. Sukriti | Assistant Professor | |
| 18 | Ms.B.Rajesh Shyamala Devi | Assistant Professor | |
| 19 | MS.K.THENKUMARI | Assistant Professor | |
| 20 | Ms.P.Archana | Assistant Professor | |
| 21 | S.M.UMARANI | Assistant Professor | |
Curriculum & Syllabus
Specialization
Downloads