INSTALLATION OF 450K WON-GRID SOLAR POWER GENERATION SYSTEM(HITS–WOCKHARDT SOLAR POWER PROJECT) | Event Date: Saturday, 16th, September 2023
Introduction:
During the Cop26 global climate summit held in Glasgow, Scotland, India's Prime Minister announced our country's commitment to achieving net-zero emissions by 2070. In alignment with this ambitious goal set by our national leader, Hindustan University has set its sights on reaching net-zero emissions by 2030.
In our dedicated efforts to attain this target, we have already implemented a 100 kW solar power generation system. Today marks another significant milestone as we unveil our second plant, a 450 kW solar power generation system, which will further propel us towards our sustainability objectives.
The initiative receives backing from the Wockhardt Foundation, a non-governmental organization with a nationwide presence, dedicated to carrying out social service and humanitarian initiatives from the state of Maharashtra, India. The initiative is spearheaded by PHPL (Perfect House Private Ltd.), from Maharashtra, a renowned manufacturer specializing in electrical generators. The on-grid solar power generation system is mostly identified as a photoelectric system generating electric power which will reduce the electricity bill expenses and have an alternative form of power generation, a clean and renewable energy source.
On-grid solar system is cost effective, since it is not relied on batteries. Grid-tie solar system uses a clean and renewable power source to generate carbon-free power, therefore, this affects positively not only humans but also the environment. These positive effects cover all living beings including air, soil, water, etc. The grid-tie inverter also known as asynchronous inverter. The inverter leads the regulation of the voltage and current that are received from the panels and performs the process of converting from DC into AC. More electrical energy can be saved by the inclusion of Net Metering.
Power Consumption Scenario at HITS:
The present sanctioned power demand of HITS from TNEB is 1100kW along with an existing On-grid solar Power Generation System of 100 kW.
Feasibility:
Sufficient space (36,445 Sq.ft) is available to establish the 450kW on-grid solar power generation system in our campus. The location is identified and it will be the terrace of Jubilee block. We can accommodate eall PV panels, Inverters and distribution box in the identified location.
Net Metering:
To use net metering facilities, the solar PV system needs to be connected to the utility grid via the main service panel of the consumer and the meter. The meter should be a bi-directional meter, as when more power is generated by the solar PV system than required, the excess power can be returned to the grid by reversing the meter from its normal direction. Since the meter works in both directions, one can get readings of both power purchased (when demand on-site is greater than the on-site power production) and power returned to the grid (when demand-on site is less than the generationon-site).
Electricity Consumption
The 450 kW Solar Power Generation System is projected to produce an average of 1800 kWhr per day, equivalent to 1800 Units.
This means that 50% (550 kW). of our energy consumption will be fulfilled by both solar power generation system.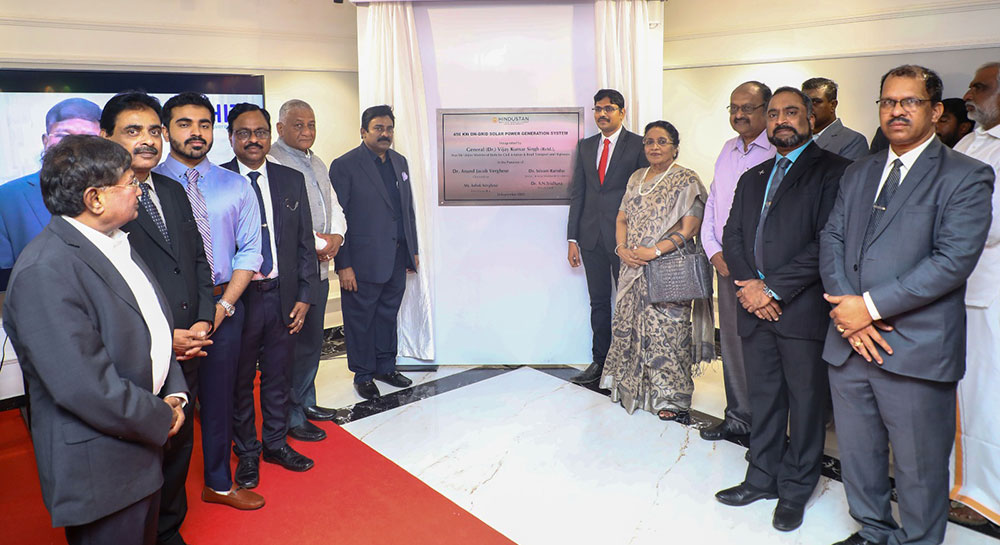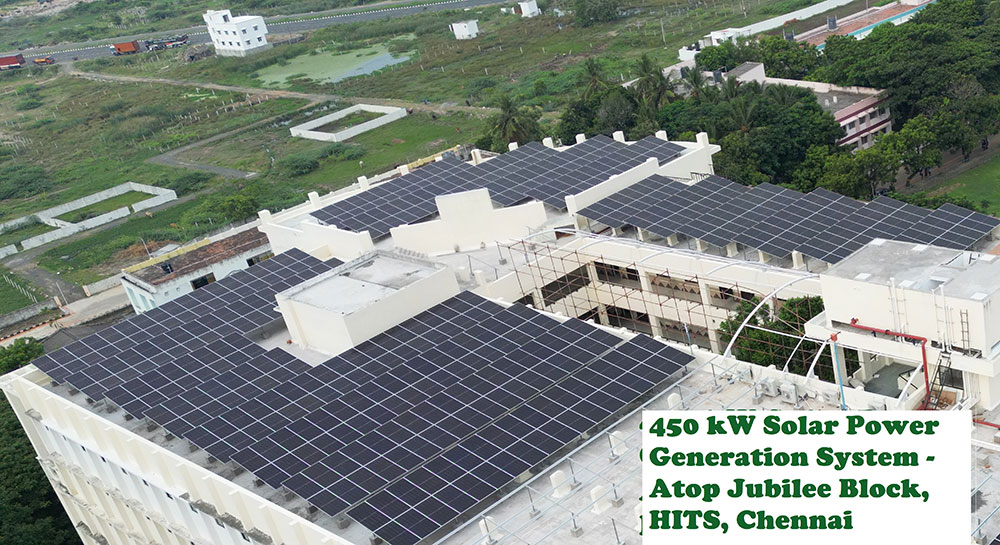 450 kW Solar Power Generation System at HITS, unveiled by the Hon'ble Union Minister of state for Civil Aviation and Road Transport & Highways, Gen. (Dr.) V. K. Singh on 16th Sept. 2023.