HITS EXCELS IN THE NIRF RANKINGS 2020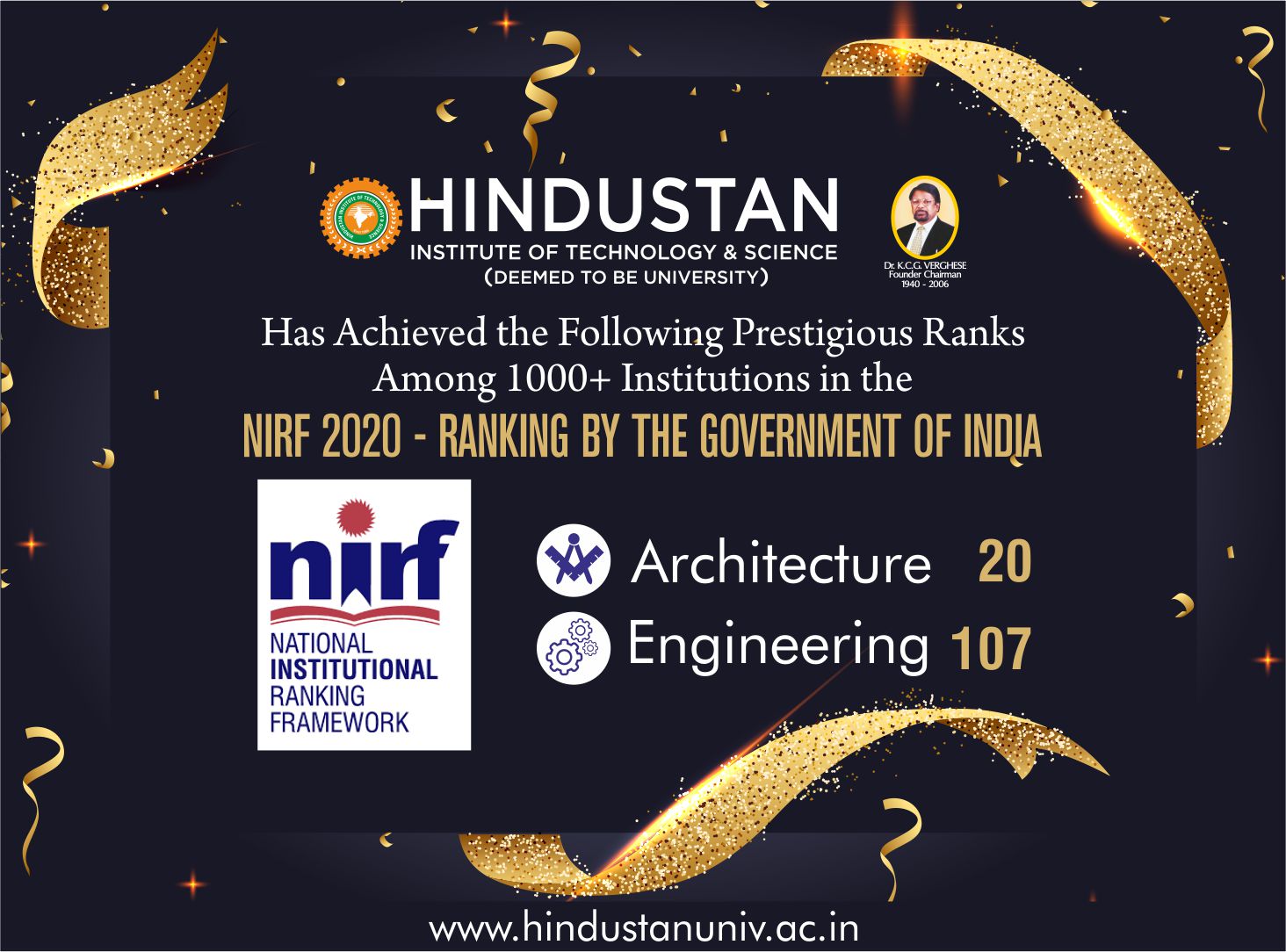 HITS Architecture achieves top notch position in Tamil Nadu and Chennai and 4th position in Engineering among Deemed Universities in Chennai
The HRD minister Ramesh Pokhriyal 'Nishank announced the National Institutional Ranking Framework (NIRF) India Rankings on 11th June 2020. The ranking was released on various categories Overall, University, Engineering, College, Management, Pharmacy, Law, Architecture, and Medical.
Hindustan Institute of Technology & Science participated in the NIRF Rankings 2020 in the Engineering category and Architecture category. The rankings were based on the submission of data on various parameters and it includes Teaching Learning, & Resources, Research and Professional Practice, Graduation Outcome, Outreach & Inclusivity, Perception.
HITS has achieved 107th rank among 1071 engineering institutions in India and is placed under the top 10% of the Engineering Institutions in India. HITS achieved 20th Rank out of 66 Architecture institutions in India.
Analysis of the recent NIRF rankings 2020 indicates that
Among the Deemed Universities in India which participated in NIRF 2020 rankings, HITS achieved the 25th position in India and 9th position in Tamil Nadu and 4th position in Chennai in Engineering category.
Under Architecture rankings among Deemed Universities in India, HITS has achieved the 4th position in India and 1st position among Tamil Nadu Deemed Universities
During the release of the results, HRD Minister Pokhriyal said, "We will create an enabling situation when institutes from across the world will want to be a part of the Indian NIRF Rankings. Our 'Study in India' initiative is working to bring international students to India. This year, 3,800 institutes participated in NIRF Rankings, which is 20% higher than last year".