Workshop on "Solving of Mechanical Engineering Problems Using Matlab" | Event Date: Monday, 25th, April 2022
A two-day Workshop on "Solving of Mechanical Engineering Problems Using Matlab" was organized on 25 & 26 April 2022.Mr.P. Visweswaran,Scientist/E,Reactor Design and Technology Group, IGCAR,Kalpakkam presided over the event as the Chief Guest. Dr.P. Vijayabalan,Head,Department of Mechanical Engineeringin his address stressed on the need of the hour in learning and using MATLAB either in their research work or project work. Faculty and students from Mechanical Engineering, Mechatronics Engineering,Automobile Engineering, Aeronautical Engineering and Aerospace Engineering were benefitted from this workshop.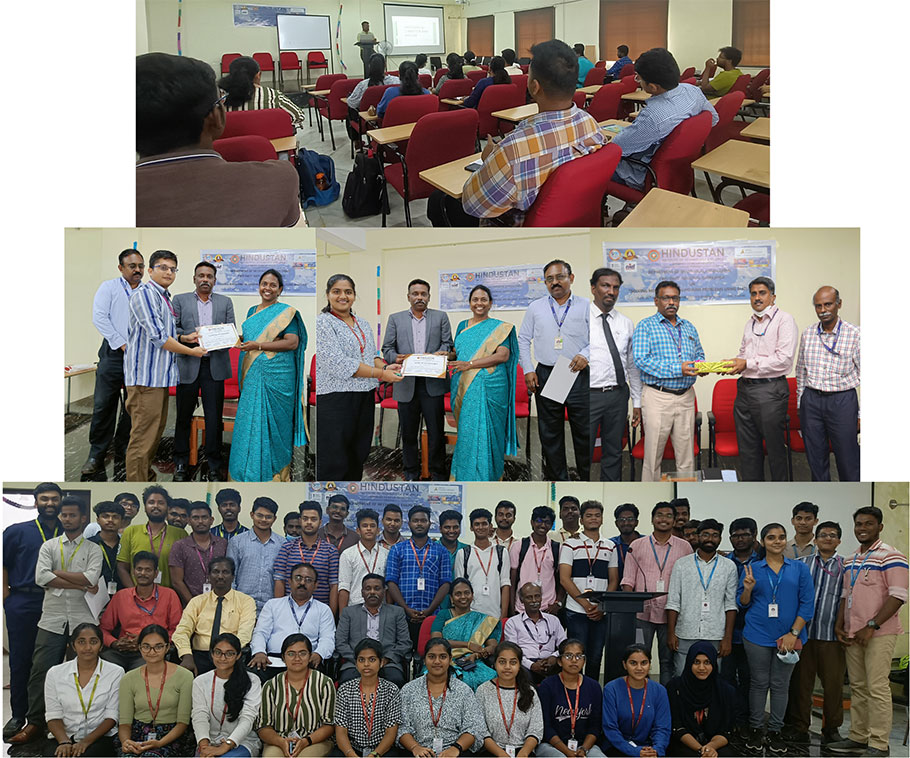 Mr.P.Visweswaran, Scientist/E, Reactor Design and Technology Group,IGCAR, Kalpakkam,in the first forenoon session addressed on "How to Solve Engineering Mechanics Problem Using Matlab?".The basics of Engineering Mechanics were touched upon through his presentation.Also, problems encountered in the industries was also taken up and solved.The afternoon session was dedicated for practical training by the faculty and students. n the numerical problems solved during the forenoon session by Mr.P. Visweswaran.
On Day 2, the forenoon session was handled by Mr. Elvin Roy, Assistant Professor, Department of Mechanical Engineering, HITS, on" MECHANICAL VIBRATION AND MATLAB". The basic concept of vibration with basic examples and the way of expressing the each of the vibration problems was dealt with, in the session. During the afternoon session hands on training for the participants were provided by Mr. Elvin Roy on the theory topic handled during the morning session.
At the valedictory function, Dr.P.Vijayabalan,Head-Department of Mechanical Engineering and Dr.G.Ravikumar Solomon expressed their views on the conduct of the workshop and expressed their happiness over the same.Dr.Angeline Geetha,Dean(E&T)emphasized the importance of learning packages like MATLAB and henceforth insisted inkeeping oneself ahead in the job market that is full of competition. Participation Certificates were distributed to the participants by the Chief Guest and others.The function ended with the Vote of Thanks delivered by Mr.S.Johnson Samuel,Co-coordinator.