VOTERS AWARENESS RALLY | Event Date: Monday, 29th, March 2021
"Voter Awareness Rally" intendingto educate the public, particularly the youth towards the forthcoming assembly election in Tamil Nadu was organized by the Office of Student Affairs on 29 Mar. 2021.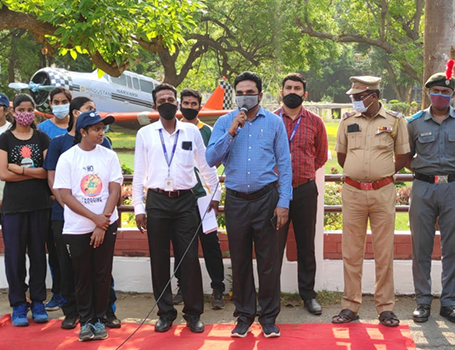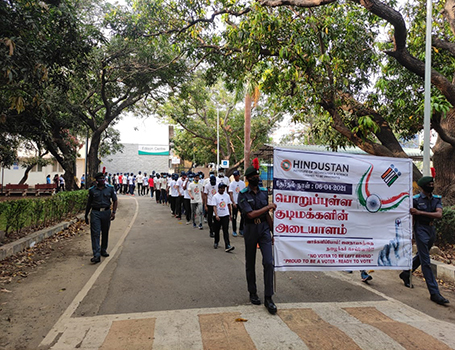 The rally beginning from HITS campus marched to Padur and Kelambakkam areas. Nearly 100 students enthusiastically participated in the rally. Placards carrying "Vote without fail", "Say no to currency notes for vote", "Vote on 6th April for better tomorrow" slogans attracted the public. Thousands of leaflets were distributed to the public educating the public about the significance of election process.A signature campaign was also conducted and thousands of signatures were received reflecting the massive public interest in the forthcoming Tamil Nadu Assembly Elections.
Several street corner meetings were also organized in Padur and Kelambakkam to enthuse the voters for cent percent voting on 6 April 2021.
Chancellor, Dr. (Mrs). Elizabeth Verghese; Pro Chancellor, Dr.Anand Verghese Jacob; Director, Mr.Ashok Verghese;Members of the Management Committee; Vice Chancellor, Dr.S.N.Sridhara; Pro Vice Chancellor, Dr.R.W.Alexander Jesudasan; Registrar, Dr.PonRamalingam; Deans, CHRO, CAO, HoDs and faculty have boosted up the morale of students to organize the voter awareness rally.
Head-Student Affairs expressed his appreciations to the student community along with faculty and non-teaching staff of HITS for being were very co-operative in making the "Voter Awareness Rally" productive. Sports Officer, Dr.B.Selvamuthukrishnan; NCC Officer, F.Offr.R.Giri; and Mr.Adarsh Vijayan Pillai, Student Affairs Officer coordinated the rally.