FIESTA 2020 | Event Date: Thursday, 17th, December 2020
"All do not have equal talent.But all of us have an equal opportunity to develop them"
- Late Dr. A.P.J Abdul Kalam,
Former President of India, Missile Man of India.
Hindustan Institute of Technology and Science (HITS), since its foundation, has always been the hub of amazingly talented youths with immense potential, to be the change-makers.FIESTA 2020 was an astounding event hosted by HITS on 17 Dec. 2020 to promote and bring out the best in young sprouts, as they have just stepped into a bigger world from their high schools. FIESTA 2020 was hosted by the vibrant and eloquent freshers, Ms. Varsha. S. Nair (1st year, B.A English) and Yuvan S Menen (1st year, B.A Psychology). The event began with the University Anthem, proudly upholding the Shine at the Zenith of Glory, followed by a word of prayer and blessings by Rev Jobi Varghese, Student Chaplain and Counsellor.
Glimpses of the outstanding educationist, dynamic leader and a great Visionary,Dr. K.C.G Verghese, Founder of Hindustan Group of Institutions, and alchemist of professional engineering in India, was remembered through a video compilation as a tribute to his dedication and contributions for educating and molding young minds to think extensively, teaching that no horizon is too far to gaze at. The path laid forward by Dr. K.C.G Verghese has been a true inspiration to millions, providing the best facilities through his institutions, to identify and promote the great potential "To Make Every Man a Success and No Man a Failure".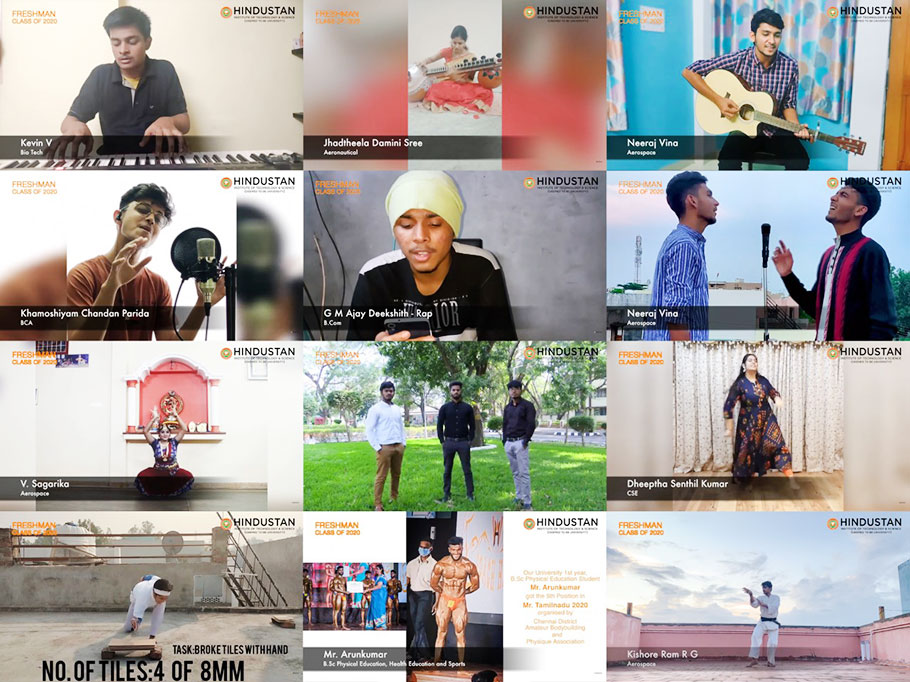 Dr. R.W Alexander Jesudasan, Pro Vice-Chancellor, HITS in his welcome address gave an evoking message to all the freshers, emphasizing and encouraging the students stating "What has been suppressed in school, can be expressed in college".Dr. Elizabeth Verghese, Chancellor, HITS, and Chairperson, Hindustan Group of Institutions gave a message to all the newly joined and passionate students of HITS, Chennai. In her special address, Dr. Elizabeth said, "The Key to a rich life is in maintaining a passion for learning and growing". Dr. Anand Jacob Verghese, Pro Chancellor, HITS, and Director &CEO of Hindustan Group of Institutions, addressed the freshmen of 2020. "Futures are forged by the choices we make today and the way we decide to transfer the knowledge that we have acquired and to make our own ripples throughout our world".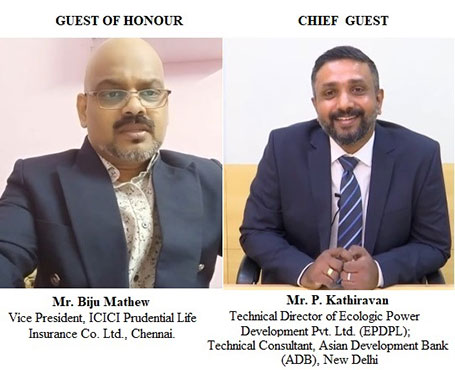 Ms. Srinidhi Suresh (Joint Cultural Secretary, Student Council 2020-21) introduced the Chief Guest, Mr. P. Kathiravan, Technical Director of Ecologic Power Development Pvt. Ltd. (EPDPL) & Technical Consultant at Asian Development Bank (ADB), New Delhi, and an Alumni of HITS; and the Guest of Honor, Mr. Biju Mathew, Vice President, ICICI Prudential Life Insurance Co. Ltd., Chennai. Mr. P. Kathiravan opined, "There is a distinct difference between acquiring education qualifications and skills. These are all subsets of learning and learning is not acquired at a chance it is acquired progressively and steadily by the students who invest in this with sincerity and diligence".Mr. Biju Mathew, motivated the students with his great energy and positivity towards turning our great potentials into the best of outputs. He acclaimed, "If one of you or two people are successful from a batch, I would say it is the credit of the person. If a few are successful , then obviously some external environment would have played a part there; but if I tell you that the entire group of students who studied there are successful right now, I would say the credit has to definitely go to the institute where we started it off".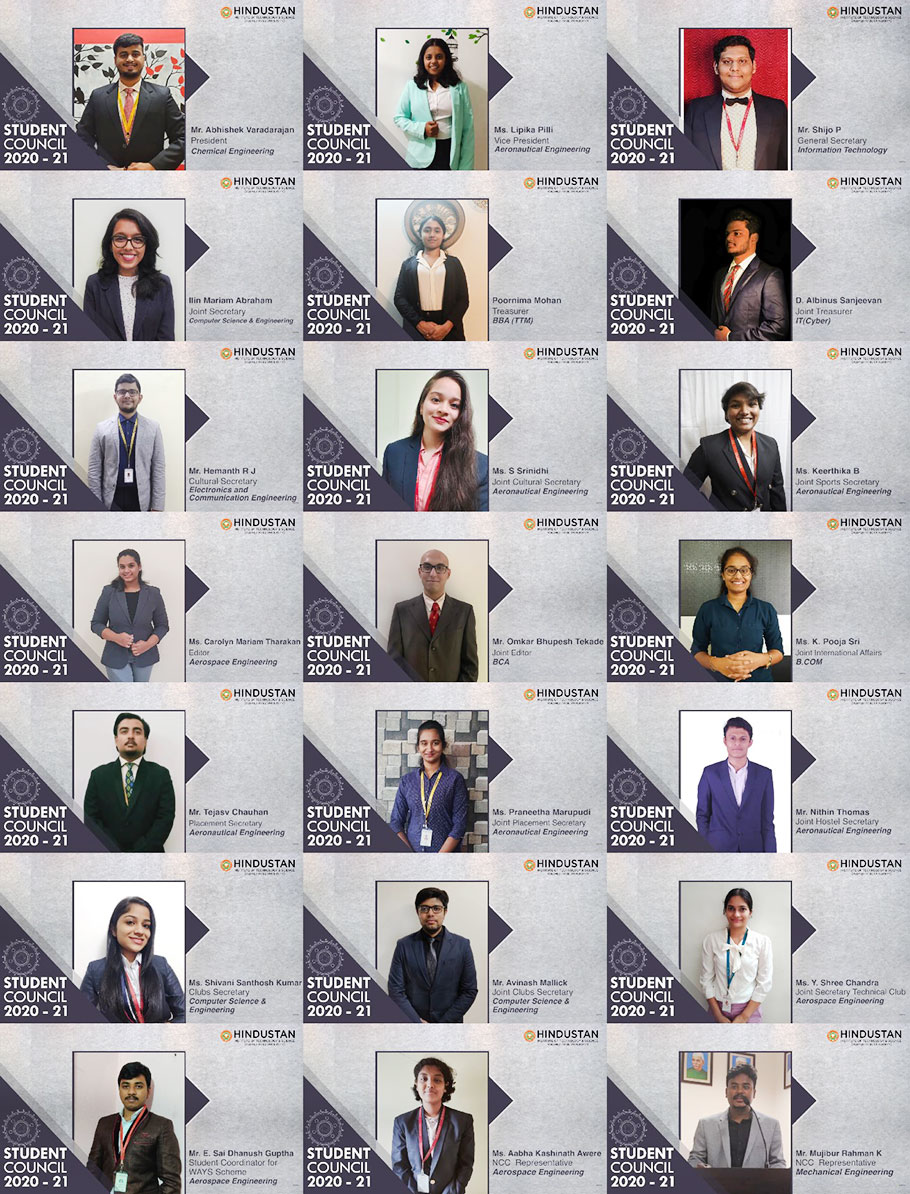 Mr. Ashok Verghese, Director, HITS in his message to the Freshmen batch of 2020, spoke about the enormous opportunities and pathways of success that awaits the students at Hindustan. He has emphasized on how resourcefully, even during the days of pandemic and lockdown of schools and colleges, we are able to promote acquiring knowledge on a digital media and that it is very important to make the best out of it. "There are many opportunities, I hope you will look out for them, grab them and do your best. The competition is fierce but Hindustan students always shine against all odds"concluded Mr. Ashok Verghese.Dr. Aby Sam, Director, HITS gave his best wishes to the 36th batch as they step into University from school. "It is up to you to make the best use of your efforts and put in your best contribution for a brighter future" rightly iterated Dr. Aby Sam.
FIESTA 2020 witnessed a frenzy outburst of talents exploring Music, Dance, and Martial Arts performance of several promising students in a quick nutshell. The following members were adjudged as best performers of FIESTA 2020 and cash prize was awarded:
| | |
| --- | --- |
| NAME & BRANCH | EVENT |
| Ms. V. Sagarika (B.Tech. Aerospace) | Dance (classical) |
| Ms. Bhavana Lone (B.Tech. CSE) | Dance (Free style) |
| Mr. Chandan Parida (BCA) | Music Vocal |
| Ms. V. Srimathi (BSC. Fashion Designing) | Photography |
| Mr. R Arun Kumar | Body Building |
Introduction of the Mascot, "Hindustan Super Singam", was an interesting part of the event.
Yet another eventful act was the introduction of Hindustan's Student Council 2020-21.
| | | |
| --- | --- | --- |
| NO | NAME | PORTFOLIO |
| 1 | Mr.AbhishekVaradarajan | President |
| 2 | Ms. Lipika Pilli | Vice President |
| 3 | Mr. Shijo P | General Secretary |
| 4 | Ms. Ilin Mariam Abraham | Joint Secretary |
| 5 | Ms. Poornima Mohan | Treasurer |
| 6 | Mr. D. Albinus Sanjeevan | Joint Treasurer |
| 7 | Mr. Hemanth R J | Cultural Secretary |
| 8 | Ms. S Srinidhi | Joint Cultural Secretary |
| 9 | Mr. M.Sarath | Sports Secretary |
| 10 | Ms. Keerthika B | Joint Sports Secretary |
| 11 | Ms. Carolyn Mariam Tharakan | Editor |
| 12 | Mr. Omkar Bhupesh Tekade | Joint Editor |
| 13 | Mr. Choi Min Gyu | International Affairs |
| 14 | Ms. K. Pooja Sri | Joint International Affairs |
| 15 | Mr.Tejasv Chauhan | Placement Secretary |
| 16 | Ms.PraneethaMarupudi | Joint Placement Secretary |
| 17 | Ms. M. Tarakeswari Pooja | Hostel Secretary |
| 18 | Mr. Nithin Thomas | Joint Hostel Secretary |
| 19 | Ms. Shivani Santhosh Kumar | Clubs Secretary |
| 20 | Mr. Avinash Mallick | Joint Clubs Secretary |
| 21 | Mr. Hemanth Prasanna R | Secretary Technical Club |
| 22 | Ms. Y. Shree Chandra | Joint Secretary Technical Club |
| 23 | Mr. E. Sai Dhanush Guptha | Student Coordinator for WAYS Scheme |
| 24 | Mr. R. Hemanth | Joint Student Coordinator for WAYS Scheme |
| 25 | Ms. Aabha Kashinath Awere | NCC Representative |
| 26 | Mr. Mujibur Rahman K | NSS Representative |
"Jerusalema" Dance Challenge The nimble feet ofHindustan Dance Team successfully put out the famous challenge on "Jerusalema". The dance video is a delightful visual treat of the dancers capturing theiconic spots of Hindustan University.
Ms. Lipika Pilli, Vice President, Student Council 2020-21 (4th year, Aero Department) proposed the Vote of Thanks and expressed her happiness to be a part of the Student Council.The event concluded with an Instrumental Rendition of Indian National Anthem by Ms. AuropradeepaRajapriyan (1st year, BBA Aviation). Thus, marked the end of another wonderful Fresher's Talent Hunt FIESTA 2020, with a warm and hearty welcome to all the Freshers into the Hindustan Family.