CHRISTMAS DAY CELEBRATIONS 2020 | Event Date: Friday, 25th, December 2020
Christmas—Thevery word brings joy, hope, and light to homes & life!
Christmas is an annual festival commemorating the birth of Jesus Christ, observed on 25 December as a religious and cultural celebration among billions of people around the world. Hindustan Institute of Technology and Science celebrated Virtual Christmas on 19 December 2020 inviting entire Hindustan Group of Institutions. His Grace the Most. Rt. Rev. Dr. Theodosius Mar Thoma Metropolitan, Mar Thoma Church presided the celebration as Chief Guest and delivered Christmas message. The event was streamed live in Hindustan's YouTube channel.
Rev. Eapen MathewVicar, St.Paul's Mar Thoma Church, Adyar invoked the blessings of the Lord with an Opening Prayer.Dr. Mrs. Elizabeth Verghese, Chairperson, Hindustan Group of Institutions profusely welcomed everyone and delivered the presidential address. She remarked, "globalized world is going through several trials and tribulations; external and internal conflicts; terrorism; natural and manmade disasters, and global pandemic. Only through the love of God, peace and harmony can be restored". Dr. Elizabeth Verghese affirmed that "it is the Chirst of Christmas we're celebrating and not Christmas itself; only if one could look beyond the manger, and to the cross of calvary, we can understand why Christmas brings us so much joy. Celebrations apart, Christmas brings us the message of peace, goodwill, and universal love." Dr. Elizabeth Verghese commended, our Christmas spirit should be—"Think Beyond Thyself"!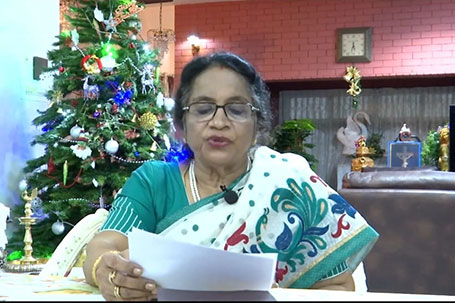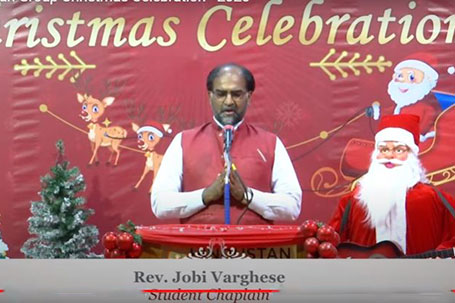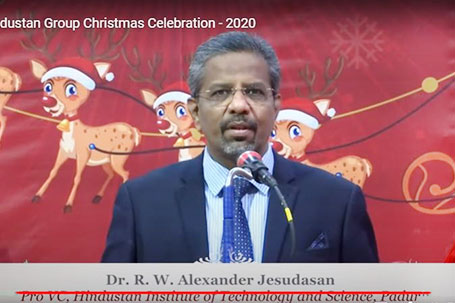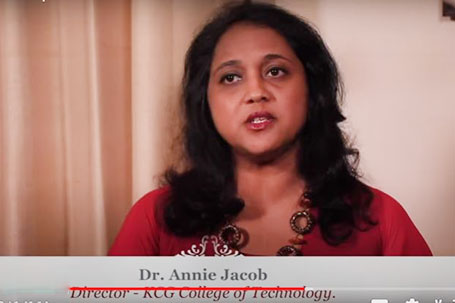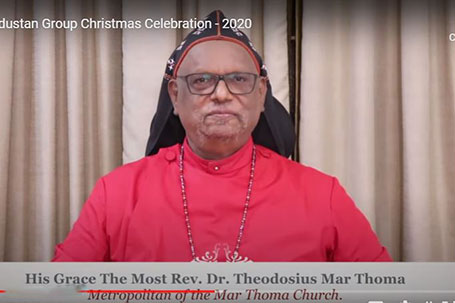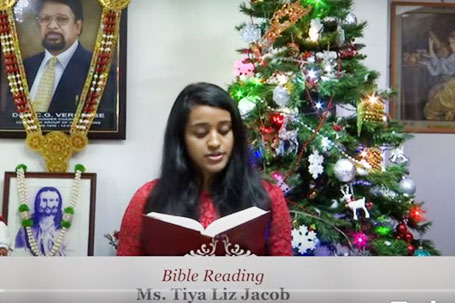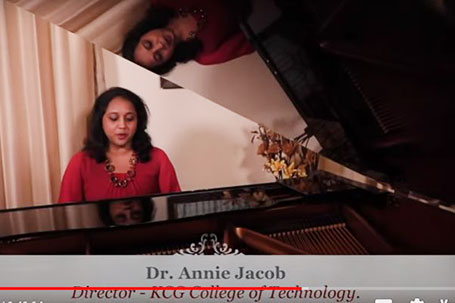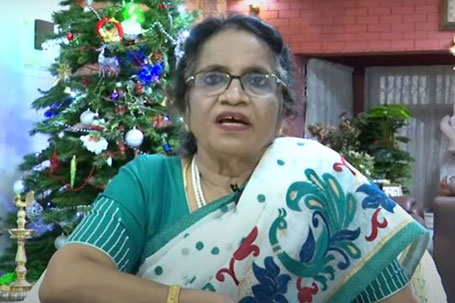 His Grace the Most. Rt. Rev. Dr. Theodosius Mar Thoma Metropolitan, Mar Thoma Church aptly observed, "Jesus is the reason for this season". He expressed his happiness in being a part of Hindustan Group in this virtual 2020 Christmas celebration. On relating to life becoming isolated owing to quarantine, social distancing, and usage of masks caused by Covid, Rev. Dr. Theodosius highlighted the restrictions made in celebration, and pointed that virtual media has come to our aid. "Do not be afraid—we shall overcome!" is the message of Christmas; God reminds us that his Mercy is forever; and we must open ourselves to experience, added Rev. Dr. Theodosius.He quoted Calvin Coleridge whosays,"Christmas is not a time nor a season, but a state of mind to cherish peace, and goodwill and in mercy. If you have Christ in heart, you can make the spirit of Christmas in any season or place". Rev. Dr. Theodosius instilled a sense of hope referring John 3:16:"For God so loved the world that he gave his one and only Son, that whoever believes in him shall not perish but have eternal life".Rev. Dr. Theodosius pointed out that we'll be wrong if we waited for a change in others first to happen; instead, if transformation happens in our lives, that will start transforming the world. We must renounce selfish desires, consumeristic thinking, exploitation, and competition to make more profit The Bible reading was done by Ms. Tiya Liz Jacob. Dr.Annie Jacob, Director, KCG College of Technology gave an excellent rendition of the famous Christmas song – "Mary did you know?" accompanied by her Piano. Carols were sung by Hindustan International School, Padur; KCG College of Technology, Karapakam; Hindustan University, Padur; Hindustan College of Arts & Science, Padur; Orient Flights Aviation Academy, Mysore; and HIET, Padappai. Children of Hindustan International School, Guindy wonderfully described each prominent "Symbols of Christmas" and danced to "Jingle Bells". Hindustan First Grade College, Mysuru enacted a scene whilst Hindustan International School,Karapakkam performed a Medley.
The vote of thanks was rendered by Dr.R. W. Alexander Jesudasan, Pro Vice Chancellor, Hindustan University. The Closing prayer was given by Rev.Jobi Varghese, Student Chaplain. The traditional closing hymn, "Silent Night" and the wishing song also was also sung. The meeting came to a close by the benediction of Rev. Jobi Varghese and the visit of Santa.The entry of Santa regaled everyone, and brought in joy and hope to look forward to the coming year.